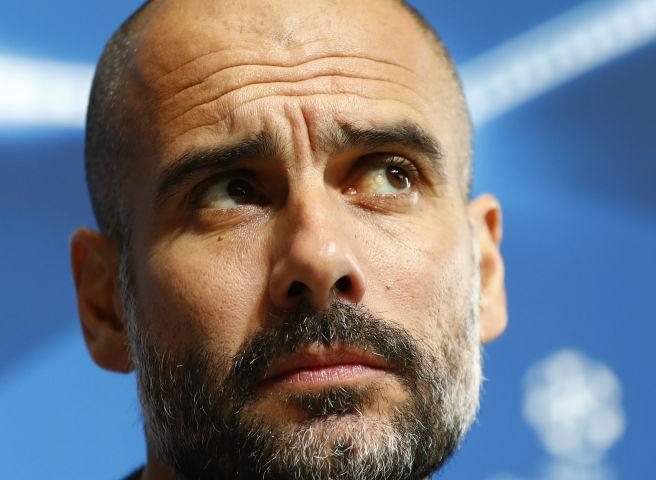 Pep Guardiola has one less thing to worry about after signing Ederson.
Just two new faces have come through the doors at the Etihad so far this summer but they're both crucial signings, says Jamie Pacheco, who believes the City squad is not far off from being the team to beat in the 2016/17 season...
'Its' also worth remembering that Guardiola only had Toure (that one was admittedly self-inflicted), Jesus, Gundogan and Kompany for fractions of the season and that if those four stay fit, they'll look a far better squad than last time out, even without any more signings.'
Last season? Must do better...

We'll give Pep Guardiola a C+ for his efforts last year. They started as favourites against Monaco in the Champions League but were pretty comprehensively beaten in the end. They were knocked out of the FA Cup by Arsenal in the semis despite taking the lead. They went into the Premier League season as outright favourites yet only finished third, a huge 15 points off Chelsea's tally.
On the plus side, there were a few matches where they looked excellent, with every man from midfield onwards looking a constant goal threat at all times.
Let's have a look at the make-up of the City squad as they prepare for pre-season.
Top-class goalkeeper: check

This was probably the position that gave Guardiola the most sleepless nights of all last season. Having decided that long-term club servant Joe Hart wasn't his cup of té because he wasn't good enough with his feet, he brought in Claudio Bravo. Only to discover that last season at least, Bravo wasn't particularly good with his... hands. He conceded too many and didn't come out for crosses.
He also put his defence under pressure by always trying to play it out from the back (admittedly just following his manager's instructions) and got himself sent off away at Barcelona when they lost 4-0.
For the remainder of the season he shared duties with Willy Caballero, a sure sign that Guardiola lost faith in him.
Fans could have been forgiven for wondering why Hart was shipped out so swiftly.
Fortunately for City, they're not lacking in money. So they thought nothing of paying £35m for Ederson of Benfica, considered by many the best young goalkeeper in the world alongside Milan's Gianluigi Donnarumma.
He's a brilliant keeper and saved some of his best performances for the Champions League. But the irony of it all is that he first made a name for himself for his ability to clear the full length of the field with his kicking to the extent he was instructed to only hit it at 70% of his power, to avoid the ball being gathered by the opposition keeper.
Either way, he may prove to be their most important signing this season.
Who'll accompany Kompany?

It's now in defence that Guardiola needs to start making his moves. The popular Pablo Zabaleta, Bacary Sagna and Gael Clichy have all felt. So he only has Aleksandr Kolarov in terms of full-backs.
The quickfix move would be to sign Dani Alves, who he knows well from his time at Barcelona and ticks all the boxes, though at 34 it's a bit much to expect him to play many more than half of the 50-60 games they're likely to have next season. Kyle Walker? Sure, but he won't come cheap. Benjamin Mendy of Monaco looks a done deal and could prove to be a huge player for them.
We'll have to see who joins Kolaraov in fighting for the left-back spot but it's really in the heart of defence that he needs to strengthen his side. If Vincent Kompany is fit for even 3/4 of the season that will feel like a terrific new signing but having played just 25 PL matches over the past two seasons, there's no guarantee of that.
So with Nicolas Otamendi seen as a bit of a loose cannon, John Stones still looking far from the finished product and the doubts over Kompany's fitness, it's fair to say Guardiola needs not one but two top class centre-backs. Easier said than done.
No dramas up front
The availability of Gabriel Jesus for this season- after ineligibility and then injury robbed Guardiola of him for most of last season- means that alongside Sergio Aguero, the club have two world-class players. Signing any more up front would smack of unnecessary and greedy.
Fewer midfielders needed
The other point about having Aguero and Jesus upfront is that it means City are likely to often play a variation of 4-4-2 rather than always the 4-3-3 almost everyone else loves so much right now. Meaning that's one less midfielder they need to pick.
Fernandinho, Yaya Toure, Ikay Gundogan and Fernando (to a lesser extent) will be charged with playing the more defensive roles and then there are Kevin de Bruyne and David Silva, who can play anywhere.
After a highly disappointing season, Nolito is on his way out, a process accelerated by the arrival of Portuguese starlet Bernardo Silva, whose skills Guardiola saw first-hand when he featured for Monaco. That gives Guardiola three excellent players to choose from to fill two positions with Raheem Sterling and Leroy Sane completing the trio of young, pacy, exciting, skillful, goalscoring wide men.
They really don't need anyone else in this area, although they'll probably buy at least one more midfelder.
Two signings away from...
Being very justified favourites for the title at [3.0]. The arrivals of Ederson and Silva and likely signing of Mendy fill three problem areas so it's only at centre-back a and left-back that two new faces are needed.
Its' also worth remembering that Guardiola only had Toure (that one was admittedly self-inflicted), Jesus, Gundogan and Kompany for fractions of the season and that if those four stay fit, they'll look a far better squad than last time out, even without any more signings.
And with the 'it was only his first season' excuse no longer valid, Guardiola knows better than anyone he really needs to win it this time. He's looking in good shape to do so.