Premier League Betting: Back Mourinho to spread the happiness at Chelsea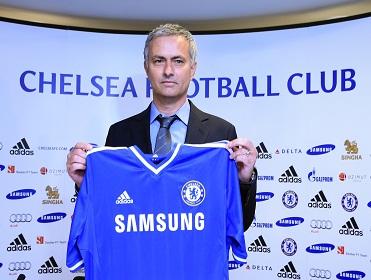 Mourinho was unveiled at Stamford Bridge today
Following Jose Mourinho's re-introduction to the British media as Chelsea manager today, Callum Davis considers the key points to be gleaned from his first official appearance as new manager and reflects on whether the rest of the top sides should fear a Premier League renaissance for Chelsea under Mourinho...
"The landscape of the Premier League has altered beyond recognition since Mourinho's departure, with only Arsene Wenger still at the helm from 2007, and you would have to say that the conditions do seem ripe for Chelsea to regain some domestic dominance."
In one of the most eagerly anticipated managerial press conferences seemingly since time began, Jose Mourinho was officially presented to a media throng this afternoon at Stamford Bridge. Flanked by Chelsea Chairman Bruce Buck and CEO Ron Gourlay, Jose Mourinho held his new club's shirt aloft with a marked lack of enthusiasm. However despite appearances, Jose claimed he was 'The Happy One' to be returning to the Bridge. So what should Mourinho expect when he takes the reigns of the side on July 1st and can he be expected to have the same impact that he had when he first arrived in June 2004? 
Whereas Mourinho's first arrival as Chelsea manager was marked by the kind of bombastic press conference performance which would come to characterise his four years at the club, his demeanour this time around was markedly less inflammatory than describing himself as 'The Special One'. Apart from a parting shot in which he claimed he had "broken the dominance of Barcelona" while at Real Madrid, Mourinho spoke relatively diplomatically on a number of different topics, claiming he was "a different man...calmer". Can we really expect a different Mourinho this time around?
He certainly faces a number of different challenges and he will have to adapt to them. If today's quotes are to be taken sincerely, then his focus is on longevity and building stability, not exactly your typical impression of Mourinho's approach to management. Mourinho repeated the words "stable" or "stability" eight times in his press conference, and "calm" four times. All the signs point to a Jose Mourinho who is intent on steadying a Chelsea ship which has had eight managers in his absence. 
If he is indeed going to bring a steadying hand back to Chelsea, then one of his major points of consideration will be how he manages the old guard of the club while ensuring the team does not stagnate. The same dilemma ultimately cost Andre Villas-Boas his job and Mourinho will be aware he must tread a careful path of motivating key players while ensuring old ties do not blur his ambitious vision.
Perhaps in reference to Frank Lampard, Petr Cech and particularly John Terry, Mourinho explained "even the ones I think I know in every aspect, they are not the same...time changes people, players and qualities". Such comments may come as a concern to former teacher's pets such as Terry, with Jose using words like "meritocracy" in his approach to picking the team, the Chelsea club captain cannot expect the kind of safe journey back into the side he may have anticipated. 
In terms of additions to the squad, Mourinho would not be drawn on any specific names but he acknowledged that adding a few players in the transfer window is standard practice for any new manager. The latest from the rumour mill suggests Mourinho is intent on buying Edinson Cavani from Napoli, and it seems obvious that if the team needs strengthening anywhere it is up front where Chelsea have so far failed to properly fill the void left by Didier Drogba's departure. If Mourinho is going to ensure success a second time around, he will have to deal swiftly and efficiently with matters in the transfer market as well as at home in the dressing room.
The landscape of the Premier League has altered beyond recognition since Mourinho's departure, with only Arsene Wenger still at the helm from 2007, and you would have to say that the conditions do seem ripe for Chelsea to regain some domestic dominance. Chelsea are currently 3.412/5 to win the Premier League in Jose's debut season part two, just behind favourites Manchester United at 3.39/4 
If you are in the more sceptical camp when it comes Mourinho's re-appointment, then you may think that winning the Premier League on his return to England may be too tall a task, even for the self-proclaimed 'Special One'. However these punters should look to next year's FA Cup as a tournament Jose could undoubtedly make a mark on. While consistency and stability may conceivably not come immediately in Mourinho's first year back, this will be less of a deciding factor in the FA Cup compared to the league and you have to say that Mourinho's man motivation skills will lend themselves well to a knockout format.
Without the spate of managerial departures which punctuated the end of this season, it would be difficult to justify that Mourinho would have the kind of impact which many media commentators blindly expect him to have. However with the Premier League Champions from the last two years saying goodbye to their managers recently, you'd have to say that a Chelsea side under Mourinho will be the main force to be reckoned with this season and beyond.

Discover the latest articles
Read past articles