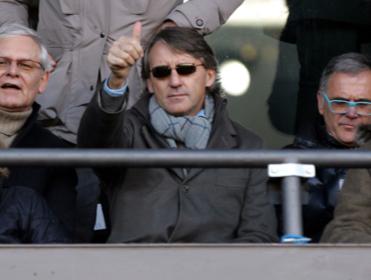 Roberto Mancini deserves to be out of a job this summer
As Betfair launch a new Mancini To Go? market, Luke Moore explains why Roberto Mancini will almost certainly be out of the Manchester City door ahead of the new season...
"If United this season haven't been genuinely great, their manager yet again certainly has. Which is more than you can say for his counterpart down the road." 

As the celebrations rang around Old Trafford last night after a convincing Robin van Persie-inspired victory over struggling Aston Villa, more than a penny would have been offered for the thoughts of the wealthy owners of Manchester City. Because, make no mistake about it, this campaign has been a disaster for Roberto Mancini and his team, by any measure you wish to use. 
After the narrowest of title wins last season, their first in 44 years, the temperamental Italian went about adding quality to his squad, wielding his chairman's cheque book with abandon and promptly drafting in midfielder Javi Garcia, wide man Scott Sinclair (trust me, he is still a City player), the latest of England's injury-prone roses Jack Rodwell, an ageing and ultimately semi-retired Maicon and defender Matija Nastasic. 
The Italian also failed to convince several other targets to join his project at City; Robin van Persie, Daniele De Rossi and Eden Hazard all decided against moves to the Etihad for various reasons, and if those facts don't quite make a disastrous transfer window, it certainly pitches it some way short of a good one. Of the personnel Mancini did manage to convince to sign, only Nastasic could legitimately be considered a successful buy thus far. Mancini's 'improvements' were either unrealistic or failed to actually improve anything. 
At time of writing, Manchester City under Mancini have also recorded just 68 points this season, and even if they win all of the five fixtures they have remaining cannot approach anything near the 89 points they totalled last term. Add all that to another disastrous showing in the Champions League where they failed to win a single game and managed just three points, and the facts are there for all to see: Manchester City under Roberto Mancini are not only hugely under-performing with the group of players they have, but they are actually going backwards. Mancini has failed in all three main departments of his job.
There have long been question marks over the fiery Italian's abilities as a manager on the European stage, and he hasn't shown anything to suggest that he has learnt from previous mistakes and poor showings as boss of Internazionale, where he failed to progress beyond the quarter-final stage in his time there despite managing the standout side in Serie A, backed by Massimo Moratti's millions. Yes, if Man City want to make a serious impression on that competition they need to look beyond Mancini, but that is something that could have been reasonably deduced before he took over at the Etihad. It's his domestic failure that will really rankle with the decision makers at the top and make them wonder where they turn next.
Mancini's management style also attracts criticism. Happy to berate his players in public and wear his heart on his sleeve (just imagine playing poker against him), his faults are easy to overlook when he is delivering the club their first title in several generations, but when they're floundering 16 points behind their local rivals despite having arguably the biggest playing budget in world football it should and will be a different story. He recently commented that he felt there was no difference in quality between his side and Ferguson's, only United's superior attitude won the day. Surely instilling a winning attitude into a great group of players is the manager's responsibility? 
Much has been made of whether this title-winning Manchester United team is a truly 'great' side or not, but if it isn't, then Manchester City, their closest rivals, should shoulder much of the blame for not running them anywhere near close and really testing how good they could be. What's more, even if United this season haven't been genuinely great, their manager yet again certainly has. Which is more than you can say for his counterpart down the road. 
If City want to kick on and improve next year, it cannot be with Roberto Mancini at the helm, and it wouldn't be at all surprising if City's owners came to the same conclusion.
Back Mancini to leave Manchester City in the Mancini To Go? market