Premier League: Arsenal star to outdo Kun and Rooney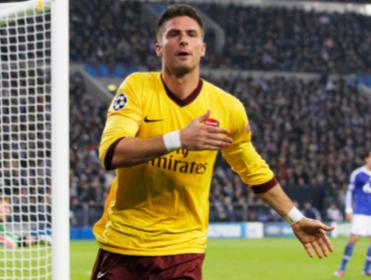 Olivier Giroud has scored 16 Premier League goals this season
Michael Lintorn identifies three long-shot wagers that could help keep the Premier League final day interesting...

Rock Bottom
Fulham and Cardiff are both heading for the Championship, but there is an opportunity for one to salvage a sliver of pride by avoiding finishing bottom.
Cardiff are a point behind the Cottagers in possession of the unwanted basement position and are 1.222/9 to stay there, yet their superior goal difference means that a draw with disinterested Chelsea will be enough to lift them to 19th if Fulham lose to buoyant Crystal Palace.
Chelsea have endured defeat in two of their last four Premier League road trips, while Cardiff have already taken points at home to three top-seven teams this term, beating Man City and holding Everton and Man United.
Recommended Bet: Back Fulham to finish rock bottom @ 5.39/2

Top Goalscorer - Top Four
In addition to the general top goalscorer market, which has been dominated by Luis Suarez this season, Betfair offer a market on a player placing among the top-four net-ripplers, which is set for a tenser conclusion.
Suarez won't be caught on 31, and Daniel Sturridge (21) and Yaya Toure (19) should be safe. The fight for fourth is open though, with Sergio Aguero and Wayne Rooney tied on 17, Olivier Giroud behind on 16 and Wilfried Bony (15) and Edin Dzeko (14 with two to play) not out of contention.
Injuries threaten to rule Aguero and Rooney out of their club's final fixtures - or at least restrict their involvement and ability to make an impact - so Giroud is intriguing at 6.05/1. If Kun and Wazza don't fire, one Ollie G goal at Norwich will earn his backers a dead-heat payout, and two an outright triumph.
The French forward has scored three times across his last four appearances, while Norwich lost 0-6 at Fulham in the closing encounter of their last top-flight relegation campaign.
Recommended Bet: Back Olivier Giroud @ 6.05/1 to be one of the top four scorers

Handicap League Winner
With Arsenal no longer leapfrog-able, you might assume that Everton have nothing to play for when they visit Hull. However, they could still top the handicap standings, trailing neighbours Liverpool by two points prior to the weekend's action.
Roberto Martinez's men should perform their end of the bargain with little fuss, given their run of three away victories in four and the fact that Hull are winless in four since reaching the FA Cup Final.
Obviously the Liverpool setback against Newcastle that they require to deliver a profit - a Reds draw would mean a dead heat, a loss would see the Toffees prevail outright - is far less likely.
If Man City overcome Aston Villa in midweek and need just a draw with West Ham to seal the title, there is potential for demoralisation to set in though, as it did for Chelsea late on in their final-day draw with Bolton in 2007/08 as Man United confirmed that they wouldn't relinquish top spot.
Recommended Bet: Back Everton to win the handicap league @ 11.010/1
Discover the latest articles
Read past articles