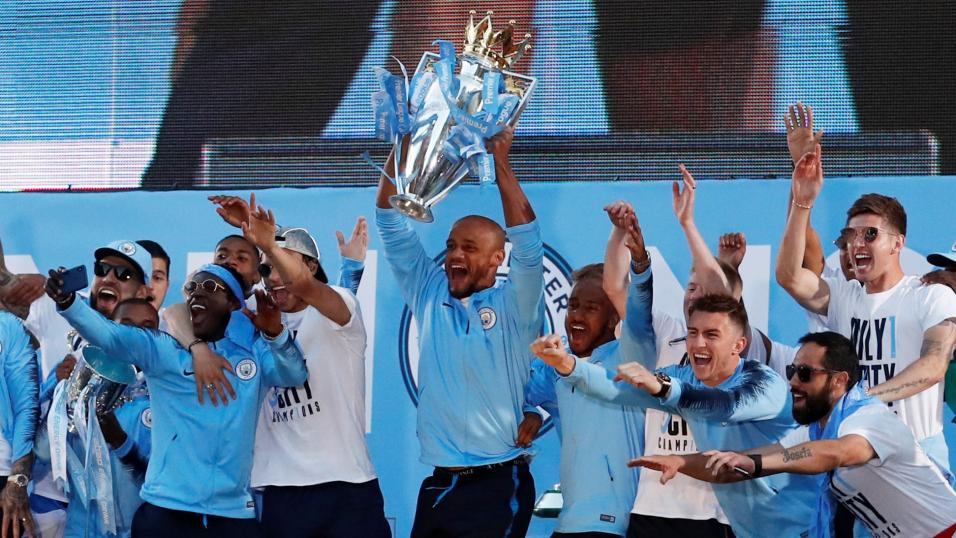 Man City should face tougher competition for next year's title.
The 2017/18 season has only just ended but Alex Keble is eagerly looking ahead to the next campaign, predicting that Liverpool could challenge Manchester City. Here's his early look at the betting for 18/19...
"If Nabil Fekir comes in as a replacement for Philippe Coutinho, if Klopp can find an upgrade on Sadio Mane (they lack squad depth up front), and if Alisson Becker can be prised away from AS Roma, then Liverpool will be a serious force in 2018/19."
The 2017/18 Premier League season is over and, even with a World Cup on the horizon, it is difficult to accept that we have to wait three long months before the return of domestic football. If you're already having withdrawal symptoms, then you're probably ready to take a (very) early look at what might happen in 2018/19.
Here's a rundown of the big six, and their chances of lifting the title next season:
Stopping Pep Guardiola's team will be incredibly difficult. The Catalan's incessant hard work and motivation will surely translate to his young squad, ensuring they do not rest on their laurels in 2018/19. An unbeaten season is the target, and given City will spend big again this summer that is far from impossible. Napoli's Jorginho seems likely to join as a long-term replacement for Fernandinho, while another forward and centre-back are also set to be added.
However, there is a ray of hope for their rivals. Huddersfield Town, Manchester United, and Liverpool have all taken points from City in the last few months having pressed high for long periods, pointing to a tactical plan that many more clubs will follow next season. Guardiola teams can be got at if you show bravery; one or two surprise defeats near the beginning could see their fear factor evaporate, allowing the likes of United and Liverpool to stay in touch.
What's more, there is a sense that one or two key injuries would seriously derail a side heavily reliant on Kevin de Bruyne and David Silva, while better Champions League and FA Cup campaigns could slow them down in the Premier League.
They are rightly the favourites, but the 2018/19 season is by no means a foregone conclusion.
Jurgen Klopp's side have improved month-on-month ever since his arrival, and with Naby Keita set to join the club, along with two or three more marquee signings, Liverpool might just be about to follow the same route as Klopp's Borussia Dortmund. The German side were widely regarded as too erratic during Klopp's first two seasons, before eventually exploding into life and winning back-to-back Bundesliga titles. Liverpool are getting close.
Andrew Robertson and Trent Alexander-Arnold have dramatically improved the team, their crossing ability adding new variation to the Liverpool attack. If Nabil Fekir comes in as a replacement for Philippe Coutinho, if Klopp can find an upgrade on Sadio Mane (they lack squad depth up front), and if Alisson Becker can be prised away from AS Roma, then Liverpool will be a serious force in 2018/19.
There are very few flaws in the team. Up until a few months ago their inability to defend set-pieces and difficulty breaking down deep-lying defences made a Liverpool title unthinkable, but both of these issues have disappeared in 2018. Man City are more likely to win it, although at 5/1 it is definitely worth a small bet on the Reds.
If Guardiola's team are knocked off their perch in the first couple of months of the season, Jose Mourinho will be quietly confident of grinding his great rival down. United's football might be lethargic and uninspiring, but with 81 points they are only two or three wins shy of a points tally that would win the title in most Premier League seasons.
It's worth noting the slack dropped points against West Bromwich Albion, West Ham United, and Brighton since April probably would not have happened had the club not been so far behind City. The point being that, however it might look, United are strangely close to title-winning form. Mourinho has promised only "basic" changes to the squad this summer, potentially offering the club a stability they have long craved.
Man Utd have also been much more positive in their approach to top-six clashes in 2018, suggesting they can stick tight to City for longer next year. It was a dreadful 0-0 draw at Anfield in October that allowed City to pull away; the manager has learnt his lesson.
A kind fixture list could bring United the string of consecutive wins in August and September that typically define a Mourinho title win, which would suddenly change the atmosphere inside Old Trafford and give the likes of Paul Pogba and Romelu Lukaku the confidence they need to play with swagger.
It is very hard to see how Chelsea can bounce back from a disappointing 2017/18 under Antonio Conte, primarily because they will struggle to bring in key targets without Champions League football. Eden Hazard will surely be pining for a move this summer, while the club are expected to appoint a new manager with a very different tactical approach to Conte, meaning an awkward departure from the style that has defined this club since Mourinho first arrived in 2004.
Luis Enrique's wage demands are too high, meaning it will probably be Maurizio Sarri, a man whose methods might not be suited to such a physically imposing squad. There is no reason to assume Chelsea are set for a particularly poor campaign, but finishing higher than Man City? It doesn't look possible.
Daniel Levy is at a crucial juncture. He must answer Mauricio Pochettino's plea to loosen the purse strings or Spurs' progress under the Argentine will fall apart. Not only will Poch leave unless significant transfer funds are made available, but the likes of Harry Kane and Christian Eriksen will eventually move on unless their wages are dramatically increased.
Even if Levy does put his hand in his pocket Spurs won't challenge for the title. Pochettino's record in the transfer market is dubious, and it isn't his style to add ready-made stars to the squad - which ultimately will cost them over the course of the season.
An Arsenal title in the first post-Wenger season would be sensational. The rebuilding job at the Emirates is significant, and that's before considering there is reportedly only £50 million to spend in the transfer market. Mikel Arteta is the new favourite to replace the Frenchman, meaning even a repeat of their 2017/18 points tally (63) would be a success in such a difficult transitional year for coach and club.