Overs and Unders: Back goals at Old Trafford as free-scoring Arsenal come to town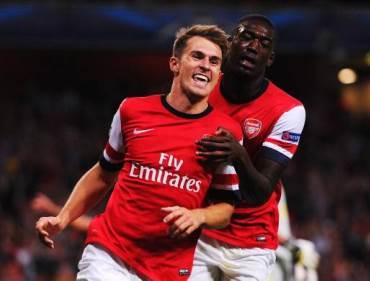 Aaron Ramsey will be looking for yet another goal in an Arsenal shirt on Sunday
Neil Harvey is showing a healthy profit so far this season. In this week's Overs and Unders he can see goals aplenty at Old Trafford and Turf Moor...
"Arsenal have scored a whopping 11 times in five away games in the league, but comfortingly for us, they've also conceded in all but one of those outings."
Saturday
Aston Villa v Cardiff
15:00
I've watched some bad games of football in my lifetime, but last Sunday's effort between Cardiff and Swansea has got to rank as one of the all-time worst. Bad passing, no creativity, almost no goal-scoring chances. This was just a dire match to watch from start to finish, and it was no surprise to me that the only way either side could score, ended up being from a set-piece.
That tiresome 1-0 win for Cardiff came right off the back of a 0-0 draw at Norwich. And as we saw last week, by their 7-0 drubbing at Man City, Norwich's defence isn't exactly watertight. So I think it's fair to say, Cardiff don't possess much of an attacking threat at present.
To their credit though, they are defending well. Their 13 goals conceded is the same number as Manchester United have let in, and only two goals worse than Manchester City. Consequently, 60 percent of Cardiff's league games have been low-scoring.
This week, the Cardiff defence goes up against a Villa attack that hasn't scored in its last four games, or to be more precise, 375 minutes of football. Paul Lambert's team have subjected their fans to two 0-0 draws in their last four matches, all of which were low-scoring. If there was someone I really didn't like, I'd consider buying them a ticket to this game, because it looks like being an absolute stinker.
Recommended Bet
Back Under 2.5 goals @ 1.804/5

Burnley v Bournemouth    
15:00
There look to be so few goals around in the Premier League, that I've chosen to venture into the Championship in search of some goalscoring value. And I believe I've found what I'm looking for at Turf Moor, in a game that sees Bournemouth boss Eddie Howe go up against his previous club Burnley. 
Howe left his position as manager of the Clarets for family reasons, but insists he's entirely focused on his new team heading into this reunion. Likewise, I'm entirely focused on the goals that look likely to ensue. Burnley may be top of the league, but Howe signed several of their players and will know exactly where their strengths and weakness lie. Given that Bournemouth have already scored in every one of their away games, they look odds-on to do so again here. But the manager's insider knowledge can only help.
Similarly, Burnley have found the net in every one of their home games, which is no surprise really, given that they're the division's joint top-scorers. Bournemouth concede almost two goals a game on their travels, and their comparatively small squad has been hit a by a number of defensive injuries. So from Burnley's perspective, the Cherries will probably look ripe for the picking.
Goals look guaranteed in this fixture, with both teams likely to find the net, and so Overs is the confident call.
Recommended Bet

Sunday
Swansea v Stoke
16:10
I've already mentioned the horror show that was Cardiff against Swansea, and it's important to stress the significant role that Swansea played in that debacle. Not only did the Swans look far from graceful, but worryingly for manager Michael Laudrup, they also looked like they didn't care. At 1-0 down, with 10 minutes to go, and in the first-ever all-Welsh fixture in Premier League history, I'd have expected the Swansea players to have given it a real go against their less-experienced and, some would say, lesser-talented opponents.  Instead, what we witnessed was a feeble capitulation by a group of players that my father would have described as a 'bunch of overpaid phonies'.
That lack of urgency and ambition is something I hope to take advantage of though, when Swansea take on what is much more committed Stoke side. The Potters generally look to keep things tight when playing away from home. Yes, they got embroiled in open games at Man Utd and Arsenal. Who doesn't? But away to Liverpool, Fulham and West Ham they were able to keep limit the game to the scoring of just a single goal.
Last week's Swansea-dive was no one-off by the way. The Welsh club were held at home 0-0 by West Ham just the week before that. Out of form, and struggling for goals, Swansea look there for the taking by any team possessing some fight and backbone. So it looks like Stoke may have timed their visit to the Valleys just right.
Recommended Bet
Back Under 2.5 goals @ 1.728/11

Manchester United v Arsenal    
16:10
It's now an incredible 29 away games in a row, in all competitions, and counting, in which Arsenal have managed to score. Of course, banking on them to score on their travels doesn't always mean that the match itself will be high-scoring, as four of their last five away games will testify. But a trip to Old Trafford, to take on a Man United side that's floundering at the back, but still firing on almost all cylinders up-front, looks like an ideal situation in which to profit.
The omens certainly look good. Arsenal have scored a whopping 11 times in five away games in the league, but comfortingly for us, they've also conceded in all but one of those outings. And they look certainties to find the net against a United side that's let-in six goals in its last three home games, to the likes of West Brom, Southampton and Stoke.
Don't dismiss United's chances of winning this game though. Defensively at sea, they might be. But they're still doing the business at the other end of the pitch, as shown by the 41 goals that they've scored in the 22 matches played under new manager David Moyes.
United desperately need three points and will be throwing the kitchen sink at the Gunners in pursuit of it, which should make for a cracking spectacle, and plenty of goals.
Recommended Bet
2013-14 P/L
Wagered: 48 pts
Returned: 50.52 pts
P/L: + 2.52 pts
Read past articles