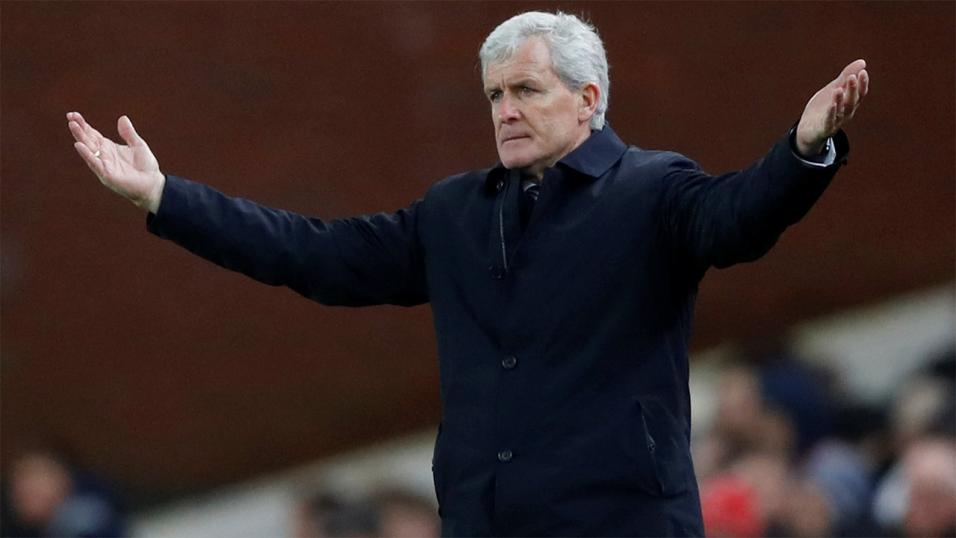 Mark Hughes is the current favourite but Southampton should look elsewhere
Alex Keble takes a look at the two main contenders in the Next Southampton Manager betting following the sacking of Mauricio Pellegrino last night, arguing that Mark Hughes is a riskier appointment than Marco Silva...
"Counter-intuitively, Silva's seemingly risky tactical approach is far more likely to raise morale in the dressing room than a back-to-basics, fire-fighter approach we would presumably see from Hughes"
Southampton parted company with Mauricio Pellegrino on Monday evening following a run of one win from their last 17 league matches, and although the search for a new manager has just begun it looks as though only two men - Mark Hughes and Marco Silva - are in the running.
With the club just one point above the relegation zone and facing arguably the toughest run-in among those fighting the drop, these are desperate times for Southampton. But fear of losing their Premier League status should not trigger reactionary decision-making in the boardroom; here's why Hughes would be a big step backwards for the club.
Mark Hughes (4/7) could be fatal short-termist thinking
The Telegraph have reported that Mark Hughes is the "leading candidate" for the Southampton job as the club look for Premier League "experience" in their bid to avoid the drop, marking a significant departure from their recruitment policy over the last five years.
Ever since Mauricio Pochettino modernised the club and began to make such good use of their youth academy, Southampton have tried to find young European coaches to continue the Argentine's model, which is why bringing Hughes into the club would be a surprising - and panicky - decision.
It could be a big mistake in the short-term and the long-term. What the club needs now is bravery: the self-belief to reject the emerging narrative that their progressive project cannot be saved. In short, to inspire confidence in the players Southampton must make a confident appointment - and Mark Hughes is exactly the opposite, a pragmatist with a recent record of Premier League failure. That is not the way to rebuild a prosperous future in the top flight.
Perception is everything
Hughes's most recent managerial stint was at Stoke City, where he presided over a miserable run of one win from his final 13 games in charge, significantly damaging his reputation (and suggesting that "experience" should not be conflated with expertise). Granted, Hughes is a competent manager who has enjoyed moderate success at every club he's managed in the Premier League (including Stoke up until this season), but with eight games remaining in the 2017/18 campaign perception is the most important commodity right now. The current view of Hughes is one of a manager in decline; a sturdy pair of hands who, at best, will drag Southampton over the line.
And while this recent reinterpretation of his managerial skills is largely unfair, there is still some truth in it. Hughes's tactical philosophy is considerably more defensive and more direct than the style Saints have attempted to cultivate since Pochettino's appointment in 2013. It is impossible not to see this as a regressive step, then, at a time when the board must keep a clear head despite the threat of relegation. Appointing Hughes would mean abandoning the long-term project, further destabilising the club.
A difficult run-in
Since Southampton's run-in is particularly difficult, bringing in a "fire-fighter" at this late stage could actually hinder their chances of survival. With only three home matches left, and two of these against Chelsea and Manchester City, this is hardly the time for cautious football that relies on narrow wins. They need an aggressive approach; someone to restore self-belief and initiate confrontational tactics against the biggest clubs.
Once the fans have time to react to the Hughes rumours - and judging the fans' response was probably a big reason for leaking the story to the Telegraph - interest in the Welshman might just cool. If it does, then Southampton will surely turn their attention to Marco Silva, the polar opposite to Hughes and the ideal appointment.
The other notable candidate is the former Watford manager, a man whose stock remains high despite the Hornets' collapse following Silva's aborted move to Everton. Silva is unlikely to walk into a top club following that disastrous episode, meaning he needs another mid-sized job like Southampton to restore confidence in his ability and loyalty.
In many ways he is the perfect candidate, not least because his tactical style (aggressive high pressing and bold attacking football) perfectly suits the project Southampton's board have been attempting to consolidate. He might have as bad a recent Premier League record as Hughes, but stylistically the two managers could hardly be more different; Silva fits the vision of the club, whereas Hughes clearly does not.
Confidence is the key to survival
Silva's first steps as the new manager would be to unleash their more attacking players, immediately urging Southampton to play on the front foot. Just as Watford's more intelligent midfield players enjoyed the intricate tactical chess that Silva's training sessions produced, so too would Nathan Redmond, Pierre-Emile Hojbjerg, James Warde-Prowse, Mario Lemina, and Dusan Tadic thrive.
Counter-intuitively, this seemingly risky tactical approach is far more likely to raise morale in the dressing room than a back-to-basics, fire-fighter approach we would presumably see from Hughes. If self-belief is low, Southampton need to restore their identity, not move further away from it. Silva, then, is a better option in the long-term and the short-term.
Hughes is available to back at 4/7. Silva is currently priced at 2/1.