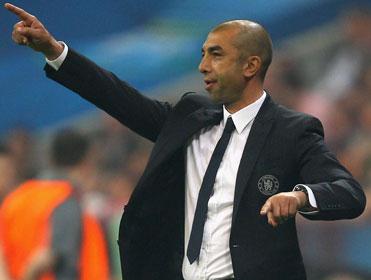 Chelsea only lost three games in 21 under Roberto Di Matteo
Chelsea are expected to confirm Roberto Di Matteo as their permanent head coach on a one-year deal this week...
"There is a danger that Di Matteo will find himself in the Claudio Ranieri position."
Roman Abramovich is so unswayed by popular opinion that Roberto Di Matteo was at one stage this summer backed as high as [4.0] to be afforded the chance to lead Chelsea on a full-time basis despite guiding them to the FA Cup and Champions League.
That price has since moved inwards dramatically to [1.06] following reports that the rich Russian has decided to reward those triumphs by confirming him as Andre Villas-Boas' successor.
The Italian tactician, whose rise to prominence is remarkable given that he was snubbed by Championship club Birmingham a year ago, is tipped to sign a one-year contract with the option for a second season over the next few days.
The anticipated length of the arrangement will renew speculation that Abramovich remains unconvinced that Di Matteo is a viable long-term option, especially as it will expire at the point when Pep Guardiola is prepared to return to work after a sabbatical.
Therefore, there is a danger that the former MK Dons and West Brom manager will find himself in the Claudio Ranieri position of seeing his every defeat provoke weeks' worth of speculation that his replacement with an imperious Iberian tactician is imminent.
Di Matteo will also inherit a squad rather different to the one he celebrated with in Munich last month, with Jose Bosingwa, Salomon Kalou and Didier Drogba all gone from the team who won that final, Eden Hazard arriving and Porto forward Hulk tipped to follow.
He may also not have been delighted with chief executive Ron Gourlay's promise than disgruntled striker Fernando Torres will be first choice even after a disastrous first 18 months at Stamford Bridge which prompted Di Matteo to favour Drogba.
However, a supporting cast of Juan Mata, Hazard and possibly Hulk will hand Torres every opportunity to rediscover his best form in a side who are [6.2] outsiders for the 2012/13 Premier League title and [13.5] to retain the Champions League.