Rafa Benitez: The good, bad and ugly of the new Newcastle boss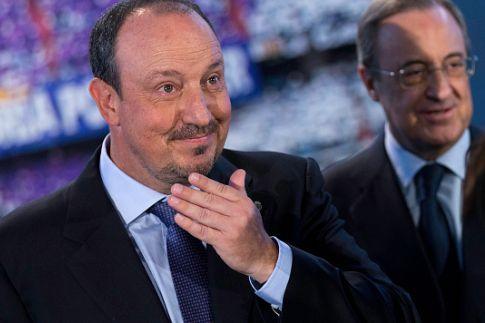 "All back to mine for a pot of scouse"
As Steve McClaren packs his Sports Direct bag and heads out of St James' Park, Rafa Benitez has replaced him as Newcastle. Stephen Tudor gets talking about 'facts' on the Spaniard...
The Good...
Takes on the untouchables
A serious revisiting is necessary of Rafa's supposed 'rant' at Manchester United and Sir Alex Ferguson that had a nation chuckling at a man unravelling in conspiracy theory. Or so the press had us believe. The facts of the matter however are these:
Until Mourinho and Mancini came along and ripped up the mind-games handbook a sycophantic media would routinely come to Ferguson's defence on the few occasions anyone dared speak up against the dark lord and his bullying ways. Scared witless of falling from his favour they compliantly portrayed Keegan as unstable, Wenger unhinged, and Benitez so paranoid he looked for reds under his bed.
But watch the clip again. Granted a detail or two should have been edited out for impact but it looks like a man calmly in control to us, and thoroughly sick of the perceived favouritism afforded to his rivals. It took cojones.


European savvy
Whether it's a tricky trip to Kiev or hosting the continent's great and good Benitez has established a reputation for being the master of the two-legged chess game.
He may now be burnished in Liverpool legend for his half-time team talk in Istanbul but equal props is given for overseeing Europa League glory for Chelsea in extremely testing circumstances. Loathed by the fans and inheriting a small squad to fight on four fronts Rafa navigated several banana skin ties in Prague, Bucharest and beyond to secure Chelsea's second European honour in consecutive seasons.
He is also a magician, as the below clip illustrates.

The Bad...
A decade of B plusses
Ask anyone to reel off 20 of the world's best managers and very few would omit Benitez. Yet his record since that astonishing evening in Istanbul a decade back pales considerably when compared to his peers in the coaching elite. In the past ten years he has presided over just two domestic cups (one apiece for Liverpool and Napoli) and a Europa League triumph with Chelsea.
In the league it gets worse with Liverpool's runner-up spot in 2008/09 the only occasion he has plotted a top two finish. Rafa departed the Bernabea with Real Madrid down in third place, behind city rivals Atletico and arch enemies Barcelona (who also beat his team 4-0).
Transfer record
While there is no disputing his tactical nous, doubts persist over Rafa's eye for a player in the transfer market. A £229m (£78m net) shopping spree during his six year reign at Anfield may include some major ticks in Fernando Torres, Pepe Reina and Xabi Alonso but Josemi? Antonio Nunez? Ryan Babel? It all adds up to a very expensive curate's egg.
At Napoli he was frustrated by restrained investment but worryingly looked to the familiar all too often with failed bids for Reina and Javier Mascherano.

The Ugly...
That goatee
The most loyal exponent of the goatee beard since Walter White went bad-ass Rafa has long been under the delusion that face-fuzz slims down a generous visage. It doesn't. Never has, never will. Instead his bristly crumb catcher merely makes him resemble the elder sibling of a certain general manager at Wernham-Hogg paper merchants. We'd pay good money to see this on the SJP touchline.
***
Discover the latest articles
Read past articles