Next Newcastle Manager: Rodgers backed into evens but better value elsewhere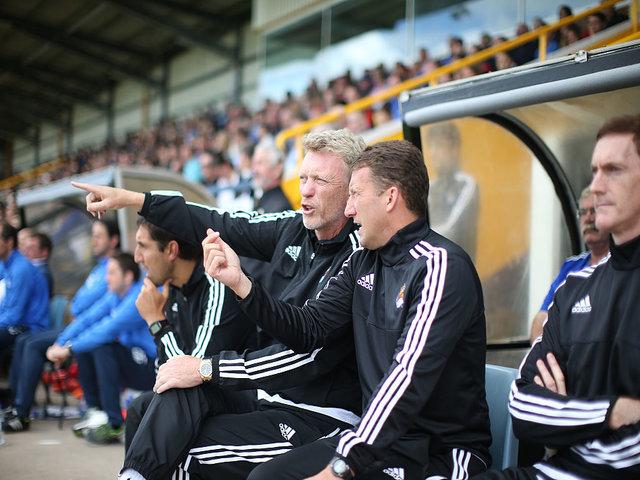 David Moyes is second favourite to land the job - but arguably the best candidate.
With reports indicating Steve McClaren is within 48 hours of being relieved of his duties, Betfair's Next Newcastle Manager market is seeing plenty of activity. Alex Keble looks at the contenders...
"He is, however, exactly the sort of high profile name that could lead to a flurry of victories after his appointment and thus survival over the next two months. Benitez is well worth a bet if any reports indicate he is seriously interested."
UPDATE
Friday, 11:00: McClaren has been sacked and Rafa Benitez - tipped up by Alex here at 8/1 - is into 1/20 to take the role...
***
Chaos and mismanagement run deep through the veins of Newcastle United Football Club; few neutrals will blame Steve McClaren for the impending doom that has engulfed St. James' Park, but equally few will deny that his position at the club has become untenable.
The exact demerits of Mike Ashley's reign continue to divide opinion, but his nine years of ownership can be summarised as a slow stagnation of progress as this enormous club fails, year on year, to avoid the humiliation of a bitter fight against relegation. McClaren's inability to motivate his players or create a cohesive tactical philosophy is indicative of a much wider trend on Tyneside and, as patience thins, it is inconceivable that he will find a solution.
Not that he ever stood a chance. A major revamp of the playing staff is desperately needed, as evidenced by the alarming degradation of Newcastle's tactics this season; McClaren began his tenure by instigating a short passing, high tempo style reminiscent of the model built at Derby but his idealism quickly faded as it became apparent the players had little interest in learning something new.
Regressive Pardew-esque tactics - of wing-focused counter-attacks - have taken precedent once again, causing fury amongst fans desperate to move away from conservative football built on the haphazard defending of players clearly unwilling to fight for one another.
Ashley will want to appoint someone who will bring exciting, attacking football to St. James' Park. However, the new boss must also provide an instant boost to avoid relegation just months before an £8 billion TV deal flows through the Premier League. Since these attributes may not go hand in hand, it will be a very difficult decision.

Rodgers has been backed in from 12/1 to even money favourite in the past day. His reputation remains high in English football after a fascinating three years at Anfield saw Liverpool flirt with the league title in 2014. Though many fans were left unimpressed by his persistently changing tactical philosophy - he moved from a Swansea-esque short passing style in his first season, to Suarez-centric full throttle football in his second, to a floundering composite of the two in year three - in truth he adapted well to changing conditions in the north west.
Rodgers' training methods, man-management technique, and tactical intelligence have been highly praised by all who work with him (Jose Mourinho is a huge fan of Rodgers) and his achievements at Swansea should not be forgotten. Like Roy Hodgson, Rodgers may simply have been the wrong style of manager for a job with Liverpool's reputation and expectations; at a club with similar illusions of grandeur but open to more tentative progressive than demanded at Anfield, Rodgers could flourish.
He will certainly offer a more aesthetically pleasing style of football than McClaren, and is better suited to the "head coach" role. Rodgers' biggest flaw is his poor decisions in the transfer market (he is much better as a coach than all-round manager), and thus at a club where recruitment is placed in the hands of Alan Carr he could be the ideal appointment.
Newcastle's biggest concern is that his personality may not be big enough to reinvigorate this squad and survive relegation. However, he would be a good fit to lead Newcastle in the Championship after achieving promotion with Swansea in 2011. Rodgers may also turn down the job in order to hold out for England, who could part with Roy Hodgson in the summer.

Mike Ashley is understood to prefer a long-term appointment built on a lasting relationship; the model of David Moyes at Everton perfectly fits the bill and the Scottish manager is admired on Tyneside despite his disappointing 12 months on Sociedad and the disaster at Old Trafford.
Moyes is a more conservative coach than Rodgers, preferring a tactical system built on robust defending and aggressive ball winners in central midfield; the likes of Thomas Graveson and Marouane Fellaini are the heartbeat of a Moyes team, and although Newcastle are not currently set up for such a system their fans would likely embrace his combative spirit. Ashley may see more idealism in appointing Rodgers, but Moyes is, perhaps, the more robust choice.
A previous promotion with Preston in 2000 (followed by a Division One play-off final in 2001) means that he would navigate the Championship well, and - perhaps most significantly - his no-nonsense management style would crack the whip at a club in serious need of ego management. Expect Ashley to choose Rodgers for his style of football, but Moyes if pragmatism is higher on his agenda.

The most glamorous choice is without doubt ex Liverpool, Chelsea, Napoli, and Real Madrid manager Rafa Benitez, and given Ashley's desire to improve the Newcastle brand Benitez is the truly idealistic target. If Benitez wants the job, he will no doubt be able to convince Ashley to take him on.
Benitez is famous for a low tempo, defensive-minded tactical strategy but this is grossly unfair. Benitez's Napoli were amongst the highest scoring teams in Europe, Real Madrid were scoring freely just weeks before he was sacked, and his tenure at Liverpool was arguably the most exciting era for the club in twenty five years.
He would most likely work well with the current set of players (most of whom are schooled in a more European style of low tempo possession football) but would bring with him a sense of expectation difficult to fulfil. He is, however, exactly the sort of high profile name that could lead to a flurry of victories after his appointment and thus survival over the next two months. Benitez is well worth a bet if any reports indicate he is seriously interested.

Very much an outsider at 10/1, Nigel Pearson is unlikely to step back into Premier League management so soon after his media implosion at the end of last season. Strangely, Pearson's stock has grown since his departure thanks to Leicester's triumphs under Claudio Ranieri, and perhaps if none of the above managers were available he would be in with a shot. As it is, don't back Pearson; the last thing such a chaotic club needs is a slightly unhinged manager at the helm.

Discover the latest articles
Read past articles