Premier League: When does Wayne Rooney run out of credits?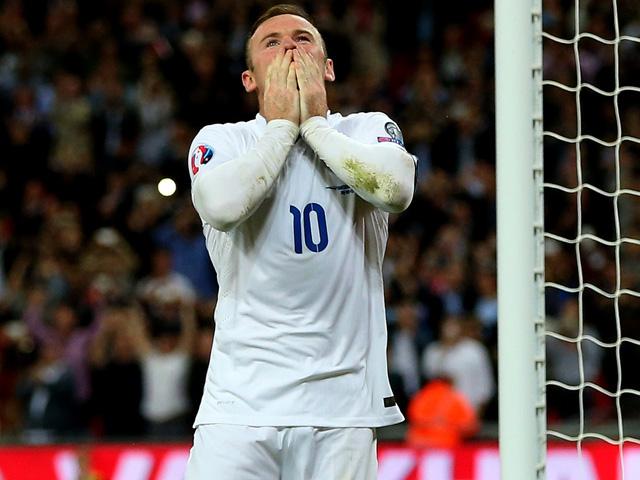 Wayne Rooney became England's record goalscorer in September 2015 but does he deserve more chances to add to his tally?
Wayne Rooney is still the Manchester United and England captain but Jamie Pacheco wants to know when the world will wake up and smell the coffee and realise the Three Lions' record-breaking goalscorer is done at this level...
'Rooney deserves credits in the bank but when do they end? When does the world and more importantly his two Managers realise that he's done at the highest level?'
The Untouchable One

May 2016: Louis van Gaal is sacked as Manchester United manager. June 2016: Roy Hodgson resigns rather than face the humiliation of not having his contract renewed as England bow out to Iceland.
What did they both have in common? A strange and somewhat incomprehensible loyalty towards Wayne Rooney, who they both appointed as their captain and pretty much branded as 'untouchable'.
Under Hodgson, on international duty Rooney wasn't even around for England's first two matches at Euro 2012 after a needless sending-off against Macedonia in their final qualifier cost him a two-match ban. At the 2014 World Cup he was no better or worse than anyone else as England lost back-to-back matches 2-1 against Italy and Uruguay.
At Euro 2016 he scored a penalty against Iceland to make it clear he was the team's penalty-taker but leaving us all pretty unclear what his role in the team was from a tactical point of view.
In two seasons under Van Gaal he was as confused as anyone else about his manager's mysterious 'philososphy' but maybe as captain, he should have made it his business to find out. He certainly wasn't the leader the Dutchman craved.
And yet here we are, in the late summer of 2016 with a new Manchester United manager and a new England boss in charge and still Rooney is the golden boy, the talisman, the 'Indispensable one' to the 'Special One.' Sam Allardyce pretty much said it's up to Rooney where he plays for England. So much for Allardyce's famed attention to detail and pre-match preparation. 'Go on, son. Just go off and do what you like...you're Rooney.'
When will they learn?

Wayne Rooney deserves respect and credit for what he's done since making his Everton debut as a 16-year-old. Some 526 appearances for Manchester United and 246 goals, 116 caps and a record-breaking 53 goals for England. And maybe that's the secret to Rooney's success up to now. More than the finishing, the upper body strength, the versatility or the passion, it's longevity. For 13 years there he is, season after season, fit and raring to go. Rarely injured and when he's suspended yet again for violent conduct for a few matches, it's 'well, you don't want to take that part out of his game'.
When Roy Keane's time at Old Trafford was up he was offloaded. As was Jaap Stam, Ruud van Nistelrooy, David Beckham, Robin van Persie, Rio Ferdinand. Paul Gascoigne was famously left out of England's 1998 World Cup squad; even Beckham eventually stopped getting called up for England duty.
Rooney deserves credits in the bank but when do they end? When do the world and more importantly his two managers realise that he's done at the highest level? Even Trevor Sinclair on 'Match of the Day3' refused to name Rooney as the player to be axed despite making it clear that 'somebody needs to be dropped at Manchester United'. Talk about friends in high places.
He's too slow to be a striker, too old to re-invent himself as a Number 10, too tired from too much football to run around all day like a Paul Pogba or Victor Wanyama. There's no room at the highest level of football for sentimentality and both Mourinho and Allardyce could learn this the hard way.
There are already 10 Managers less likely to be the first to be sacked in the Premier League than 20/1 chance Jose Mourinho and United have gone from second-favourites for the title to fifth-favourites at 16.5 after just five games. Of course it would be unfair to single out Rooney as the sole cause for United's poor form. But all is not well in Wayne's world and his demise threatens to take down a couple of managers with him.
Next up for United is a trip to Northampton in the EFL Cup on Wednesday.

Read past articles