Premier League: Why Watford can beat Man Utd and what that means for Mourinho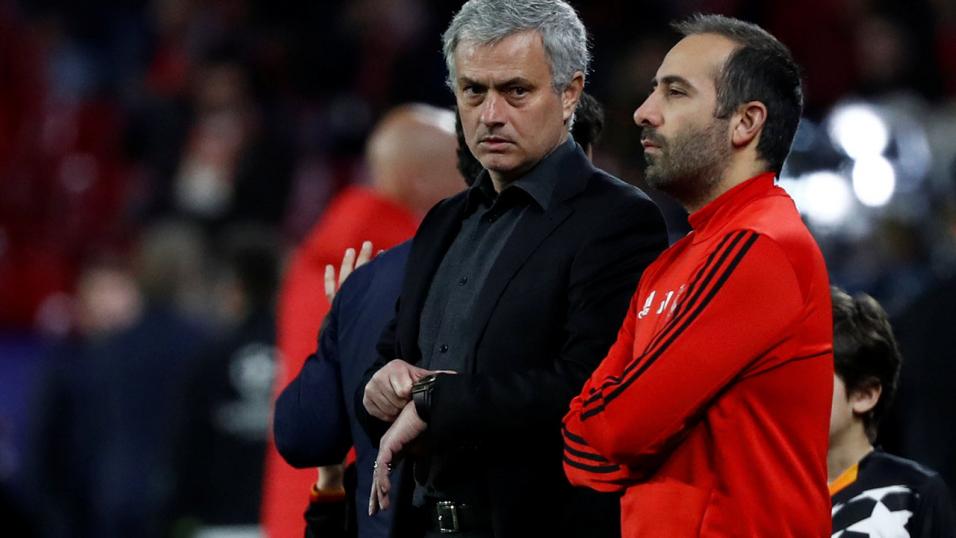 Mourinho's job will be scrutinised again if Man Utd drop points at Watford
Alex Keble looks at why only a win will do for Manchester United and more importantly Jose Mourinho, in their upcoming trip to Watford...
"Should Watford triumph that would leave United on six points from five matches, an unforgivable start to the campaign that would surely end any hope of a title challenge."
For quite some time, Jose Mourinho's infamous deflection tactics - basically, the incessant whinging - have failed, even if pundits like to feel clever by declaring them a success.
Psychological warfare is implicitly ineffective if everyone knows what's going on; mind games are hardly effective if everyone can label Mourinho quotes as mind games; his public outbursts don't actually stop us from talking about the performances of his players if we spend hours talking about how his outbursts have stopped us talking about the performances of his players.
But for the first time in years Jose Mourinho's antics do appear to have worked.
Before his side's 2-0 victory over Burnley, the Manchester United manager's cries of conspiracy had reached a hysterical pitch and although the media sniggered at the demands for "respect, respect, respect" it is worth noting how those working in football now tread cautiously. Negative opinions of Mourinho are enthusiastically qualified by assurances of neutrality, are tempered by hesitant requests from listeners or readers not to jump on their backs.
And after a victory at Burnley it seemed that the critics went silent, as if one victory ends the developing crisis and puts United right back on track despite a lack of evidence.
It feels as though the sudden drop in concern is related to the Portuguese's endless berating of the press; on some level - whether conscious or not, whether an independent decision or as a consequence of external pressure - we want to stop talking about crisis, to stop the Twitter rants and poisonous press conferences.
However, defeat at Watford this weekend is definitely on the cards, and should they lose the pressure will ramp up again.
Burnley victory was a false dawn
Historically a 2-0 win away at Burnley would represent a classic Mourinho victory and proof that he can get things back on track for United, but in reality the hosts were there for the taking.
The Clarets have endured a dreadful start to the season thanks to their Europa League participation, claiming just one point from their first four matches this season. In short, they look tired.
They've have failed to press as a team, to close the spaces between defence and attack, or to win the sort of 50-50s that have defined their tactics under Sean Dyche. They play like a side seriously jaded from all the travel and extra games in August (five in total) and consequently it was no surprise that United twice found the net.
Mourinho's team struggle for confidence and form when put under pressure, but at Turf Moor they were given the freedom to find their feet.
Watford are the hungrier side
That won't happen at Vicarage Road. Watford's 100% start is testament to the tactical organisation and desire in the team, Javi Gracia having used a narrow 4-2-2-2 formation to clutter the midfield and capitalise on his team's strength in the middle. They bite into tackles and press boldly all over the pitch, tactics that unsettle nervous opponents and ensure the vast majority of 50-50s are won.
Abdoulae Doucoure and Etienne Capoue have forged a strong partnership that should stunt wayward players like Paul Pogba and Alexis Sanchez, while the positional interchanges of Will Hughes and Roberto Pereyra is likely to outwit such a flat and directionless United midfield.
The way in which the hosts swept through Tottenham Hotspur a fortnight ago - making Mousa Dembele look lost at the base of midfield - should worry United fans.
Full-backs can hurt United
It isn't just boasting a superior midfield that gives Watford the edge. A crucial tactical feature of Gracia's is the use of overlapping full-backs, with Jose Holebas already amassing four assists this season. The Hornets' 4-2-2-2 sucks the play inwards, opening up space for boldly advanced full-backs to get in behind. This should seriously hurt United.
Mourinho's 4-3-3 leaves too much work for Antonio Valencia and Luke Shaw, partly because United's forwards don't track back enough and partly because the manager's system doesn't do enough to cover the width of the pitch. United's transitions are poor, and so Watford should be able to find joy down their left flank in particular. Shaw's absence only increases the visitors' vulnerability.
Where would defeat leave Mourinho?
Should Watford triumph that would leave United on six points from five matches, an unforgivable start to the campaign that would surely end any hope of a title challenge.
Current indicators suggest the club are in no hurry to get rid of the manager, but the most likely scenario the next time United lose is a sudden outburst of negativity in the media. We are in the eye of a storm; any further hiccup will plunge the club back into crisis.
It doesn't help Mourinho that a ready-made replacement is waiting in the wings, with Zinedine Zidane recently admitting he is ready to get back into management. The former Real Madrid manager perfectly fits the profile.
Two weeks of quiet around Old Trafford has made it easy to forget just how drastic things had become before the Burnley match. Many predicted Mourinho was actively looking for an escape route, his complaints an attempt to absolve himself from blame when the inevitable happens.
Whether or not this is true, failure to beat Watford will once again raise question marks both in the dressing room and on the terraces. It is very hard to see how Mourinho at United can end well. Lose to Watford, and it could all be over before we enter 2019.
Recommended bets
Read past articles