Opta Stats: One striker can be relied on in Man United v Burnley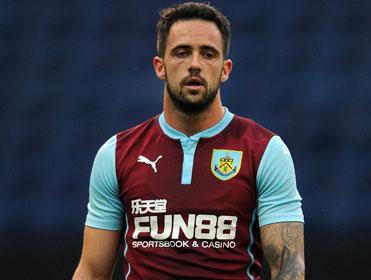 Danny Ings has attracted the interest of top-four clubs this term
Alexis Sanchez, Jermain Defoe, Danny Ings and Sadio Mane are the forwards favoured by the latest Opta stats...
Arsenal v Leicester (Tuesday, 19:45)
Alexis Sanchez has scored eight goals in his last eight Premier League starts at the Emirates
Just when Arsenal fans started to convince themselves that they weren't too reliant on their Chilean superstar after a 5-0 win over Aston Villa in his absence, Tottenham made it explicitly clear that you shouldn't overanalyse a stroll over Paul Lambert's strugglers. Even those who were confident that he would prove the signing of the season will have been surprised by the extent of his impact, striking 18 times already.
Recommended Bet: Back Sanchez to score @ 11/102.12

Sunderland v QPR (Tuesday, 19:45)
Jermain Defoe is looking to score in three successive Premier League appearances for the first time since March 2008
Those who thought that Sunderland were throwing money away by agreeing to pay Defoe a weekly wage rumoured to fall between £70,000 and £80,000 might be reconsidering after his goals against Burnley and Swansea. The Black Cats earned four points in those games, compared to one in the five prior. QPR are yet to claim an away point and have the most porous travelling defence too, leaking 27 times in 11 matches.
Recommended Bet: Back Defoe to score @ 6/42.52

Man United v Burnley (Wednesday, 19:45)
Danny Ings has scored in four of his last five Premier League appearances for Burnley
It isn't often that a visiting attacker stands out as the likeliest scorer at Old Trafford. However, while Radamel Falcao has netted once in five outings, Robin van Persie has notched only once in seven and Wayne Rooney hasn't had a league shot on target in 2015 due to being selected in midfield, Ings has fired four times in five league runouts for the Clarets, always grabbing their second goal in that sequence.
Recommended Bet: Back Ings to score @ 4/15.0

Southampton v West Ham (Wednesday, 19:45)
Sadio Mane has scored four in his last five Premier League games and four successive league starts
Two key elements of Southampton's Premier League success this season have been the 11 clean sheets kept by Fraser Forster and friends, and the 13 goals of Eredivisie recruit Graziano Pelle. The former has remained constant - with three of the shutouts obtained in their past five matches - but Pelle has cooled off recently, failing to score in seven league showings, making the surge in form of Senegalese winger Mane ever so timely.
Recommended Bet: Back Mane to score @ 9/43.25