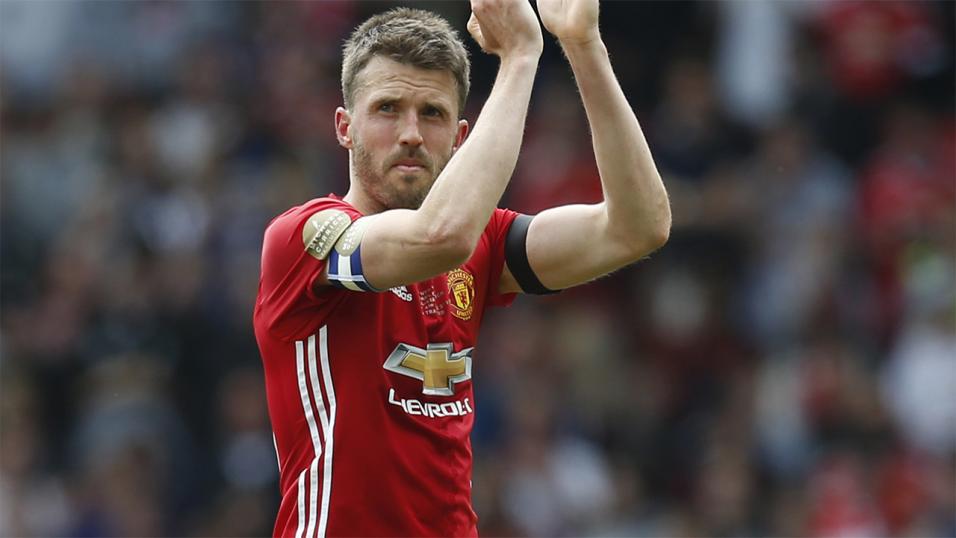 Michael Carrick in action for Manchester United
As Michael Carrick announces that he will retire from playing at the end of the season, Manchester United fan Max Liu hails the midfielder's subtlety and the crucial role he played in their success for several seasons.
"If you think I'm exaggerating Carrick's transforming effect for United then consider this: in the three seasons before Carrick's arrival, United finished 3rd, 3rd and 2nd. In the three seasons following his arrival, they won a hat-trick of Premier League titles."
Michael Carrick, who will retire from playing at the end of this season, is arguably the most influential Manchester United player of the past decade or so. If you think that's a ludicrous claim then consider the state United were in when Carrick arrived at Old Trafford.
By the summer of 2006, United had gone three seasons without a league title - Jose Mourinho's Chelsea had won it for the past two successive seasons and, prior to that, Arsene Wenger's Arsenal had triumphed in their unbeaten season. It was United's longest gap without a title since Sir Alex Ferguson's men won the club's first for 26 years in 1993.
Carrick arrived at a difficult juncture for Ferguson's United
The strain of trying to adapt to a changing Premier League (as well as Chelsea and Arsenal, Rafael Benitez's Champions League-winning Liverpool were in the ascendancy) had started to show at Old Trafford during the 2005/06 season. Things reached a nadir when Ferguson sacked Roy Keane, following the captain's scathing criticisms of his team-mates in a defeat against Middlesbrough.
Ferguson spent the rest of the miserable '05/06 campaign experimenting with central midfield partnerships. Paul Scholes was out with a mysterious eye problem and United were often short in midfield, so much so that Ferguson even fielded the bizarre and never to be repeated central two of Wayne Rooney and Rio Ferdinand in an FA Cup match against Wolves. United's most reliable central pairing that season was Ryan Giggs and John O'Shea. As a friend of mine put it at the time: "We've got no midfield."
Carrick's arrival in the summer was overshadowed by the drama around the question of whether or not Cristiano Ronaldo would play again for United, following his role in Rooney's sending off at the World Cup in Germany. As we know, Ronaldo returned and, alongside Rooney, lit up Old Trafford for the next three seasons.
But it was Carrick who knitted together a new United midfield and created the platform from which Rooney, Ronaldo, and the returning Scholes could be devastating further up the field. Carrick would go on to do this for, among others, Carlos Tevez, Robin van Persie and Marcus Rashford, so his importance to these players' success is inestimable.
The balance and calm Carrick brought to the team, helped to get the best out of other players. Without Carrick, would Ronaldo, for example, have made the transition from underachiever to world-beater? It's impossible to say but we do know for sure that, without a good midfield, a team has nothing. From United's opening fixtures of the 2006/07 season onwards, it was clear that, with the arrival of a single £18m signing, United once again had a very good midfield.
Carrick the surprise heir to Keane
There were gasps when Carrick was given Keane's number 16 shirt but the young Geordie quickly made it his own. Carrick is a different kind of midfielder to Keane. If they were politicians, Keane would be the heroic revolutionary while Carrick would be the master of diplomacy. Both get results, but what Carrick brought to United's midfield, which helped them to move on from the Keane years, was a new and more cultured authority that took United's opponents by surprise.
If you think I'm exaggerating Carrick's transforming effect then consider this: in the three seasons before Carrick's arrival, United finished 3rd, 3rd and 2nd. In the three seasons following, they won a hat-trick of Premier League titles. Carrick went on to win two more League titles and was a key member of the Champions League-winning team of 2008, although I will always cherish his two exquisite goals against Roma in the previous season's campaign.
A quiet linchpin and all-time great
During Carrick's time at United, the likes of Rooney, Ronaldo and Van Persie burned brightly. But Carrick outlasted them all, never flirted with other clubs and, was arguably the more consistent performer. The players of the era who rival Carrick for influence and consistency are Ferdinand and Nemanja Vidic, but the latter's United career was shorter than Carrick's by several years and involved too many red cards. Obviously, Giggs surpasses all as a United legend, but for a good decade beginning in 2006, Carrick was United's quiet linchpin and should go down as one of the club's all-time greats.

Carrick might yet have a part to play for United in the remainder of this season. They are [20.0] outsiders to win the Champions League but, if they get past Sevilla tomorrow night, Carrick's experience will prove invaluable in the quarter-finals and, who knows, even beyond. This summer, he will join Mourinho's backroom staff, by which time United will have gone five seasons without winning the Premier League. Hopefully, Carrick the coach will be as much of a catalyst for United's renewed success as he once was as a player.