Luis Suarez: Should he stay or should he go?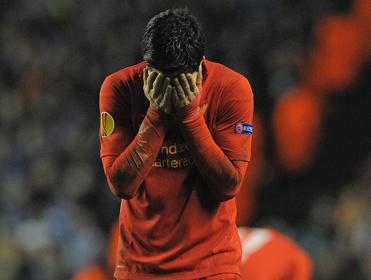 Luis Suarez wants a move away from Liverpool
He's been about as subtle as an air raid siren over his intentions this summer, but what makes the best move for Liverpool's troubled striker?
"If leaving the hounding British press behind really is the main motive for Suarez to leave Liverpool, then any move to stay in the Premier League appears flawed."
Further comments made in the last 24 hours in his native Uruguay have spelled out Luis Suarez' intentions to leave Anfield, with the market rating him at 3.65 to be wearing the red of Liverpool after the window closes. Here's a look at Suarez' choices...
Option 1: Stay at Liverpool
Suarez wants to play Champions League football and no one, including Liverpool fans, could begrudge a player of his abilities that wish. However, considering the Uruguayan signed a four-year deal at the club only last year and, they have stuck by him throughout all his misdemeanours (remember those horrendous t-shirts), if anyone owes their club it's Suarez. The fact Brendan Rodgers has reiterated he wants him to stay means his bridges may only be singed as yet and he would definitely still play. This may not be the worst option, but, with no Champions League on offer and that six-game ban to sit out, it's certainly not the best either.
Option 2: Join Real Madrid
The Spanish giants were the first club Suarez mentioned in his less-than covert pleas to Europe's top clubs. At first glance this is a move that looks tailor made for the player, especially if Gonzalo Higuain's protracted move to Arsenal is resolved. Suarez' desires to play in Europe's premier club competition are met for a start. In fact he could be the catalyst which turns the perennial Champions League semi-finalists into winners, with Los Blancos currently available at 7.06/1. He could play in a league much more used to theatrics, where he can understand the language better and where he won't be banned for six games. 
Option 3: Join Bayern Munich 
This is another highly tempting looking offer on paper. Bayern are the European champions after all. In new manager Pep Guardiola, Suarez has an admirer; though with Mario Mandzukic the established striker in Bayern's preferred 4-3-3 formation he would have more of a battle on his hands for a starting place than at the Bernabeu. There is also Robert Lewandowski's arrival next season to ponder.
Option 4: Join Chelsea
If leaving the hounding British press behind really is the main motive for Suarez to leave Liverpool, then any move to stay in the Premier League appears flawed. Chelsea 3.412/5 may be the current joint favourites to win the Premier League on Jose Mourinho's return, but competition for places at Stamford Bridge should warn the Uruguayan away. He'll not only be scrapping it out with Fernando Torres, Demba Ba and Romelu Lukaku for the lead role but Chelsea's plethora of other 'front players' too. 
Option 5: Join Arsenal
If Suarez could put his grossly unfair treatment by the British press aside (stop biting people then), north London appeals more than west.  Arsenal have already shown their interest by tabling that £30 million bid and he would be the undoubted star of the show at the Emirates. He's technically gifted and would suit Arsenal's intricate style of play.
Conclusion: Join Real Madrid
Everything Suarez desires could be afforded him at the Bernabeu. He would be adored there; he would get game time and the Champions League music would be ringing in his ears. Most importantly, he would be away from that nasty British press.