Europa League Draw: Liverpool v Man United and Dortmund v Spurs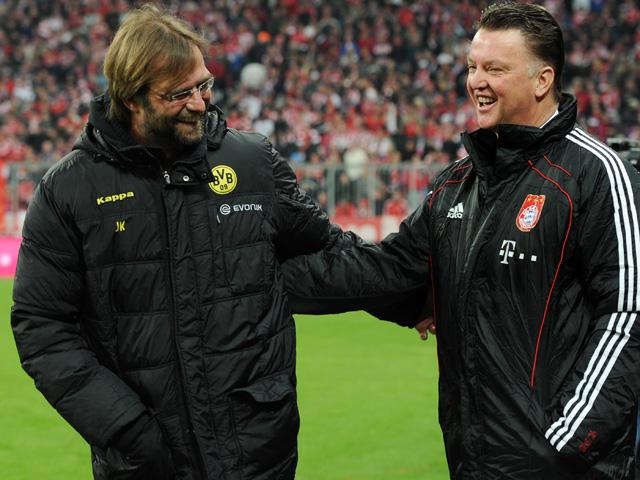 Jurgen Klopp and Louis van Gaal will meet again in the Europa League round-of-16
Liverpool and Man United collide and Tottenham meet the Europa League favourites in the round-of-16 ...
The Premier League's chances of supplying the Europa League winner - and by extension potentially gaining a fifth entrant in next season's Champions League - were severely hindered by a brutal round-of-16 draw.
Tottenham were handed the only team who were a shorter price than them at the start of the ceremony, 5.59/2 competition favourites Borussia Dortmund, causing their own winner odds to drift from 8.6 to 10.519/2, while Liverpool and Manchester United were paired together.
The two most successful performers in English football history remain fourth and fifth favourites, albeit sliding out from 10.5 and 11.5 to 12.011/1 and 12.5.
With four of the other five frontrunners being matched up, the biggest beneficiaries were holders Sevilla, who have shot in from 10.5 to 7.06/1 to hoard the trophy for the third campaign in a row after being dealt 28.027/1 outsiders FC Basel.
In fact, eight of the top nine in the pre-draw betting ended up landing one another, with seventh and sixth favourites Villarreal 15.014/1 and Bayer Leverkusen 14.5 acquainted and eighth and ninth-ranked sides Athletic Bilbao 18.017/1 and Valencia 18.5 forming a second set of clashing compatriots.
This creates an opportunity for one of the clubs who entered the draw priced 20.0 or higher to stake a claim for the silverware and Lazio are judged to be the best positioned to pounce. They sprinted in from 22.0 to 14.013/1 on the strength of facing Sparta Prague, with the second leg in Rome as a bonus.
The other sides who have seen their prospects of progress increase by being grouped together are Shakhtar and Anderlecht and Fenerbahce and Braga. The Ukrainians are the shortest of the quartet at 21.020/1 following an excellent 3-0 round-of-32 victory at Schalke, with Fenerbahce 26.025/1, Braga 42.041/1 and Anderlecht 44.043/1.
Click here to check out more of Betting.Betfair's Europa League content
Discover the latest articles
Read past articles