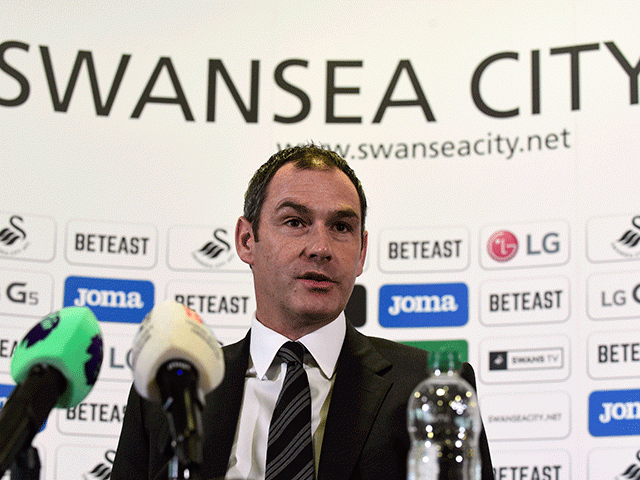 Paul Clement's Swansea side have an uphill struggle to preserve their Premier League status
Swansea are freefalling towards the Championship but Hull's travails on the road offer them a small window of opportunity, writes Andy Brassell...
"It's almost at the point where Hull expect to get nothing from away games, which puts a lot of pressure on to get maximum yield at home. Ominously, the last game of the season – at the KCOM – is against Tottenham."
As a team who looked so revitalised under new management, Swansea's plummeting fortunes in recent weeks have taken a while to fully digest. The opening two months of Paul Clement's reign were such a marked improvement from the Bob Bradley era that it was tempting to think that The Swans were three-quarters of the way towards safety.
The last six games have proved that they were anything but. That stretch has brought five defeats, two goals scored and a grand total of one point. Saturday's defeat at Watford may have been only by a single goal but it was a miserable performance, and one that had relegation written all over it. The gap to fourth-bottom Hull could have been five points, had Marco Silva's men managed a win at Stoke, but their loss means that the deficit remains at a relatively manageable two points.
With the way Clement's team have been playing of late, that gap looks like a chasm, but there is one element of the situation around them that offers them hope. Namely, Hull's away form. Despite eventually losing by twice the margin that Swansea did, The Tigers always looked far nearer to getting something from their trip to the Potteries than Clement and company did in Hertfordshire.
In one sense, this reinforces the current perception that Hull are simply the better team of the two as we come to the season's crescendo; more confident, more organised, with better players and better coached. Yet for all Silva's magic, he still hasn't found a way to make them effective on the road. They have gleaned just a solitary point away from the KCOM in his tenure - at Manchester United, bizarrely, back in February.
It was instructive to hear Harry Maguire, their outstanding defender who scored the equalising goal that gave them brief hope at Stoke, speaking after the game about three of his side's remaining five matches being on home soil. It's almost at the point where they expect to get nothing from away games, which puts a lot of pressure on to get maximum yield at home. Ominously, the last game of the season - at the KCOM - is against Tottenham.
Perhaps with this in mind, Maguire also conceded that taking a few away points is what is in order to complete the job - and finishing it off is what it's about, and what Swansea, when full of optimism, failed to do. There is nothing easy about The Tigers' remaining two away fixtures, at Southampton and an improved (if probably safe by then) Crystal Palace.
So Swansea still just about have their lifeline despite their abysmal run of form. Yet Clement knows that there is no time to waste, and was right to underline the imperative of a win at the Liberty against Stoke next weekend. If they fail to get three points there, it really could be curtains, with Manchester United and Everton their next two opponents.
The relegation battle isn't over yet, but Swansea will probably need a few slips from Hull to get through it - and this year, it seems, a figure less than the magic 40-point mark will almost certainly be good for it.

Conte's Chelsea need pressure to thrive
As excellent as Manchester United were in Sunday's victory over Chelsea, it was difficult not to wonder what had happened to Antonio Conte's side. It was deeply reminiscent of their defeat at Tottenham at the start of the year; a non-performance in a big game that was of far greater significance to their opponents than it was to them. It's understandable that they found it hard to attain peak intensity in both situations, but both will have displeased Conte and reminded him that, even if Chelsea are still highly likely to take the title, there is still work for him to do on his team.