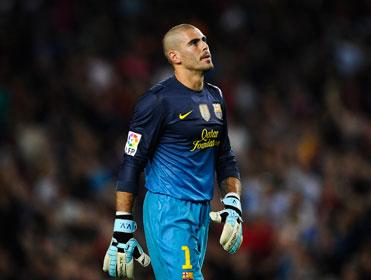 Victor Valdes has supposedly accepted an offer from Man United
Liverpool are one of four clubs whose reluctance to recruit Victor Valdes cleared the path for Man United...
"It is even rumoured that Valdes and Monaco inked some form of contract, only for the Ligue 1 side to backpedal following his cruciate ligament injury last March."
Victor Valdes announced that he would be leaving Barcelona in May 2013, meaning that interested parties had 20 months to seduce the Spanish shot-stopper.
How then have [28.0] title outsiders Man United, who already boast one of the best goalkeepers in the Premier League if not the world in David de Gea, been given a free run for his signature without even being able to guarantee first-team football?
It's time to name and shame the clubs who should be cursing their refusal to approach the former Camp Nou custodian...
Liverpool
Though it wasn't until 14 December 2014 that Simon Mignolet was benched, his contribution was criticised several times last season and errors escalated to an almost-weekly rate this term. It taking so long for Brendan Rodgers to "rest" him suggests that he wasn't sold on understudy Brad Jones, a sentiment that many supporters seem to share, making it even stranger that he stopped pursuing Valdes. Then again, this whole situation would have been swerved had he just retained Pepe Reina.
Monaco
From the moment that Valdes declared his intention to depart Barcelona almost two years ago, it was implied that a move to Monaco was a virtual certainty. It is even rumoured that some form of contract was inked, only for the Ligue 1 side to backpedal following his cruciate ligament injury last March. A change of policy in the principality last summer in which they decided that developing talent was preferable to signing cheques with lots of zeroes on them further split club from player.
Borussia Dortmund
Long-term number one Roman Weidenfeller has been a high-profile casualty of Borussia Dortmund's dreadful first half of 2014/15, which has left them joint-bottom of the Bundesliga. The unremarkable 34-year-old was an unused substitute for all five of their fixtures in December, but his replacement Mitchell Langerak may not be available for their next one on January 31 having been selected for Australia's AFC Asian Cup squad.
Roma
The Giallorossi's first-choice net-minder Morgan De Sanctis turns 38 in March and is so divisive that his ability to don the gloves for [2.96]-rated scudetto contenders would be questioned even if he was 30. Reserve keeper Lukasz Skorupski is a youthful 23 and, having featured just seven times since leaving Poland, has yet to prove that he can handle being the main man if De Sanctis retires or needs to be dropped permanently, so a 32-year-old Valdes would have been perfect for that transition.