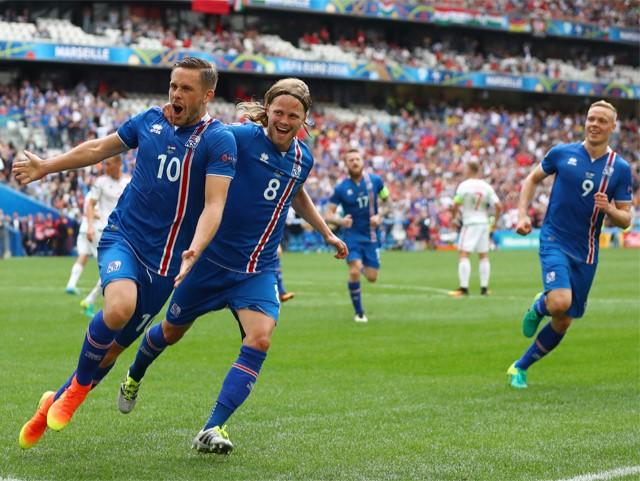 Sigurdsson in Euro 2016 action last summer.
Lots of clues point to the fact that Swansea's Gylfi Siurdsson might be about to move to Everton. At first glance it's a move that would suit all parties. But where does that leave Swansea's chances of beating the drop, asks Jamie Pacheco...

"It was at Swansea that he first really made a name for himself in his first spell and it was Swansea who brought him back after things went awry at White Hart Lane. He doesn't seem like the type who would forget that sort of loyalty."
Tough decisions at the Liberty Stadium

The Swansea Board had some pretty tough decisions to make last season. No-one likes to see a Manager lose their job but it's fair to say they made the right calls in deciding that Francesco Guidolin and Bob Bradley weren't the right men to deliver on the club's primary objective: beating the drop.

Though quite why Bradley was appointed in the first place is a decision that had plenty of their fans and neutral observers scratching their heads. But ultimately they got the most important decision right, taking a gamble on Paul Clement. He had been at some of Europe's biggest clubs as assistant manager but despite decent results in his first-ever gig as Manager at Derby County, he was sacked.

The appointment of Clement turned the club's fortunes around, they beat the drop and for this season at least they're still a Premier League team.

The elephant in the room

But arguably the biggest decision of the last 10 years the club has to make is on the horizon. Their star man Gylfi Sigurdsson was allegedly the subject of a 40 million bid from Leicester (that was rejected) and it seems Everton are preparing to test Swansea's resolve further with a 50 million bid of their own. Why 50 million? That's the figure Swansea have set themselves as the asking price for the Euro 2016 so far.

A somewhat likely scenario that's emerging is that Everton sell contract rebel Ross Barkley for a figure very similar to that to the likes of Tottenham, Manchester City or Arsenal (or a foreign club). Ronald Koeman has already said that Barkley has to put pen to paper or he'll be sold. No-one wants an extremely valuable asset leaving on a Bosman.

And Sigurdsson, a player with similar characteristics to Barkley as an attacking midfielder who can operate in a number of different positions, a more traditional number 10 or even as a 'false nine', comes in as a straight like-for-like replacement. Bringing vision, goals, assists and perhaps above all, a huge threat from set-pieces. He's now just 1/7 to move to Goodison Park.

The Sigurdsson/Barkley merry-go-round

It would seem like a situation that would suit all parties. Everton solve the Barkley issue and cash in on the player while bringing a like-for-like replacement.

Barkley, like Lukaku himself, decides he needs to move on to fulfil his ambitions and improve as a player, especially with the World Cup coming up next summer.

Sigurdsson, who in truth is a little too good to be playing for a club who's main objective continues to be to beat relegation, gets a second bite of the cherry at a bigger club. Things didn't work out for him at Tottenham during his two-year spell there. Whether he wasn't quite ready or whether the presence of Christian Eriksen in the side hindered his influence and game time is up for debate.

What the latter issue suggests is that despite the prohibitively short odds on his move to Everton, Sigurdsson might feel he'd be more comfortable taking the plunge if Barkley was no longer there. The England man is 6/5 to move to Tottenham before September 1 and 11/8 to stay where he is.

Sigurdsson has publicly stated that he's not looking to push through a move. I for one believe him. It was at Swansea that he first really made a name for himself in his first spell and it was Swansea who brought him back after things went awry at White Hart Lane. He doesn't seem like the type who would forget that sort of loyalty. Although of course if the club decide to sell him in a move that would see his wages drastically increased at a club with bigger ambitions, he's unlikely to be opposed to it.

The Sigurdsson-shaped hole

But what of Swansea? It's a reality that the likes of Chelsea, Manchester City and Manchester United can't relate to: having to sell their biggest stars because the money derived from their sales could be the difference between financial stability and being badly in the red.

But the Sigurdsson dilemma goes way beyond the disappointment of losing a popular and influential figure. He's by far the best and most important player they have. Fantasy Football Managers all around the world will be well aware of his worth: over the last three seasons at the Liberty Stadium he's racked up 27 goals and 27 assists. Last year only striker Fernando Llorente scored more. So can Swansea afford to lose him? They're hardly blessed with too many players of his ability in the squad. And let's face it: south Wales isn't exactly the number one destination on the list of available top class players.

So it's no exaggeration to suggest that if they only just beat the drop with Sigurdsson last time out, they may well fail to do so without him. They're 3.0 now now and that price may well contract pretty quickly if as expected, Sigurdsson starts wearing blue.