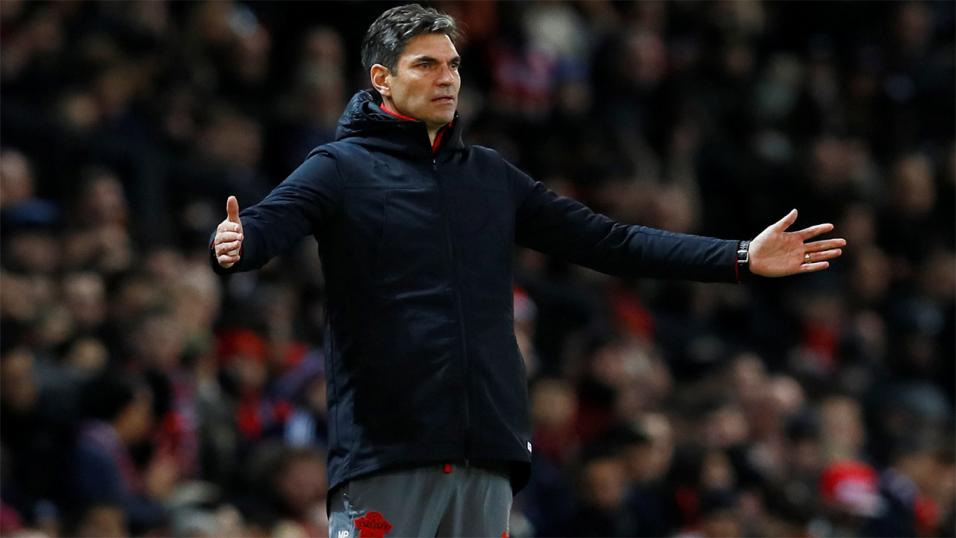 Graeme fears for Southampton in the second half of the season
Betfair Ambassador Graeme Le Saux looks back on the first half of the Premier League season and gives his verdict on what could be next for each side...
"Player for Player they've got some decent assets but every single one needs to improve their performances. They're capable of doing that but they're in a vulnerable position."

Graeme Le Saux on Southampton
The Top Six
Manchester City
What can you say about Pep Guardiola's side that hasn't already been said? They've been absolutely outstanding this season and their goal difference of 51 at this stage is quite incredible. The only real challenge they face at this point is maintaining their focus and not getting distracted by the Champions League. Keep up the good work.
Manchester United
As I've often said this season, Man Utd are at their best when they're playing with the freedom that we saw in abundance at the beginning of the season. Stalemates against Leicester, Burnley and Southampton in the league won't have helped their confidence levels but perhaps the 2-0 victory at Everton on New Year's Day can inspire a return to previous form. There's much to do if they're to maintain silver medal position behind the blue side of Manchester.
Chelsea
Antonio Conte's system and shape works well and Andreas Christensen has been a fantastic find for them this season, he looks so composed in possession and has rightly been praised by his teammates. What they lack though is cutting edge and some consistency up front. Despite hitting the ground running, Alvaro Morata has struggled up top and he desperately needs to regain his confidence in front of goal.
Liverpool
They need to show quickly that there's life without Coutinho, the likes of Mane, Firmino and Mo Salah should make that transition a lot easier though. In addition, Virgil van Dijk can give them some much needed belief at the back and assume the role as defensive leader but they do need to keep up with the pack. The top four are unbeaten in their last 20 matches and show no sign of letting up.
Spurs
I think they'll look back on this season as a case of damage limitation given they they've had to go through the big move / temporary eviction. It was always going to be a challenge playing at Wembley and they'll be desperate to get back to their refurbished home. Dele Alli hasn't been in the same form as he was last season but he's still only 21 and came into this season carrying a huge amount of responsibility. If they can improve their win ratio in the second half of the season then they've every chance of finishing in the top four.

Arsenal
They've gone slightly under the radar this season and are playing a lot better than people give them credit for. Jack Wilshire has been a huge positive, he's proving that he can play consistently at the highest level again and it's great to see. I've also been impressed with Ainsley Maitland-Niles, he's handled everything that's been thrown at him so far and I look forward to seeing him progress. The questions around Ozil and Sanchez obviously remain and while I like Lacazette as a player, I don't think he's settled into the team in terms of understanding his role. That can largely be blamed on his stop-start inclusion in the first XI though and he looks like he's in need of a boost in confidence.
Mid-table mediocrity
Burnley
Inevitably they've hit a bit of a wall recently but they've got a small squad and therefore the festive period was always going to be tough on them, without the luxury of being able to rotate the team. I find it hard to gloss over the fact that they've only scored 19 goals though, they're where they are based on their defensive efficiency. They are however on track for their best ever finish and it's vital that they use it as a platform to kick on from. It's incredibly refreshing to see them up there with the big boys while operating on such a limited budget.
Leicester
The acquisition of Claude Puel has proven something of a masterstroke by the Leicester board. He's freshened up the atmosphere and got the players working well together again. His arrival at the club has almost closed the chapter on their recent success and now it's very much a new beginning. When they're in good form, they're a great team to watch although the potential departure of Riyad Mahrez will almost certainly have an impact on their overall quality as a team so replacing him will be a big task.
Everton
Having lost their last two matches, Sam needs to get his side back to where they were when he first came in. The harsh reality is that they're only seven points from the bottom so could do with going on some sort of a run. With Ross Barkley gone, that's potentially a major distraction lifted from the dressing room and with Cenk Tosun on board they have the ability to really kick on; especially if Gylfi Sigurdsson can re-discover some of his old form.
Watford
It's an awful cliché but it really is hard to know which Watford side is going to turn up each week. They've completely lost the momentum they had at the beginning of the season and like Everton they need to find some consistency in a bid to steer themselves away from the drop zone. It might be that a few new faces in January can re-invigorate the squad but they've got a strong spine to the team and they're a very physical side, they should be ok.
Could be in trouble...
Huddersfield
It's been such an exciting season for them, the fact that they've got back on track in the last five games is to their credit as the games come so quickly around Christmas. They do however have issues scoring goals, they need more from Steve Mounie, especially at home where their form will be vital to their chances of staying in the top-flight. Aaron Mooy epitomises their endeavour and work ethic but I do think it could be a difficult end to the season for them.
Brighton
They're a very well organised side and are difficult to break down however like a lot of the teams around them, they're really struggling in front of goal. Glen Murray has done well for them but they could do with someone that they could rely on with pace up front that can run in-behind. Perhaps they'll be looking to arrest that issue in January by bringing someone in but both the club and Chris Hughton deserve a lot of credit for a solid first half of the campaign.

Newcastle
They have the ability to raise their game against the better sides, I thought they played really well against Man City for spells of the match but it's that inconsistency that has been their Achilles heel so far this season. The potential change in ownership is obviously a massive distraction and Rafa Benitez is working with a limited budget to help get them out of trouble. Playing at St James' Park comes with a lot of fan expectation and perhaps that's proving too much for this group of players to deal with; they need to learn to embrace it rather than shy away from it.

Crystal Palace
Roy Hodgson has done a fantastic job, he had a horrendous fixture list when he came in but he's really brought them on from that. They're now looking up the table rather than down which brings positivity to the dressing room and that can only help the likes of Zaha and Benteke fulfil their potential. Almost in contrast to St James' Park, there's a very encouraging atmosphere at Selhurst Park which can make for a difficult experience for visiting sides; their 0-0 draw against Man City is a great example of that.

West Ham
Like Crystal Palace, the new manager and his staff have come in and done a good job. They've only lost once in their last five and are climbing the table. It's vital now that they don't get complacent and they build on those recent performances. Anywhere from ninth down in the league, every manager will be focusing on building both confidence & resilience and David Moyes will be desperate to show he is the right man for the job.
Bournemouth
I'm constantly amazed at what Eddie Howe has achieved at the club, they don't have the infrastructure that a lot of sides in the league have and yet they continue to surpass expectations. They haven't made a huge amount of signings but those that have come in have been improved by the manager and he has them playing to their potential. It's really just a case of whether the teams around them are improving at a quicker rate but they're on a decent run at the moment. The next month or two will be crucial.
Bottom of the class
Southampton
It's been such a disappointing season, they've really lost their way with no wins in their last five. They're paying the price for good players leaving and the high turnover of managers. They lack both identity and strong leadership. In fairness to Mauricio Pellegrino, he's had a lot to deal with, not least the Virgin van Dijk saga. Player for Player they've got some decent assets but every single one needs to improve their performances. They're capable of doing that but they're in a vulnerable position.
Stoke
They wouldn't have let go of Mark Hughes lightly but with the players they have, they're massively under-performing. It's hard to know what the catalyst for that is so naturally everyone looks to the manager, it's a shame. They've become victims of individual mistakes and poor performances, the two obvious areas they need to focus on are at the back where they've got the worst record in the league and also creatively in the final third. Mark tried to change the style of play but he struggled and they've almost lost their identity. Whoever comes in needs to get back to basics if they're to climb the table.
West Brom
If you consider how they've been playing in recent seasons and how they've set up, it was always going to be difficult for any manager to come in and alter that style. They had such a strong identity, trying to alter things with the same personnel is a real challenge. Alan Pardew still hasn't won a league game and the pressure is really on, he has to be looking anywhere for a win. Individually they're not a bad side, the difficulty comes with jump starting them into a style that will breed some success.

Swansea
Carlos Carvahal was a big roll of the dice, identity breeds consistency and having previously had such a good approach to buying players and appointing managers, that seems to have gone out of the window somewhat. Paul Clement was obviously unable to get them going and bringing in the new manager is an opportunity to give things one last go but they're a side that are struggling all over the pitch. They don't seem to have that energy, desire or urgency that a team needs to get out of trouble and I do fear for them.