Graeme Le Saux on Arsenal v Liverpool: Reds firepower will be too much for Gunners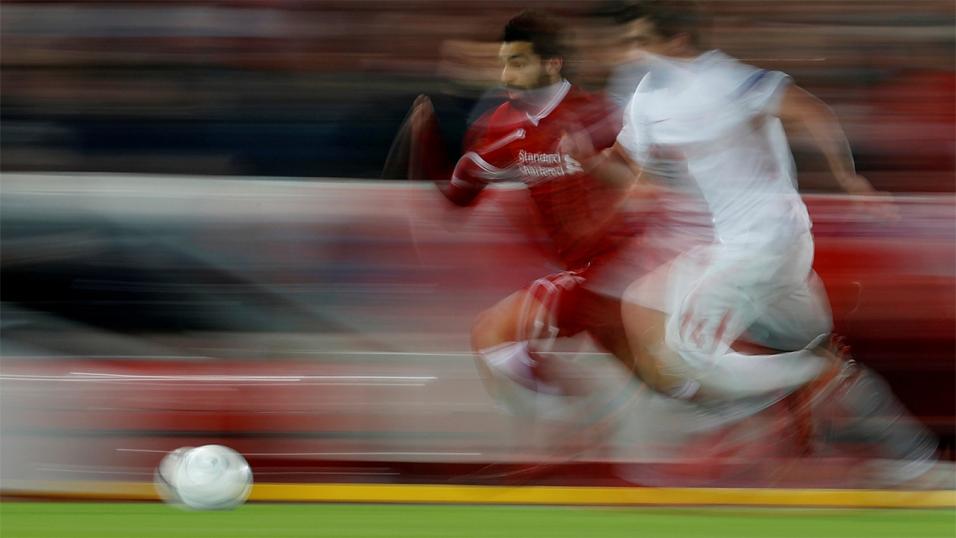 Graeme expects both sides to be on the scoresheet on Friday night
Betfair Ambassador Graeme Le Saux returns with his verdict on Friday night's clash at the Emirates...
"We're coming up to the half-way point in the season and for me the two standout players in the league have been Kevin De Bruyne and Mo Salah. I can't think of anyone else that's made such a huge impact on their respective sides."
Arsenal v Liverpool
Friday, 19:45 GMT
Live on Sky Sports Premier League
After a fortnight of low-scoring affairs in early December, Liverpool are back to recording cricket scores in front of goal. However as we enter the busy Christmas period, it'll be interesting to see whether they're able to maintain such proficiency.
Their impact up top comes directly from their high press and if they're to maintain that level of intensity they'll need to learn to play much more efficiently and take control of games.
That being said, that goes out of the window somewhat against Arsenal as they'll need to be their tenacious selves to match up with the Gunners. When these sides met in August I spoke about the need for Arsene Wenger to play Liverpool at their own game and utilise Alexandre Lacazette's pace to maximise their ability to play on the counter. The manager surprisingly went on to start the game with the Frenchman on the bench and so if they're to learn one thing from that 4-0 defeat, it's possibly that he's the right man to lead the line for all the same reasons.
Arsenal come into this game having won three of their last five but their record this season against the 'big six' (not including Burnley!) is still not what it should be, with November's victory over Spurs the only one of note. They simply must find a way of getting over their shortcomings against the top teams.
Sanchez will continue to draw attention to himself
As ever, there'll be a huge focus on Ozil and Sanchez, the German's goal against Newcastle last weekend really was of the highest quality. It's moments like that, that show what he's capable of, and for all the criticism he's received, he actually leads the Premier League in assists since making his debut in 2013.
The ability that both players possess marks them out as those that can be directly responsible for winning points and regardless of what happens in January or the summer, all you can ask is that they play to their potential every week until then.
Sanchez hasn't scored in his last four games now so he'll be looking to correct that but what he's very good at is drawing attention to himself. By that, I mean that he's fantastic at taking players away from who they're supposed to be covering which creates opportunities for the likes of Lacazette. The Chilean is a real livewire and the energy that he brings to the team as a whole will be vital to matching the intensity that Liverpool will bring to the table.
Wilshire looking to book his ticket to Russia?
It would also be remiss of me not to mention Jack Wilshire who has enjoyed a good run of games recently. It'll be an interesting insight into Arsene Wenger's long-term plans as to whether he plays him on Friday evening. The real question mark around him continues to be his fitness, he really needs to come away from this season having played 30+ games and in a roundabout way, that's of more importance than the performances he puts in.
It's been seven years since he's played that much football in a season and perhaps he can put himself into the conversation for a place in Gareth Southgate's World Cup Squad. I always feel you're only back to your best when you're matching your greatest achievement - which for me - was playing for my country.
Salah the linchpin in Klopp's disruptive system
We're coming up to the half-way point in the season and for me the two standout players in the league have been Kevin De Bruyne and Mo Salah. I can't think of anyone else that's made such a huge impact on their respective sides. It's been fantastic to see a player come back into the league having matured and developed so much. He really fits into the Liverpool ethos and as a result has to be the first name on the team sheet each week.
His ability to time his runs and being happy to gamble on the ball arriving is to be commended. Often when a player operates out wide, they might shy away after trying something more than once but it's that willingness to continue to speculate and take chances that sets him apart from the rest. His flexibility across the front three is what makes Klopp's system so 'disruptive' and that's exactly where Arsenal will need to be careful.
They probably have the speed defensively to deal with Liverpool's attacking threat but I'm not sure they have the positional understanding. It might be that Wenger goes with a back three in order to make allowances for additional cover in midfield to even up matters.
Taking into account that the last four encounters between these teams have produced 21 goals, I think it's safe to say that there'll be goals. The onus will be on Arsenal as they're at home and I think they'll have to channel a similar level of spirit that they showed in that magnificent game against Man Utd earlier in the month. While I expect both sides to score, I think Liverpool will edge it as they've just got so much ability going forward.

Discover the latest articles
Read past articles