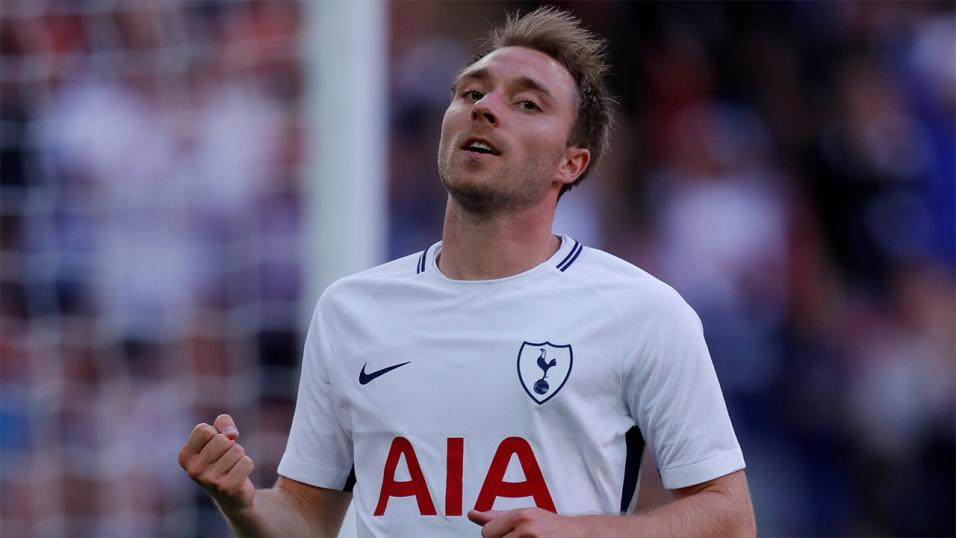 Christian Eriksen screams fantasy value this season
Part three of the 2018/19 FPL season preview revolves around midfielders and Neil Monnery thinks this is where you'll need to pay the most attention...
Top Five Midfielders 2017/18:
Salah - 303
Sterling - 229
De Bruyne - 209
Eriksen - 199
Mahrez - 195
Mohamed Salah
The Egyptian and Liverpool forward (who is classed as a midfielder for fantasy purposes) deserves his own section. Having been priced up at £13.0m and coming off the back of a season where he scored 32 to go along with 12 assists, you can see why he's such a hefty outlay.
At the time of writing, the 26-year-old has been selected by just over half the teams in the game (50.8%) and I'm shocked it is that low. Under Jurgen Klopp, I expect Liverpool to continue with their attack-minded philosophy and even if another 303 fantasy point campaign seems overly-optimistic, expecting him to be the top scorer is perfectly reasonable.
What to do about Man City?
Raheem Sterling (£11.0m), Kevin De Bruyne (£10.0m), Leroy Sane (£9.5m), Riyad Mahrez (£9.0m), David Silva (£8.5m) and Bernardo Silva (£7.5m) are all great picks for every game in which they start. Therein lies the problem for fantasy gaffers.
Unless Pep Guardiola has really decided to go all-out attack this season, the most you can expect is four of the listed six to start any given game. KDB can play deeper with three of the other five in the advanced positions behind Sergio Aguero or Gabriel Jesus. The Belgian seems to have the most job security and with eight goals to go along with 18 assists, is a safe bet to be a top five scorer amongst midfielders. As for the other five then it is a crapshoot. Sunday's Community Shield may give a glimpse of Pep's thinking.
What about the other big names?
Alexis Sanchez and Eden Hazard are both priced up to start the season at £10.5m and I'd swiftly scroll past them without giving it too much thought. The Chilean international hasn't been a value fantasy play in 18 months or so. Last season he was distinctly underwhelming and until he shows signs that he's back to the form of two to three years ago, isn't a smart pick. As for the Belgian, talk of him leaving Stamford Bridge is of concern but even more troubling is in his first three years at Chelsea, he hit double digits for assists in each campaign, in his past three he's not reached that mark once.
At £9.5m, Sadio Mané had a much better stats line after Christmas as the goals started to get spread about the Liverpool front line. He'll have a good season all being well but this is the price point where Christian Eriksen lies and that is where your focus should be. Harry Kane may get all the glory from the media but the Dane is the player who makes Spurs tick. Double digits in both goals and assists wouldn't be surprising.
Cut-Price Deals
With 174 and 178 fantasy points over his past two season's then you'd expect to be paying £9.5m or £10.0m at least but Spurs have a second undervalued player price wise in Heung-Min Son. At £8.5m, he puts up fantastic numbers and seems to go through very hot spells. Grab him for those bursts and he'll reward you big time.
It might surprise many (it did me) that Paul Pogba got 13 assists for Manchester United a year ago to go along with six goals. They are good if unspectacular numbers but when you look back and recall he missed plenty of time with an injury as well as being in Jose Mourinho's bad books, at £8.0m he is a worthwhile play.
At the Emirates both Aaron Ramsey (£7.5m) and Henrikh Mkhitaryan (£7.0m) are worth watching closely. The former has excelled whenever played in a more advanced position so best to see how they setup under new management. As for the former Manchester United and Borussia Dortmund player, if he ever finds the form he had in the Bundesliga then he'd be a fantasy bargain.
Pascal Gross (£7.0m) put up 164 points last season and there is no reason to believe he'll see any significant drop-off. If your third or fourth choice midfielder can put up 150 over the course of the season then you'll be a contender in your league.
Everton have spent an inordinate amount of money to reunite Marco Silva with Richarlison. When the two of them were together at Watford, they were fantasy gold. If they can recreate that magic then at £6.5m, it is a slam dunk. One other name at that price I want to mention is Ryan Sessegnon. The Fulham youngster scored 16 and notched up eight assists in the Championship last season. Everything I've seen and read makes me think he can step up and be a star in the Premier League.
Where are the bargains Neil?
Up in the north east, you have two viable bench/squad midfielders in Matt Ritchie (£6.0m) and Kenedy (£5.0m). The Scottish international has put up three-digit scores in his past two Premier League campaigns. The Brazilian youngster impressed whilst on loan earlier this year and could be a great cheap pick up.
Newly promoted Wolves are headlined by Ruben Neves and he should be on your fantasy radar. At only 21, he lit up the Championship with six long-range goals and the Portuguese international is poised to do similar in the top flight. 90-110 points seems a reasonable expectation and at just £5.0m, well worth it.
Another youngster is 22-year-old Mex Meyer who has joined Crystal Palace. This kid has all the talent to really enhance Crystal Palace's first team and I'm very interested to see how that works on a fantasy level.
West Ham supporters are salivating at the prospect of Jack Wilshere running their midfield but did you know his best fantasy campaign was in the 2010/11 season and even then, 93 points was all he hauled in. I'm not interested but he's going to attract plenty of fantasy attention.
Keep a look out to see if either Phil Foden (£5.0m) or Ruben Loftus-Cheek (£5.5m) get Premier League loan moves before the transfer deadline. If either do then their value skyrockets well past their current price points.
Final Thoughts
Pay the money for Mo Salah. He's worth it. Beyond that I likes both Eriksen and Son at Spurs to put up impressive numbers. Pep has so many options at Man City then I'm scared to pick anyone but De Bruyne, who seems to play most weeks.
Deeper down the pecking order, I like Naby Keita (£7.5m) who has a record of scoring in just under every four games from midfield. That isn't too shabby and Liverpool with their pace, skill and movement will score a bundle this season. Paul Pogba is also someone I'm looking at closely. Aaron Ramsey has long been a fantasy favoutite of mine.
Luka Milivojevic scored so many penalties late last season and could do so again but I like the young Fulham winger more at £6.5m. Fellow kids Meyer and Neves are also players you have to keep an eye on.