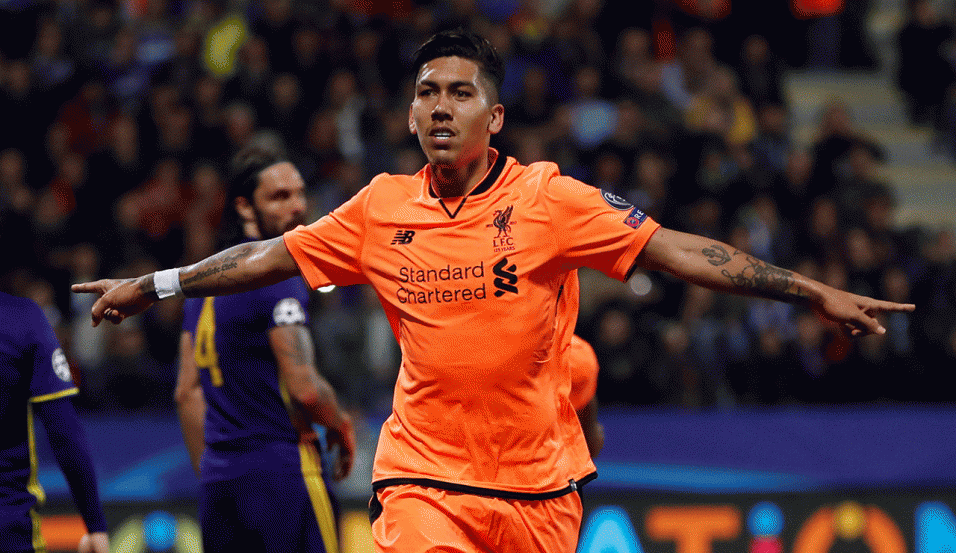 Roberto Firmino is all set for another blistering fantasy campaign
Harry Kane will be a fantasy star is not headline news but other strikers will be better value. Neil Monnery examines the forward options...
Top Five Forwards 2017/18:
Kane - 217
Vardy - 183
Firmino - 181
Aguero - 169
Lukaku - 162
Harry Kane
At £12.5m (£1.5m higher that any other forward) Harry Kane is without a doubt the cream of the fantasy crop with regards to strikers. Back-to-back 29 goal campaigns will do that for you (Kane actually scored 30 league goals last season but one wasn't credited to him on the day of the match for FPL purposes). The England captain takes penalties as well as play week in, week out. This is a recipe for great success. There isn't much point writing an essay about him but it is fair to say that if you've got the spare cash, grab the Spurs front man.
Apart from Kane, who are the big money options?
Pierre-Emerick Aubameyang (£11.0m) came into the Premier League during the January transfer window and scored one goal in every 106 minutes played. You can't ask for much more and he looks set to continue that sort of form this year.
Sergio Aguero is available at the same price but like last year, you fear how many minutes Gabriel Jesus will steal from the Argentine front man. Whichever of the Man City strikers plays, they'll be fantasy gold but you'll be risking it unless one is injured or suspended.
The final option at this price is Romelu Lukuku. Surprisingly his 16 goals last season was his poorest return since the 14/15 campaign. I like the 25 year-old to clear the 20 mark this time around because I think the likes of Jesse Lingard and Marcus Rashford will be the year wiser in creating opportunities. For that reason I would pick him above the other two £11.0m choices.
If you want big price value however, look no further than Anfield. Roberto Firmino is up for grabs for just £9.5m and when you look at the creative players surrounding him, it is hard to not expect another 180+ fantasy point haul.
Chelsea have a new manager who is still being linked with new strikers. This coupled with the interchangeability of Alvaro Morata (£9.0m) and Oliver Giroud (£8.0m) makes me want to take a hard pass on them at this juncture.
The last top-priced player worth noting is Jamie Vardy (£9.0m). The England squad member scored 20 Premier League goals a year ago and it would be a bit of a shock if he took a big step backwards. Expecting 17-18 would be reasonable and a sound pick for that outlay.
Getting bang for your buck
Attack is one of the hardest positions to find value due in large part to many teams only playing one central striker these days. For that reason, going down the list and getting big points is a tough ask.
One player I'm all in on though is Wilfried Zaha (£7.0m). In the last few weeks of the 17/18 season, Roy Hodgson started to play the Ivory Coast man through the middle and it worked wonders. Should Crystal Palace continue to use the 25-year-old in a similar capacity, an increase on his nine goals and seven assists looks highly likely.
Another option for just half a million less is Aleksandar Mitrovic. Twelve goals in 17 appearances whilst on loan at Craven Cottage helped Fulham reach the top flight. A permanent deal has been finalised and a goal in every two to three games is fair expectation.
Last season, Marko Arnautovic got it going after Christmas and became a fantasy must-have. Like Zaha, he was classed as a midfielder a year ago where goals and assists were worth an extra point. West Ham have invested lots of money this off season but their most important player may very well be the Austrian. Currently 26% of teams have selected the former Stoke City man and clearly they are banking on him continuing his scorching hot form. I'm dubious but he's starting the season on my watch list. If he keeps the centre forward role, then he's worth picking.
Once you got to £6.0m and below, it is really just pot luck and hoping to hit on a striker who has a good match-up. Attack is not a position where you can expect to pick up a plethora of fantasy points in the bargain basement.
Final Thoughts
At the top-tier Harry Kane is likely to continue being the top points scorer but Roberto Firmino may be the best value for money. Chelsea's front pair worry me but I do see Romelu Lukaku having potentially a 190-200 point campaign.
There are a few speculative options at £7.0m or below that shouldn't be ignored. One I didn't write about is Chris Wood (£6.5m), who scored a goal every 162 minutes he was on the pitch a year ago. Burnley don't score many goals but when they do, they rely heavily on their strikers.
It has been five years since Daniel Sturridge (£6.0m) notched up a 22 goal season. Ever since, the former England player has failed to get to double digits. If he can stay fit and find minutes on the field, he might be worth keeping a close eye on as the season progresses.