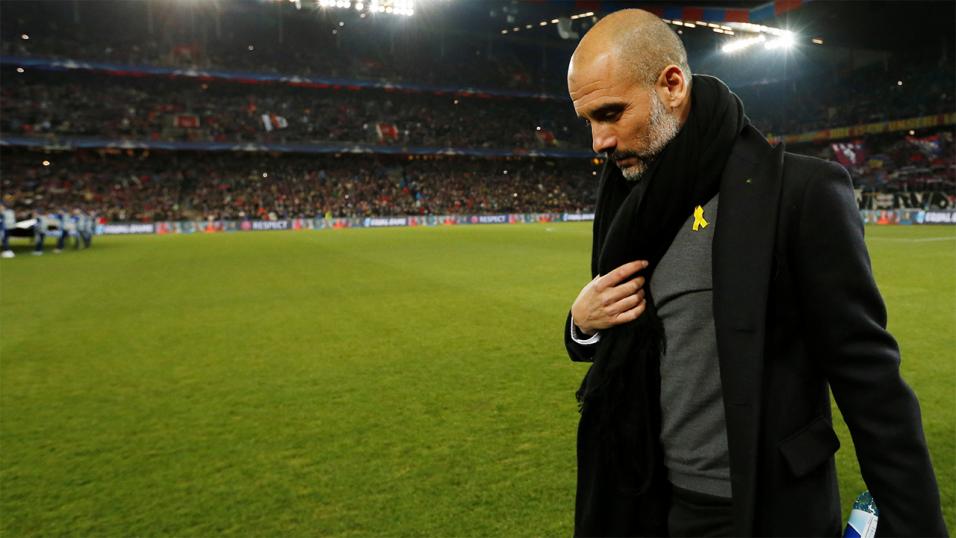 Pep will be looking for his side to bounce back after defeat to Wigan
Stephen Tudor looks back at every League Cup final from the past 25 years to seek out clues as to what this Sunday's top six mismatch might offer...
"League Cup finals in recent times are nearly always settled by the cast's leading men with 38 of the 75 goals since 1993 coming courtesy of an out-and-out centre-forward."
A far-fetched quadruple is now an impossibility but Manchester City still remain on course for a domestic double this season starting with their third League Cup final in five years at Wembley Stadium on Sunday.
In their way stand an Arsenal side in the throes of inconsistency with a string of disparate performances and results since the new year and while the slick, pinball brilliance of Pep Guardiola's men can almost be taken for granted the destination of the cup might ultimately come down to which Gunners side turns up. If it's the out-of-sorts collection of individuals downed by Bournemouth, Swansea and Spurs recently this could conceivably be a relatively one-sided affair. If the sumptuous, swaggering Arsenal who took Everton to the cleaners earlier this month make an appearance then we might well have an absolute classic on our hands.
Even Arsenal's cup stats throw up only uncertainty. On the one hand this will be Arsene Wenger's eleventh domestic final with the North London giants having won seven of his previous ten. Clearly then he has the knack for getting his team to knock out their greatest hits on the biggest stage. Undermining this is the fact that Arsenal's six goals to this point is the lowest tally in the competition's history for any finalist.
As for City how they respond to last Monday's shock FA Cup exit to Wigan will be intriguing. To the surprise of all the Latics showed the previously imperious Blues that they bleed like mere humans yet it is still difficult to imagine that the self-belief accrued from a record-breaking campaign will be significantly dented. Theirs is an exhilarating brand of football governed less by confidence and more an adherence to an intricate blueprint.
This incidentally will be the first ever occasion that Manchester City and Arsenal have locked horns in a major final.
Which brings us to the third aspect to consider ahead of this fascinating duel, that of the fixture itself. The Carabao Cup final is a unique date in the English footballing calendar that offers up clues galore as to what we can expect this weekend over and above form and team line-ups. By studying the past twenty five years it is possible to pick up patterns and trends that only seem to occur in this truly idiosyncratic game.
Don't get ahead of yourself
In twenty five years of League Cup finals going right back to Arsenal's last triumph in 1993 there have been seven occasions when the team who conceded first went on to win it. This in itself is a noteworthy figure but what most grabs the attention is that it's a trait steadily becoming the norm. From the most recent 13 encounters six teams have found the resolve to overcome an early set-back (all six opening goals being scored in the first half) and turn the narrative of the contest on its head.
From all of our previous 'historical' previews nothing comes close to comparing with this.
This illustrates two things. Firstly that the fixture lends itself to drama full of twist and turns. Secondly, that you shouldn't feel too disheartened should your favoured team fall behind.
With Arsenal having scored 50% of their League Cup goals this season in the first period and City known for finishing strongly the 20/1 available for Arsenal/Man City Half Time/Full Time is a long shot worth serious consideration.
It's best to overlook unlikely heroes
Finals bring out the worst in us sentimental types brought up on Roy of the Rovers and Steve Morrow match-winners. Wembley after all is the perfect setting for Vincent Kompany to thunder home a late header or for the Gunners' unheralded Mohamed Elneny to break his domestic duck.
Fight that temptation. League Cup finals in recent times are nearly always settled by the cast's leading men with 38 of the 75 goals since 1993 coming courtesy of an out-and-out centre-forward.
Furthermore there has been scant impact made from the bench with only five substitutes getting on the score-sheet and given that five finals have gone the full distance to 120 minutes that's a meagre return from the supporting roles.
Sergio Aguero has breached Arsenal's back-line on the last four occasions he's come up against them and yes the 10/11 for the Argentine to do so again is slim but frankly it's slim for a reason.
Expect late drama
Not including extra times a higher than average 32% of goals have arrived in the final quarter of games since 1993, a statistic that has clear logic behind it. Finals traditionally drain the legs and offer up late mistakes and this is certainly true of a fixture that has bestowed upon us six last minute goals only one of which had no significant bearing on the result.
Conversely only one from a quarter of a century of League Cup finals has been settled early doors with Middlesbrough's 2-1 win over Bolton in 2004 reaching its peak in the 21st minute.
No matter who is sponsoring it or whether it takes place at the Millennium Stadium or Wembley this is a game that rewards patience.
Anything but mellow yellow
The red card count is bog-standard and even then is skewed by a glitch in the matrix that saw three dismissals from a particularly feisty clash between Chelsea and Arsenal in 2007.
Concerning cautions however the League Cup final can often prove to be a real test for a referee's temperament with just a smidgeon under four per final equating to a ratio that is markedly higher than the norm.
The man in the middle this Sunday is Craig Pawson who has so far dished out the fifth highest number of cards from all of his colleagues so combining that with this game's historical habit for ill-discipline it's fair to expect bookings in abundance.
Underdogs rarely prosper
Arsenal are a tempting 9/2 to prevail against a side they bested last April on the same Wembley turf during their FA Cup semi-final but a word of warning accompanies the generous price.
80% of League Cup finals in recent times have gone the way of the pre-match favourites and if this seems like a perfectly reasonable number it should be factored in that only a small handful of those contests featured outright mismatches on paper. Instead so often they involved teams separated only marginally in the league as is the case here in position if not points and with Alexandre Lacazette out and Aaron Ramsey a serious doubt it all hints to the first half of an impressive domestic double being served up by Manchester City.