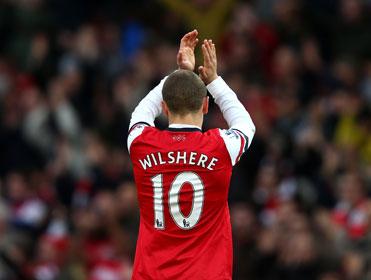 Wilshere is back to stiffen the Arsenal midfield - but the guys behind him need to improve or the Gunners will continue to wobble
Arsenal have moved back into odds-on territory after clobbering 10-man Tottenham but they conceded twice on Saturday and defensive frailties may cost them in the long run, says Ralph Ellis 
"Lay Arsenal for the top-four while you can, because the fundamental problems facing the Gunners won't change. First and foremost, they can't defend."
The thing about derby games is that fans view the outcome in black and white. And that doesn't alter even if you wear ridiculous change shirts with two shades of grey (or blue, or whatever the third kit is).
So for Tottenham to lose 5-2 at The Emirates was a body blow for Andre Villas Boas, one that may yet knock him down with the same sort of devastating force as that vicious Carl Froch left hand that floored Yusaf Mack. AVB has been met with anything from suspicion to downright dissent by Tottenham's fans, and getting thrashed by Arsenal will have done nothing to help.
The flip side is that Arsene Wenger is suddenly back to being a genius. And the combination of Jack Wilshere and Santi Cazorla in his midfield is being hailed this morning as Barcelona-esque. Wilshere even reckons that the little Spaniard who arrived from Malaga in the summer should be given the nickname "Messi".
Betfair's markets were certainly impressed by the Saturday lunchtime goal romp. Arsenal have been trimmed to [1.72] for a top four finish - having drifted to odds-against during an unimpressive run of just eight points from their previous seven games.
Lay it while you can, because the fundamental problems facing the Gunners won't change. First and foremost, they can't defend. Steve Bould appeared to have gone some way to sorting out the back four when he was brought into Wenger's coaching team at the start of the season, and the campaign opened with three clean sheets.
But word was that the Arsenal manager then began to marginalise the work done by his former centre half. And however true those rumours are, the statistics don't lie. Since then they have gone through 15 games in all competitions and only once - against QPR - got through without conceding.
Even on Saturday have a look at the space that Jermain Defoe was given before Spurs went in front after only ten minutes. And what about the lack of pressure on Gareth Bale before he scored Tottenham's second? It might have been academic by then because Arsenal were 4-1 up and cruising against ten men, but good teams stay ruthless and simply don't allow that sort of chance to happen.
So keeping goals out will be a problem. And there's no certainty that scoring them will be a great deal simpler. After 12 Premier League games last season Robin Van Persie already had 13 to his name. Even after Saturday's romp, Cazorla, Lukas Podolski and Olivier Giroud don't have that many between them.
Arsenal only just crawled into the top four last year, and they simply can't lose a 30-goal striker from the side and be a better team. And it's not as if Van Persie is the only major figure to have moved on from the Emirates. In the last couple of years they have also waved goodbye to Cesc Fabregas, Gael Clichy and Samir Nasri.
The bottom line for Arsenal is that you cannot keep selling your best players every summer and still be certain of a place in the top four. History says the Gunners get there every year, and that has probably influenced the betting.  But the squad at Wenger's disposal remains full of players who are relatively new to the Premier League, and have yet to be tested across a long winter.
So winning a derby game might have put some smiles on the faces of Arsenal fans, and upset a few from across the way at White Hart Lane. But in the long term Wenger still has just as many questions to answer as AVB.