Chelsea v Man City: Sarri can help Blues challenge champions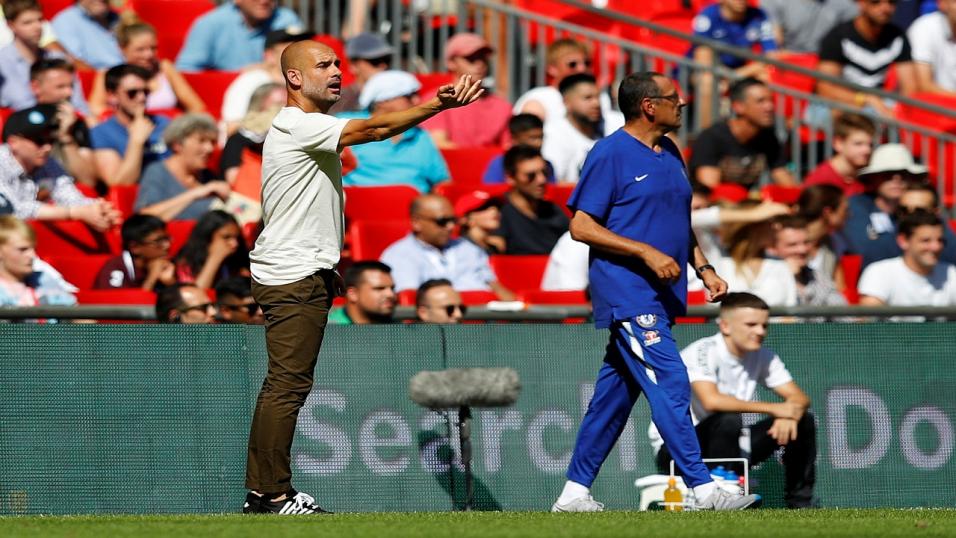 Maurizio Sarri and Pep Guardiola are both 'training ground obsessives', says Kevin
Ahead of the huge Chelsea v Manchester City clash on Saturday, Kevin Hatchard assesses Maurizio Sarri's impact at Stamford Bridge as the Italian comes up against his friend Pep Guardiola...
"The angst that characterised the back-end of the Antonio Conte era has been wiped away, replaced by a more collaborative and relaxed atmosphere."
Relentless brilliance
Such is the relentless brilliance of Pep Guardiola's Manchester City machine, it can be hard to cast your mind back to when that footballing behemoth was still in the construction phase. In the Catalan's first season in England, City finished third, a full 15 points adrift of the winners Chelsea.
They still scored 80 goals and racked up 23 victories in that 2016-17 campaign, but given their current level of performance, that season feels like comparing a PS4 with a Commodore 64 - still pretty cool, but not as advanced or effective.
People understandably point to the money City's power-brokers have lavished on that squad, and they ask pertinent and reasonable questions about Financial Fair Play, but it's impossible to escape the conclusion that Guardiola is the foundation upon which the entire glittering edifice is built.
Even Guardiola admits he needs top players to make his brand of football work, but his obsessive quest for perfection brought trophies galore at Barcelona, it made a deep and lasting impression at Bayern Munich and German football as a whole, and it has now lifted Manchester City to unprecedented heights.
When you hear Guardiola speak about something outside football like his love of music or golf, it seems almost inconceivable that his football-soaked brain has capacity for anything else.
Beautiful football
Now Guardiola's friend and fellow coach Maurizio Sarri is running the opening lap of his Premier League marathon, and the Italian has described Guardiola as the best coach in the world. The pair dined together in the summer alongside another coaching scion, former AC Milan boss Arrigo Sacchi, and the respect goes both ways.
Guardiola described Sarri's Napoli as one of the best teams he has ever faced (City beat them home and away in the Champions League), and he hailed Sarri as someone who played the most beautiful football in Italy.
Chelsea went unbeaten in their first 12 Premier League games of the campaign, which is remarkable when you consider how little time Sarri has had to make sweeping stylistic and tactical changes. The players have taken on board Sarri's positive, vertical approach in double-quick time, and although recent defeats at Tottenham and Wolves have highlighted the defensive issues that Sarri has regularly voiced fears about, an average of more than two points per game represents rapid progress.
Sarri is a dreamer. His stated aim on arriving at Stamford Bridge was to have fun, and the angst that characterised the back-end of the Antonio Conte era has been wiped away, replaced by a more collaborative and relaxed atmosphere. The dietary rules and requirements are less stringent, and players are given more of a voice.
But no-one should ever dismiss Sarri as a soft touch. This is a man who worked outside the football bubble for many years in the high-pressure world of banking, someone who grafted in the lower leagues in Italy before belatedly making it to the top. This is a training-ground obsessive in the same vein as Guardiola, who has thrown himself body and soul into the task of restoring Chelsea to the top of English football.
Blues can slow City's charge
As Chelsea prepare to face Guardiola's champions at Stamford Bridge, it's tempting to assume that all-conquering City will merely make another tick on their Premier League to-do list. After all, Guardiola bested Sarri twice last season, and in the Community Shield at the start of this campaign.
However, there are reasons to think that Chelsea can at least slow City's charge towards another title this weekend, with Guardiola's men worth laying at [2.0].
The Blues are still unbeaten at Stamford Bridge, they were very close to beating Liverpool earlier this season before a wonder strike from Daniel Sturridge, and Chelsea haven't lost at home to reigning Premier League champions in the top flight since 2002.
They rested key players at Wolves, so the likes of Jorginho (the midfield maestro Manchester City wanted to sign), David Luiz and Pedro should return.
It's also worth bearing in mind that Chelsea have one of the world's best players in Eden Hazard, and this is the kind of game where he needs to underline that status. The Belgian sparkled at the World Cup, and after magnanimously accepting that his dream move to Real Madrid wasn't going to be sanctioned, he has racked up seven goals and six assists in the league. If Sarri can do for Hazard what he did for the likes of Dries Mertens at Napoli, Chelsea's wing wizard may have an even higher ceiling to reach.
Guardiola is further along the Premier League road than Sarri, and his team plays dazzling football with a dash of ruthlessness. However, Sarri's first few steps on the PL journey have been made with an impressive swagger, and the old friends could be on a more level footing in seasons to come.
Recommended bets
Lay Manchester City at [2.0]