Premier League: The key tactical battles on Boxing Day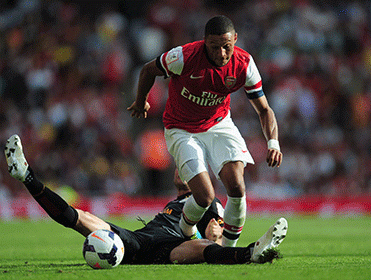 Oxlade Chamberlain has added tempo to Arsenal's play
It's a Christmas edition of Alex Keble's regular tactical preview of the Premier League and he turns his attention to the key battles on Boxing Day and picks out four bets...
"Despite Liverpool's improved performance against Arsenal last weekend, their nervy, disjointed passing this season could play right into Burnley's hands."
Man Utd possession v Newcastle counter-attacks
15:00
Live on BT Sport 1
Despite the ominous consistency of Man Utd's home form in recent weeks (seven wins and one draw in the last eight), Newcastle will be hopeful that their possessional dominance will leave the hosts vulnerable to the counter-attack.
Some 76% of Newcastle's attacks come down the flanks (highest in division), and they have scored 41% of their total goals from crosses this season (seven).
The Magpies regularly launch counter-attacks via the quick and skilful Moussa Sissoko (two dribbles per match) and Gabriel Obertan (1.5 dribbles per match), so Man Utd's use of marauding wing-backs and high defensive line could play into Alan Pardew's hands.
In their 2-1 defeat of Chelsea, Newcastle sat in deep, compact defensive lines, sacrificing the vast majority of possession (66%) and absorbing pressure, before counter-attacking to great effect. Considering that at Old Trafford this season Man Utd have averaged 61.3% possession (the second highest in division), making 598 passes (2nd highest) at an 87.7% pass accuracy (1st in division), Newcastle will be repeating this model on Friday.
This game will be decided by the performances of Antonio Valencia and Ashley Young, two wing-backs in outstanding form but still adapting to a role that requires high positional intelligence.
Man Utd's dominance of possession means Valencia and Young will sit in very advanced positions; there will be space in behind, if Newcastle have the nerve to exploit it. Expect Pardew's men to score but with United looking more comfortable in a 3-5-2 with each passing game, the hosts should emerge with the three points.
Recommended Bet
Back Man Utd to win and both teams to score at 19/10

Burnley's Tireless Running v Raheem Sterling
15:00
Sean Dyche's Burnley side are becoming well known for their hard-work and tireless pressing, forcing the opposition into mistakes with constant hassling; as Ronald Koeman said after Southampton's 1-0 defeat at Turf Moor, they have "unbelievable spirit".
Despite Liverpool's improved performance against Arsenal last weekend, their nervy, disjointed passing this season could play right into Burnley's hands.
Burnley's ethos of hounding and harassing their opponents into mistakes is reflected in the defensive statistics of their midfielders; Dean Marney's 2.8 tackles and 1.8 interceptions per match is particularly impressive, as is George Boyd's 3.6 tackles and 1.8 interceptions, and David Jones' 1.3 tackles and 2.9 interceptions.
Fielding both Marney and Jones in defensive midfield positions, Burnley's bold tactic focuses predominantly on hustling central playmakers off the ball. In the victory over Saints, Dusan Tadic was stifled; he made two key passes (down from 2.9 season average), and no successful crosses (down from 2.4 average, the second highest in the league).
Liverpool are highly likely to continue playing Raheem Sterling as a false nine (a similar position to Tadic), and considering that he is - in the absence of Luis Suarez and Daniel Sturridge - Liverpool's primary creative threat, it should not be too difficult for Marney and Jones to pincer him out of the game.
This match may hinge upon Brendan Rodgers' decision up front; Mario Balotelli's poor first touch is unlikely to function well against Burnley's style, but his inclusion would allow Sterling to move into a more useful wide position.
Recommended Bet
Back the draw at 13/5

Villa's 3-5-2 v Swansea's wingers
15:00
Aston Villa's unexpected switch to a 3-5-2 formation (the trendiest new strategy in Europe) proved a tactical master-stroke by Paul Lambert. Manchester United - whose wing-backs have confused opposition defences all season - struggled to create chances when faced one-on-one in each position.
Hopefully, Villa will provide us with an interesting fixture on Friday by repeating this formation against a rather unpredictable Swansea City side. In the 1-0 victory over Hull last weekend (another side utilising 3-5-2 this season), Steve Bruce attempted to nullify Swansea's playmaker Jonjo Shelvey by instructing one of centre-backs to step out to meet him.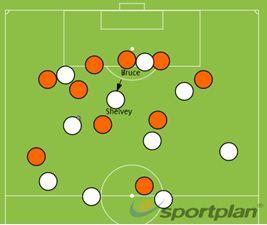 One of the most useful elements of the 3-5-2 is the "spare" centre-back, who can often be seen stepping out to clamp down upon attacking midfielders that sit in the hole. Hull City were not particularly successful at doing this, but on Boxing Day we will see an entirely different battle. Rather than Alex Bruce against Jonjo Shelvey, we could see Ron Vlaar stepping out to meet the returning Gylfi Sigurdsson: a very intriguing contest.
However, the unfamiliarity of Villa's system could make them vulnerable to counter-attacks. On three separate occasions Hull City almost conceded as a result of their wing-backs being caught too high up the field; when up against Nathan Dyer and Wayne Routledge, playing without traditional full-backs can be a risky strategy. Hull were caught three against three on the counter-attack far too often.
If Lambert goes 3-5-2, this will be a very interesting match, particularly considering the added attacking threat Villa would have with two powerful strikers playing side-by-side. This could go either way, but the visitors look the more likely victors.
Recommended Bet
Back Swansea to win at 8/11

Alex Oxlade-Chamberlain v Joey Barton
17:30
Live on BT Sport 1
For the last three matches, Arsene Wenger has shifted Alex Oxlade-Chamberlain into central midfield, adding directness and pace into an area of the pitch that has been a problem for Arsenal all season. 
Using Mikel Arteta and Aaron Ramsay in deep-lying positions has meant low tempo build-up, allowing the opposition to re-organise defensively; but with Chamberlain's incisive movement in this role, Arsenal have scored ten goals in three matches.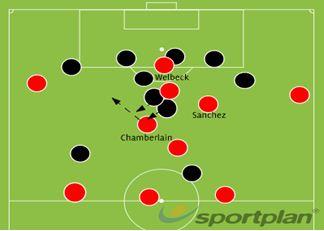 In their 4-1 thrashing of Newcastle, Chamberlain's dribbling (five in the match) attracted Newcastle's players towards him, creating space in the final third for Alexis Sanchez.
Without a single point on the road, QPR are huge underdogs, and can expect to come under serious pressure throughout the 90. If they are going to prevent Arsenal from dominating, they will need Joey Barton (2.9 tackles, 1.5 interceptions) to have another excellent game.
Rangers will take hope from the fact Arsenal have conceded six goals in the three league games since Laurent Koscielny has been absent with a calf injury. Four of these have come directly from crosses, reflecting a wider trend that has plagued their season; Wenger's side have conceded 13 from crossing positions, a staggering 62% of their total.
In order to exploit Arsenal's Achilles' heel, QPR will need a dramatic improvement; only 20% of their goals have come from crosses, the fourth lowest in the division. But with Charlie Austin in fantastic form, it should not be too difficult to adapt their style. Keep a close eye on the outstanding Eduardo Vargas; if Harry Redknapp has done his homework, expect Vargas to hurl plenty of crosses towards Austin.
The hosts should prove too powerful in the end, but expect QPR to score along the way.
Recommended Bet
Back Arsenal to win and both teams to score at 7/4

Discover the latest articles
Read past articles