Football's Gone Mad: Top five strange appointments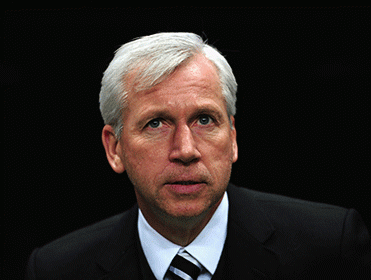 Alan Pardew will be unsure of his future on Tyneside
In the wake of the surreal news that the spectacularly unpopular Joe Kinnear will return to Newcastle United as Director of Football, Callum Davis remembers some of the other appointments which had eyebrows raising...
"Regardless of the lofty ambitions of the owners, the fact that such a revered manager with League title winning honours in Portugal, Sweden and Italy to his name would be drawn to take a role in the fourth tier of English is still unfathomable." (On Sven's decision to move to Notts County)


The revelation that Joe Kinnear is set to make a hugely unexpected return Newcastle United came as a surprise to most, with manager Alan Pardew surely at the top of that list of bemused onlookers.
Kinnear's appointment as manager in 2008 drew cries of discontent and his return to the club for a second spell has been received even more frostily this time around.
It's fair to say, though, that the former Wimbledon manager's appointment is not the most bizarre to have occurred down the years by any means... 
Clive Woodward to Southampton
Clive Woodward's record as Head of Coach of the England Rugby team arguably reads as one of the finest. From his appointment in 1997 to his resignation in 2004, Woodward led England to the top of the IRB World Rankings and in 2003, he managed to follow up Grand Slam success in the Six Nations with victory in Sydney to ensure England's first ever Rugby World Cup Final triumph. 
But in a turn of events which few would have predicted, Woodward swapped the oval ball for the round version in 2005. Following a disastrous tour to New Zealand as Head Coach of the British and Irish Lions, Woodward made the unprecedented step of switching from Rugby Union to Football, and accepted the position of Technical Director at Southampton.
The then manager, Harry Redknapp, threatened to resign if Woodward tried to interfere with team selection and their relationship never improved from those tense beginnings.
Redknapp's suspicion of Woodward's desire to one day manage Southampton meant that his work sidelined to youth development until Woodward eventually quit the south coast club in April 2006.
Edgar Davids to Barnet 
Edgar Davids had already unexpectedly dipped his toe in the Football League when he signed for South London Championship side, Crystal Palace. That move seemed bizarre enough, but not entirely implausible given the fact that Davids was in the twilight of his career and Crystal Palace were a second-tier club in England.
In October 2012, Davids joined another London Football League club in the shape of Barnet. To universal astonishment, the former midfield dynamo announced  that he would be joining the North London outfit, who were languishing at the bottom of League Two, as joint Head Coach.
To add to the intrigue of the story, Davids spoke of his intention of 'helping his local club go in the right direction', and before long the Champions League winning former Dutch international was turning out as a player for The Bees at Underhill.
Attilio Lombardo and Crystal Palace
In March 1998, in typically dramatic scenes at Crystal Palace's Selhurst Park, the Eagles' star striker and Italian import, Attilio Lombardo, was presented as Caretaker Manager to the media. Alongside former Manager, Steve Coppell, Chairman, Mark Goldberg, announced that the former Juventus striker would act as Player Manager. In farcical scenes, Bill Goldberg denied that Palace's newly acquired Swedish striker, Tomas Brolin, was Lombardo's assistant, claiming instead he would act merely as the new manager's interpreter.
The fact that Goldberg had removed Coppell as Manager only to install him as Director of Football demonstrated the kind of ill-considered decision making that would dog Goldberg's period in control of Palace. When Lombardo suffered injury half way through the season, Palace plummeted from 10th in the table to rock bottom by the time the Italian returned from his lay-off in April. By that time Palace's fate had been sealed and they were duly relegated to Division One at the end of the season.
Sven-Goran Eriksson to Notts County
One of the most surreal managerial appointments of recent years saw former England manager and silver haired lothario, Sven-Goran Eriksson, take charge of the oldest club in the Football League, Notts County, as Director of Football. Sven's arrival was touted as part of a proposed revolution of the club under new Middle Eastern investors whose ultimate goal was take the League Two team into the Premier League, but the club's ambitions proved  to be further than their reach.
Regardless of the lofty ambitions of the owners, the fact that such a revered Manager with League title winning honours in Portugal, Sweden and Italy to his name would be drawn to take a role in the fourth tier of English is unfathomable. The revolution in Nottingham never truly materialised, despite the acquisition of Premier League players Sol Campbell and Kasper Schmeichel. Eriksson eventually left the side on the brink of financial collapse after just seven months as Director of Football.
Ron Noades, from Brentford Chairman to Brentford Manager
In the Summer of 1998, Crystal Palace Chairman Ron Noades sold the club to Mark Goldberg for £23m a mere £22.4m more than he had paid for it back in the early 1980s. With his resultant fortune, Noades bought a majority stake holding to assume control of West London side, Brentford. The fact that Noades had re-invested his cash into a lowly London club was no real surprise given the fact he had previously owned Wimbledon and Crystal Palace, however it was Noades' decision to instate himself as manager for the 1998/1999 season which shocked much of the football community.
Noades later admitted that he had always harbored the desire to manage a football club. His determination to become a Manager was clear straight from the outset after selling Crystal Palace. He had specifically chosen to buy Brentford over other clubs like Manchester City and Portsmouth as he thought that the fans would not accept him as manager. Although Noades' spell in dual charge of the club as Manager and Chairman enjoyed a dream start with the Manager of the Month Award for August, Noades relinquished his ownership of the club in 2000, and along with it, his managerial status.
Discover the latest articles
Read past articles