Opta Stats: Everton's big-match master to hurt Arsenal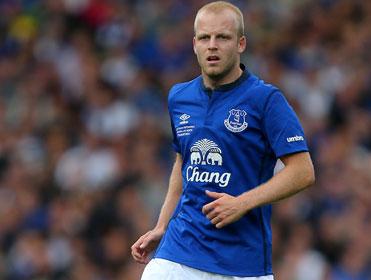 Steven Naismith has already fired past four of the top six
These Opta nuggets flag up Danny Ings, Christian Benteke, Nikica Jelavic and Steven Naismith as weekend scorers...
Burnley v Swansea (Saturday, 15:00)
Danny Ings has scored in five of his last seven Premier League appearances
Fresh Ings transfer conjecture hits the tabloids on a daily basis as his contract ticks closer to expiry, and his on-pitch exploits are going to ensure that the links to the likes of Liverpool and Tottenham become even more frequent. The Burnley forward has netted nine times since late October in his first top-flight season, while opponents Swansea conceded 12 goals in their last six away games.
Recommended Bet: Back Ings to score @ 85/403.1

Newcastle v Aston Villa (Saturday, 15:00)
Christian Benteke has scored in two of his three Premier League appearances against Newcastle
Tim Sherwood said there were no positives to Aston Villa's late home defeat to Stoke on his dugout debut, but that wasn't true: they scored for the second match in a row after four goals in their previous ten encounters. Benteke has underperformed recently, yet he will take confidence from Newcastle's defending in the 5-0 loss at Man City. The Magpies have been breached eight times in four home fixtures since Christmas.
Recommended Bet: Back Benteke to score @ 11/43.75

Stoke v Hull (Saturday, 15:00)
Nikica Jelavic has scored in three of his last four Premier League outings to last at least 45 minutes
In a campaign in which most of Hull's attacking players have delivered intermittently, in some cases due to injury and the majority owing to poor form, Jelavic has proven to be the Tigers' most reliable front man, striking at a rate of around a goal every two starts (eight in 17), and bettering that lately. The Britannia Stadium is no longer the fortress it once was for Stoke either, with ten of their last 11 visitors scoring.
Recommended Bet: Back Jelavic to score @ 7/24.5

Arsenal v Everton (Sunday, 14:05, BT Sport 1)
Steven Naismith has scored in his last two Premier League appearances against the Gunners
Though the initial suspicion was that Naismith wasn't quite good enough for a club with Champions League ambitions, the Scot has displayed an incredible gift for netting in the Toffees' trickiest games. The 28-year-old has notched seven times in the Premier League this term, and has managed to catch Arsenal, Chelsea, Man City and Man United in that haul. He also broke the deadlock in Everton's last league clash.
Recommended Bet: Back Naismith to score @ 4/15.0