Premier League: Any idea what Arsenal are targeting in 2015/16?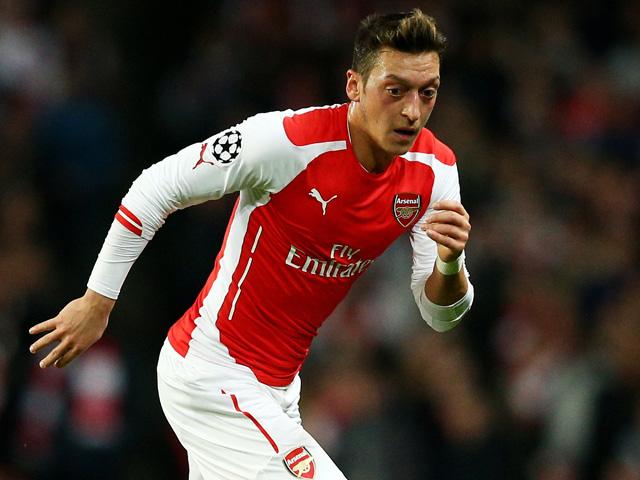 Mesut Ozil is one of the many Arsenal employees to have talked up their title prospects
Arsenal plan to win the Premier League in 2015/16. Don't believe us? Hear it straight from the 15-headed horse's mouth...
Gabriel: "The title, it's not easy, but if we prepare hard enough, we've got everything that is needed to win it."
Arsenal appear to be taking the whole "if you say something often enough, it will be eventually be accepted as truth" theory really seriously, with at least 15 Gunners employees vocalising their belief that they will be serious title contenders in 2015/16. So warm up those vocal chords and dive into the summer 2015 edition of the Arsenal hymnsheet...
Arsene Wenger
"I think of course we can push on. Why not? We have won the league in the past when we had the potential to do it and that is what we want to do again."
Per Mertesacker
"We have made progress this season and finished quite convincingly in third spot. But we want to be more competitive and compete for the first spot next season."
Gabriel
"The title, it's not easy, but if we prepare hard enough, we've got everything that is needed to win it."
Mathieu Debuchy
"I am convinced that we will challenge for the title. Every big club wants to win it, Arsenal is a big club and it is definitely a target for us all."
Hector Bellerin
"It will be really important to start strong, to let people know that we have the same way of playing last season and can get the same results. We want people to know that we will be aggressive and that we are coming to fight for the title."
Mikel Arteta
"The ambitions I think are going to be different for next season. The base, the squad, the quality we have is better than we had last year... I think it's the right moment. We have all the elements to move forward, to be challenging."
Francis Coquelin
"Thierry Henry is wrong. Giroud shows his potential every week. He showed that he has the level to be the Arsenal striker, and we can win titles with him."
Jack Wilshere
"We have made a big step mentally... Next year we feel that we can really push Chelsea, City and United for the title."
Aaron Ramsey
"Even with this group of players now I believe if everyone was fit in the season we would have a great opportunity of competing for the Premier League."
Santi Cazorla
"Yes, Chelsea is strong; yes, they won the Premier League, but without a doubt we have a team that is strong enough to do so. We just have to work on fine tuning."
Tomas Rosicky
"The potential is there for this side to challenge for the title. It's definitely the strongest squad (of his nine-year Arsenal career). Numbers wise, it's the most talented squad that I have played with."
Mesut Ozil
"We had bad luck with injuries this season, but next season we can win the Premier League and go further in the Champions League."
Danny Welbeck
"We definitely want to push on as a club, with the players we have got there is no reason why we should not be up there challenging for the Premier League, it is something which is within our ambitions as a team."
Theo Walcott
"The Premier League has to be the next target for us. That's two FA Cup wins now but this is one of the best squads we have had at Arsenal so we should be achieving more."
Olivier Giroud
"If we keep this group, with maybe one or two new players coming in, we can have a great season. I know we can still improve as we have been doing since I signed... I know if we keep our best players, this determination and team spirit, I am sure we are going to join the championship race."
Have they sold you on their prospects? If so, here's one more quote for the road: Arsenal are 5.69/2 on Betfair's Premier League winner market.
Discover the latest articles
Read past articles