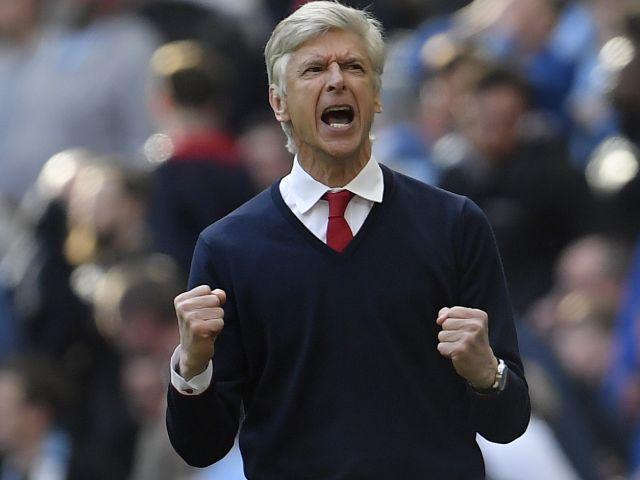 Wenger must make dramatic changes if he is to break the cycle.
Alex Keble looks at the five things Arsene Wenger needs to change if Arsenal are to become challengers again, and uses Betfair odds to predict whether 2017/18 will be a successful season...

"Update the formation, sign some big-name players, invest considerably more time in coaching, and transfer power to a director of football: it is a monumental task."
Perhaps what makes Arsene Wenger's last 10 years so frustrating is this: it is almost impossible to comprehend how such profoundly enigmatic off-field decisions can come from a man whose on-field failures, both tactical and otherwise, are embarrassingly simple. The extent to which the Frenchman kept us guessing, before signing a new two-year contract on Wednesday, suggests a sense of confusion, self-doubt, and complexity that has been conspicuously absent on the pitch throughout the last decade.

That he has finally put pen to paper asks many more questions than it answers, and yet there is little value in attempting to decipher the meaning behind his delay. What's done is done: the contract is signed and Arsenal fans must, like it or not, spend another two years hoping the tedious cycle can be broken.

Here are five things Wenger must do this summer:
1) Begin handing over power to a director of football

Wenger's current daily routine at Arsenal reportedly involves little training or match preparation, and instead focuses on far larger aspects of club management that should be undertaken by a dedicated member of staff. Chief among these tasks is the signing and nurturing of young players, as well as financial regulation - that allows a head coach to make big demands in the transfer market.

Marc Overmars would be the perfect man to bring in as a director. The Dutchman has been a brilliant servant to Ajax, helping bring through a crop of young players and restore their Cruyffian identity. His close relationship with Wenger, so resistant to a director role, should relieve any tension.

Having somebody else manage the club will give Wenger time to refocus on tactical aspects of his job...
2) Dedicate his time to tactical analysis and in-depth preparation

As anyone who regularly watches Arsenal will have noticed, Wenger has little interest in learning about his opponent's flaws and adapting his tactical model accordingly. In fact, his side's predictability is one of the main reasons why they always stumble in the spring: nobody gets a surprise when they face the Gunners.

This laissez-faire managerial approach is completely out-dated, and although it may have sufficed 15 years ago cannot survive the modern game, in which dedicated coaches such as Antonio Conte will constantly evolve their approach - and constantly demand vigilance and hard work from their players.

Arsenal are too relaxed, unambitious, and tactically simple to win titles; unless Wenger totally changes his approach to training and match preparation, there is simply no way he can bring back the good times.
3) Sign a centre-back, central midfielder, left wing-back, and striker

As well as keeping hold of key players, Wenger needs to make four big signings to bring his squad up to scratch. Olivier Giroud is a useful forward but the club desperately need somebody more mobile, who can flit between a false-nine role and that of an on-the-shoulder forward. They cannot afford to rely on Alexis Sanchez in this position next year.

Granit Xhaka is more comfortable now he is in the two-man-midfield formation used so regularly by his old club in Germany, but a fluid box-to-box player is still needed; Santi Cazorla cannot be relied upon anymore, and Aaron Ramsey notoriously struggles to stay in form for an entire campaign. Idrissa Gueye would be a good signing.

Nacho Monreal is the most error-prone defender currently in the side, while a backup centre-half is needed to replace Per Mertesacker.
4) Continue with a 3-4-2-1, but implement higher pressing

The formation change has seen a dramatic improvement in results and, in the last three matches, performances. The strategy has automatically closed off the huge spaces between defence and midfield, while Sanchez and Mesut Ozil are gradually learning how to excel as dual number tens. It is the perfect system for the club right now.

However, Wenger's attitude towards high pressing needs to change. Arsenal rarely press as a unit, which allows teams to gradually pick holes in their formation; such a non-confrontational approach is arguably the biggest reason why the Gunners are considered soft, and vulnerable to bold attacking opponents.

If he can instigate a more aggressive version of gegenpressing football, then perhaps Arsenal will develop the mental strength needed to maintain a title push for a whole campaign. It would also reduce the chance creation of mid-table clubs, and dramatically modernise Wenger's unchanging methodology.
5) Be ready to adapt much quicker to tactical shifts

Wenger has finally got rid of the 4-2-3-1 and embraced something new, but he must keep going on this path or risk being left behind by the young, tactically-intelligent coaches who are currently reshaping the Premier League.

Conte, Jurgen Klopp, Mauricio Pochettino and Pep Guardiola are constantly evolving as managers, learning new methods and trialling innovative new systems throughout the year. As such, Wenger must pick up the trends much faster than he usually does; despite being praised for copying Conte's 3-4-2-1 in March, Wenger was actually the last of 17 Premier League managers to give the formation a go in 2016/17.

Update the formation, sign some big-name players, invest considerably more time in coaching, and transfer power to a director of football: it is a monumental task and, judging by his recent record, one that Wenger will not complete. The next two years, more likely than not, will see Arsenal's increasingly-sophisticated rivals move yet further away from the Frenchman.

Arsenal to win the 2017/18 title is currently available to back at 11/1, while a top-four finish can be backed at 10/11. It wouldn't be wise to bet on either.