Arsenal v Chelsea: A modern rivalry that only sometimes ignites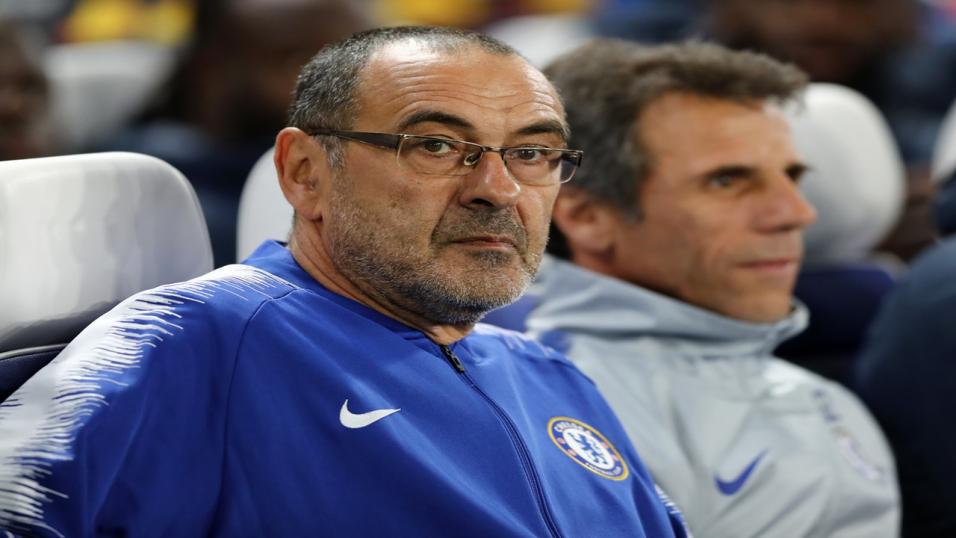 Sarri doesn't do ordinary. Thankfully.
Stephen Tudor looks back at every Arsenal v Chelsea clash this century, to find a game that sometimes disappoints but with a highlights reel better than most...
"Down the years the swings in power between the arrivistes and establishment have largely been determined by the boots of Didier Drogba and Thierry Henry."
When the Premier League calendar offers up Arsenal and Chelsea at either the Emirates or the Bridge neutrals lick their lips at the very real prospect of fireworks. After all, this is the fixture that gave us Wenger v Mourinho and a running feud so catty it was only missing shoulder pads and a Cosmopolitan thrown into a scowling face. In 2014 it finally got physical on the touchline as a 51-year-old and a pensioner dispensed with their dignity.
It's a box-office match-up that also gave us that madcap 5-3 away win for the Gunners in 2011 and a 6-0 trouncing for the Blues three seasons later that presumably had Wenger wishing he had retired on 999 games. As a bonus the latter additionally gifted us pure farce in the form of Andre Marriner sending off the wrong player despite everybody telling him at the time he was sending off the wrong player.
Elsewhere there have been incredible goals, some thrilling late dramas, and a whole heap of acrimony. A national survey in 2009 concluded that Chelsea have become Arsenal supporters' biggest foe. The Blues meanwhile opted for Liverpool, with the Gooners second. Then they gloated about it, which is wonderfully and beautifully petty.
For these reasons and many more - not least it being a top four 'six-pointer' played out by two sides mired in fascinating patchy form - pretty much one and all of us will tune in this Saturday to enjoy what is sure to be a humdinger.
Expect the expected
It's a surprise then when looking back through every Premier League clash this century to learn that when Arsenal and Chelsea lock horns the result is typically - and there is no other way of saying this - decidedly ordinary. The 102 goals scored since 2000 is a haul marginally under the average and the same goes too for 150 yellows which is so par for the course they should have changed the hue of cautionary card to a nice sensible beige.
Most tellingly of all there has been an abundance of stalemates, five of which have ended goalless - available to back at 9.617/2 in this match - and this presents an opportunity too good to pass up. While everyone else is anticipating a high-scoring classic, be sure to side with recent history.
Back the draw
I know; it feels like sacrilege for such a game. It feels like ordering the most tasteless thing on the menu while asking for the ketchup to be removed from the table, to avoid its temptation. Yet the plain fact is that Arsenal's hosting of their bitter rivals can often be plain.
One in every 2.7 of these fixtures at the Emirates have ended all-square. Three from the last seven have not produced a single goal. Factor in each side's propensity to share the spoils this season - only Newcastle and Everton have drawn more - and the 13/5 available starts to look like sweet, tangy ketchup.
Other factors only strengthen the reasoning. Maurizio Sarri's men will almost certainly be content to prioritise the maintaining of their six point advantage over the Gunners while from the home team's perspective they have only won once against top six opponents this term.
Scoring subs and last-gasp melodramas
From the 38 fixtures since 2000 one stat comes to the fore and demands our attention. It's a doozy. No matter the manager and no matter the personnel on the pitch a staggering 18% of the goals tally has arrived in the final ten minutes. That's a pattern that shouldn't be ignored suggesting as it does a habit embedded in the fixture's DNA.
It gets better too, because Arsenal have shown themselves to be a Jekyll and Hyde team so far under Emery, so often greatly improved after the break. Chelsea meanwhile have habitually come out of the blocks strong, scoring ten times inside the opening half an hour.
The 11/1 available for a Chelsea/Draw is calling and calling loudly.
As for pinpointing a scorer we only need glance to the bench. Nine substitutes have got onto the scoresheet in this contest in recent years - a number higher than the norm - while no other team has benefited more this season than Arsenal from goal-scoring cameos.
Don't discount the clichés
Which is not to say that the obvious should be ruled out entirely from this thoroughly modern rivalry. Down the years the swings in power between the arrivistes and establishment have largely been determined by the boots of Didier Drogba and Thierry Henry and with Aubameyang and Hazard both flying high in the goal-scoring charts it's hardly inconceivable they will play a significant role.
Neither should the prospect of controversy or, better yet an out-and-out classic be wholly dismissed. This might be a fixture that lends itself more to hype than hope, but when it's good it's never less than engrossing.