And the Oscar goes to: The 7 worst football play-actors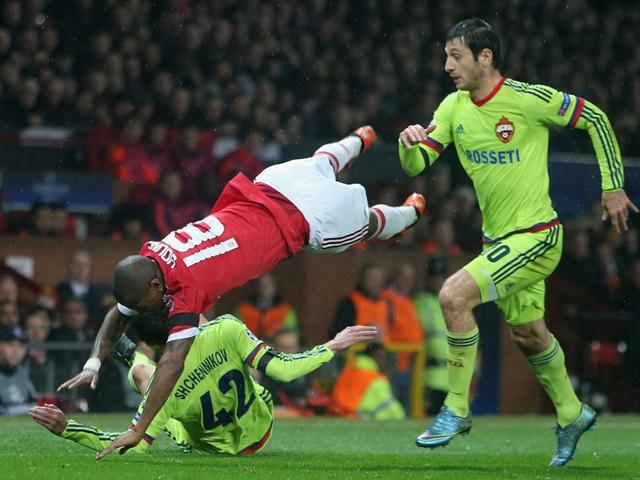 Ashley Young is hacked/pushed/dragged to the ground against CSKA Moscow. Also known as a dive
You can keep your reverence of The Revenant and marveling of The Martian. The true acting greats can be found chewing the turf in fake-agony on football pitches across the globe. Stephen Tudor selects seven masterclasses from the show-reel...

"Rivaldo was fined the entirely random figure of £5180 for his actions. He presumably paid from his pocket change."
The stars of the silver screen assemble on Hollywood Boulevard tonight to be asked who they're wearing and told repeatedly how utterly fabulous they are. Good for them. Actors don't get nearly enough acclaim or accolades.
Yet us football lot know all-too-well that the acting chops of Leo, Matt or Cate don't come close to matching the method intensity applied by certain players, play-actors who have perfected their art over many years of diving and going to ground in faux-agony.
Adjust your tux and raise a glass as we celebrate (well, laugh at mainly) seven luminaries who could definitely act their way out of a paper bag if they didn't purposely leave a trailing leg, trip themselves up on the paper bag then contort and scream as if their knees have been machine-gunned to smithereens.

Rivaldo v Turkey (World Cup 2002)
Up there with Brando trying on the glove in On The Waterfront and De Niro asking his reflection who he's looking at this was 'The Method' writ large and performed with sensory truth on the world stage.
We'd like to see the aforementioned giants of celluloid inhabit their character so convincingly as Rivaldo here while an audience of billions watch live and an acting adjudicator studies for a flicker of falsity from just a couple of yards away. Yet this is precisely what the Brazilian thespian somehow pulls off, the linesman clearly seeing the ball strike leg yet falling so spellbound by the compelling vignette of facial pain he disbelieves his very own eyes. That's powerful acting. That's a tour de blummin' force.
Rivaldo was fined the entirely random figure of £5180 for his actions. He presumably paid from his pocket change.

Morten Gamst Pedersen v Arsenal (Premier League 2009)
A criticism often levelled at the Oscars if they continually overlook comedies for the top awards. It's time to put that right by dishing out a 13 inch statuette for this hilarious Keatonesque pratfall at the Emirates.
The Blackburn winger appears to have a brain-melt and completely forget that dives in the box usually require a cast of at least two, his despairing soliloquy consequently resembling a toddler looking for sympathy and sweets.
But wait, take another look. It could be construed that the Norwegian flyer's stealthy glance behind him prior to tumbling to the floor was to gauge whether the referee had a clear view.
Oh Morten, what have you done? You've just raised the ante.

Sergio Busquets v Inter (Champions League 2010)
3-1 down and with his Champions League dream slipping away the Barcelona ham commits the cardinal acting sin by momentarily breaking from character and thereby exposing football's fourth wall. Which is a shame because in this rare instance there's actually contact made by Thiago Motta even if its equivalent to a granny peck on the cheek.
Busquets' peek-a-boo was swiftly plastered across the globe outraging many who had previously believed that when a player rolls around ten times from a slight gust of wind they are in genuine torment.

Bryan Carrasco v Ecuador (World Cup Under 20s qualifier)
Anyone with an older brother will recall the brilliantly inventive 'game' as children when your sibling would grab your hand, forcibly move it towards your face then ask why you are hitting yourself.
Chilean teen Bryan Carrasco evidently never understood the rules to this game but here goes off-script anyway in a playfully improvised scene that has rightfully become a classic of the genre.

Steven Taylor v Aston Villa (Premier League 2005)
A common acting ploy is to summon up sense memory, evoking a time from your past when you experienced loss or trauma. We can only assume then that Newcastle United's defensive stalwart was gunned down in a hail of bullets by the Vietcong in a previous life.
After first doing a passable impression of a goalie Taylor then attempts to con the official into believing that a football travelling at a perfectly reasonable pace is sufficient to pole-axe a six foot burly athlete. The ref, to his credit, doesn't buy it for an instant. Cue a miraculous recovery that had St James Park in hysterics until they realised they were now a man down.

Ashley Young v QPR, Crystal Palace, Aston Villa, Manchester City and CSKA Moscow
We all have Ashley Young horribly wrong and owe the man an apology. Such is his fondness for hurling himself into a triple-pike whenever a penalty area is in sight we erroneously believed that the United flyer was a diver, nay a cheat.
In fact Ashley is a luvvie who regards every pitch as a stage and every match as theatre for the masses darling. Each week he hones his craft, a form of physical comedy that aspires for a universal truth that lies within us all. He pushes his body to its very limits contorting dangerously through the air all in the name of high culture and do we thank him? Do we heck. Instead we only castigate.
There, you feel bad now don't you.

Jurgen Klinsmann
Cinema had Gable, Bogart and Dean who showed the way, laying down a cool template of iconic greatness with a curled lip and a sardonic line. Our very own trailblazer hailed from Goppingen and drove a Volkswagon Beetle. Before Jurgen dives were wooden, too rehearsed and barely worthy of a sixth form play. That's if the player dived at all. Usually he would pick himself up, dust himself down and get on with it and where's the drama in that?
Your lifetime achievement award is over there Jurgen. It's fallen over naturally.
Discover the latest articles
Read past articles