Sergio Aguero: Five of the best from the Argentinian marksman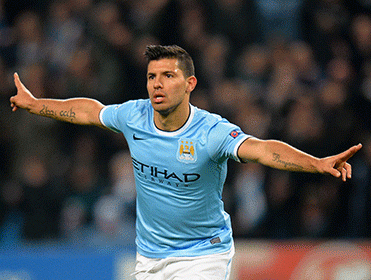 Sergio Aguero is a goal machine and one of the world's top marksmen
While Messi and Ronaldo duke it out for January's Ballon d'Or, in the Premier League nobody comes close to Manchester City's Sergio Aguero. With lethal finishing, electric pace, and a tenacity born in Buenos Aires, he's the perfect explosive package. 90 goals in 138 appearances for City isn't too bad either. After his heroics last night against Bayern Munich, Stephen Tudor picks out five of the best....
"With lethal finishing, electric pace, and a tenacity born in Buenos Aires, Sergio Aguero is the perfect explosive package."
v Swansea
A dipping screamer from 25 yards that announced his arrival in England and capped off a perfect debut cameo. No backlift, unerring precision, and a deceptively accomplished goal made to look oh so simple.

v Liverpool
Inferior on the night, City were trailing and in need of some individual magic. Step forward Kun the Magnificent with this unorthodox beauty from an impossible angle. Looking at it again the swiftness of thought trumps even the sublime execution. 

v QPR
The strike that shook the football world on its very axis. I swear you'll never see anything like this ever again. So watch it. Drink it in. Even today City fans break into a cold sweat with this single thought - what if he'd missed? 

v Chelsea
A fantastic bang that perfectly epitomises the Argentine's qualities. Loitering with intent between the centre-backs and always a fraction onside first comes the anticipation and movement. Finally the explosion of pace and swiftness of finish. Only show-offs and the mediocre need to take an extra touch. 

v Manchester United
The opener in a 4-1 drubbing of their hated rivals is always going to be fondly thought of by City fans. But this is predatory athleticism at its finest, two traits that have brought Aguero a hatful of his goals. Note how he again positions himself between two defenders only to see the ball delivered slightly behind him.
The rest is improvised brilliance. 
Discover the latest articles
Read past articles