Premier League Stats Review: Five things we've learned from the first 11 games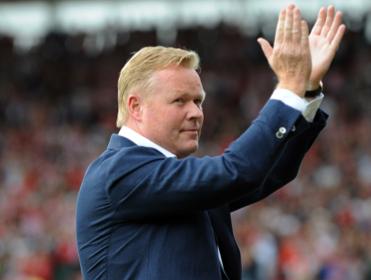 Ronald Koeman's impressive Southampton side show no signs of stopping
Stats guru Andrew Atherley weighs up the winners and losers in the Premier League season so far and rates Southampton a great bet...
"History says outsiders rarely break the dominance of the Premier League elite but Southampton lead Arsenal by eight points, Manchester United by nine and Liverpool and Tottenham by 11."

Recommended Bet
Back Southampton for a Top 5 Finish at 2.26/5

1. Southampton have a real shot at a high finish
For a team widely touted in August as relegation candidates, Southampton are sitting pretty in second place with 25 points from their first 11 games.
History says outsiders rarely break the dominance of the Premier League elite (the big six for the past five years and, for around 10 seasons before that, the big four) but Southampton lead Arsenal by eight points, Manchester United by nine and Liverpool and Tottenham by 11.
On current form those gaps look more likely to widen than to narrow and Southampton are now down to 3.211/5 in the Top 4 Finish market.
A points tally in the low 70s is the target and it is notable that 24 of the 28 teams with at least 25 points at this stage of the season have made it to at least 69 points (and a top-four finish) in the 19 seasons since the Premier League was reduced to 38 games.
But it is also instructive that one of the teams that failed to make it past 70 points was also the only non-elite side to be in that position in recent years - Newcastle, like Southampton now, had 25 points after 11 games of the 2011/12 season but ended up fifth with 65 points.
A major difference then, however, was that Newcastle did not have such a big advantage over the teams that pushed them out of the top four - Tottenham were level pegging on 25 points, while Arsenal were six behind on 19.
The real value on Southampton is that they are available at 2.26/5 in the Top 5 Finish market - a cracking bet, as odds-on would be more realistic based on the historical stats.
One of Southampton's major strengths is that they have been unstoppable once in front, thanks to a defence that has conceded just five goals in 11 games.
Ronald Koeman's side have won all seven games in which they have scored first and four of their eight wins have been win-win on the Half Time/Full Time - their ability to protect a lead makes that a good-value option, especially at home (three of their four win-wins have been at St Mary's).

2. Chelsea are almost out of sight
It is hardly front-page (or even back-page) news that Chelsea stand head and shoulders above the rest, but no statistical analysis of the opening phase of the Premier League campaign can ignore their blistering start.
29 points from the first 11 games is the third-best start in the 19 seasons since the Premier League was reduced to 38 games and Manchester City, their most realistic rivals, are eight points behind. No team has closed a gap as big as that by this stage since Manchester United in 2002/03.
The stats make Chelsea virtually nailed on for the title at 1.232/9 but there are a couple of ways to back them in individual matches.
The first is Chelsea to win to nil at Stamford Bridge - often priced around even-money. Eight of Chelsea's last 10 home wins have been accompanied by a clean sheet and, with most teams likely to be wary of attacking at the Bridge, that trend is set to continue.
Conversely, goals are the way to go in Chelsea's away games now that they have become more expansive. They have yet to keep an away clean sheet and four of their six games on the road this season have gone over 2.5 goals, while both teams to score is six out of six.

3. The promoted teams are poor on the road
All three promoted teams have not gone straight back down since the 1997/98 season but they fill the relegation places at the moment and the main reason is their bad away form.
Collectively the away record of Leicester, QPR and Burnley is W1 D2 L13 and they have scored just five goals between them in those 16 away matches. That means they also fill the bottom three places in the away form table - usually a strong indicator of which teams will go down. In the past 10 seasons 20 of the 30 relegated teams ranked in the bottom three on away form (26 out of 30 were in the bottom five) and 25 of the 30 had two or fewer away wins.
Leicester, QPR and Burnley have already dug themselves into a deep hole and they will not get out without a significant improvement in their away form. Burnley are 1.321/3 for relegation, QPR are 2.466/4 and Leicester are 3.1511/5.
It is worth noting that Aston Villa and West Brom, two of the other main relegation candidates, have already notched two away wins apiece, which suggests they will not end up with away records indicative of teams destined for the drop.
With such a low goals tally between them on the road and an 81% loss rate, Leicester, QPR and Burnley have to be opposed in away games until they prove otherwise.

4. European games are a major drag on performance
Rich clubs with deep squads such as Chelsea and Manchester City have been built to compete for domestic honours and the Champions League, but for less well-endowed clubs it is difficult to mount an effective campaign on all fronts.
Liverpool, Tottenham and Everton have all suffered a downturn in their domestic form this season and it is hard to escape the conclusion that Europe is to blame.
Between them, those three teams have lost seven out of their 14 Premier League games on the weekend after European ties - that is a 50% loss rate, compared with 26% in games that do not follow a European match.
The Europa League is a particular burden because of the number of games played as well as the proximity of Thursday-night matches to the weekend. Tottenham have lost four out of six in the Premier League after Europa League ties, while Everton have lost two out of four.
A similar effect was evident last season with the two Premier League representatives in the Europa League. Tottenham lost six out of 12 after European games (compared with five out of 26 otherwise), while Swansea had a W2 D2 L4 record after the Europa League, which sent their form into a nosedive from which they could not recover until Michael Laudrup was sacked and (almost simultaneously) their European involvement ended.
Europa League teams in particular have higher loss rates and lower win rates after midweek games and that raises a warning flag about Tottenham and Everton.
But it is worth noting that Tottenham's form improved substantially in the two-month break from Europa League action in the middle of last season, when their record in the Premier League was W7 D2 L1.
A similar effect may well be seen with Tottenham and Liverpool from mid-December to mid-February, and possibly Everton too.

5. Swansea look set to last the course
With only 11 games gone, it is always encouraging if there is a wider form pattern stretching back to last season and that is the case with Swansea - one of the early surprise packages along with Southampton and West Ham.
Garry Monk started to turn Swansea's form around after his appointment in February and after 25 games there is enough evidence to suggest he has what it takes to succeed in the Premier League.
Swansea's record under Monk is W10 D6 L9, which equates to about eighth place in the table over an entire season. That indicates they will finish in the top half of the table at least, although they will have to improve further to make the top six.
One of the key aspects of Swansea's form is their record against lesser teams - W8 D4 L3 under Monk against teams outside the top eight.
With their style of play, the Swans can dominate possession against those sides and in particular they are likely to remain one of the best teams to back on the Draw No Bet in away games.
Recommended Bet
Back Southampton for a Top 5 Finish at 2.26/5 (1pt)
2014/15 P/L
Staked: 27 pts
Returned: 28.2 pts
P/L: +1.2 pts
Discover the latest articles
Read past articles