Europa League Opta Stats: First group games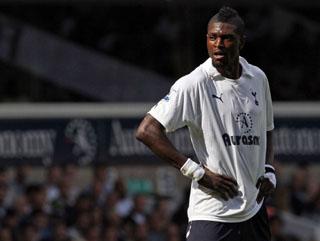 Emmanuel Adebayor could be handed his first start of 2012/13
Newcastle, Liverpool and Tottenham all face tricky tests in their opening group-stage encounters...
Marítimo v Newcastle

Newcastle are appearing in Europe for the first time since 2006/07, when they reached the last 16 of the Europa League.
The Magpies have never won in Portugal in a European competition (D2 L2).
However Newcastle have lost just two of their nine meetings with Portuguese teams in Europe (W4 D3 L2).
Maritimo have won both previous matches at home to English sides in Europe: 1-0 against Leeds in 1998 and 2001.
In six previous UEFA Cup/Europa League appearances, Maritimo have only once made it past the first stage (1994/95).
All but one (the first) of Maritimo's seven games at home in European competition (exc. Qualifiers) have finished 1-0 (four wins, two defeats).
Newcastle have never lost a group stage match in the UEFA Cup/Europa League (W6 D2).
The Magpies have won eight of their last 11 matches away from home in Europe (exc. Qualifiers).

Young Boys v Liverpool

Liverpool have scored just two goals in their last eight away games in Europe combined (exc. Qualifiers).
The Reds are without a win in their last eight European games on the road (exc. Qualifiers, D4 L4), their longest-ever such run.
There have been just two goals scored in Liverpool's last five European games combined (exc. Qualifiers).
Liverpool have never failed to score against a Swiss side in Europe (eight games).
The Reds are unbeaten in their last seven meetings with teams from Switzerland (W5 D1).
The last time Young Boys were in Europe (2010/11 Europa League), they won their four home games and lost their four on the road.
The Swiss side have lost just one of their last 13 games at home in European competitions (W7 D5) a run that stretches back to 1960.

Tottenham v Lazio

Last season Spurs were one of three teams to pick up 10 points in the group stages of the Europa League and still be eliminated (W3 D1 L2).
Tottenham have only won two of their last five games at home in Europe (D1 L2).
The Lilywhites are unbeaten at home to Italian sides in Europe (W2 D1).
Lazio have only won two of their last 11 European matches (D3 L6).
The Italians have only won on one of seven trips to England in European competition (D1 L5): 2-1 at Chelsea in the 1999/00 Champions League.
Last season Lazio made it past the group stage of the Europa League, the first time they had made it out of a European group stage in seven attempts.
Tottenham had the highest passing accuracy in the Europa League last season (87.9%).