Premier League: Key Transfers So Far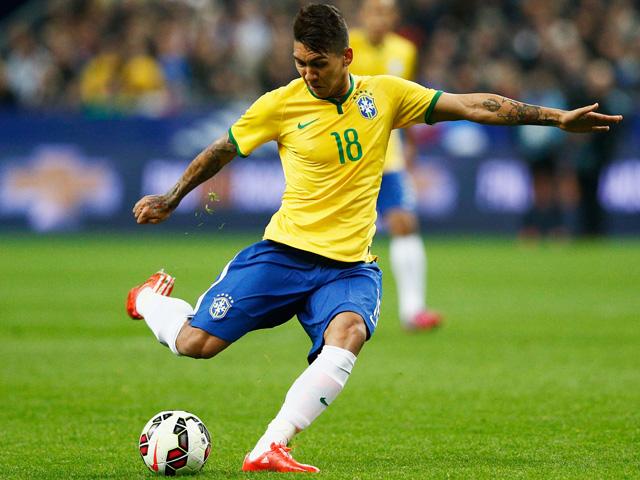 Roberto Firmino is a big money signing for Liverpool this summer
With the first month of the off-season at an end, which Premier League moves have made the biggest waves to date?
Firmino has a terrific strike-rate in Germany, scoring 47 times in 151 appearances for Hoffenheim and is full of potential as he arrives on Merseyside.
We assess some of this summer's key transfers so far as business gets set to increase through the months of July and August.
Petr Cech - Chelsea to Arsenal
The transfer of a 33-year-old goalkeeper is perhaps an unlikely headline grabbing deal but Cech's London relocation could be one of this summer's telling moves.
Arsene Wenger has paid £10m to bring Cech to the Emirates and it is a deal that could push the Gunners towards the Holy Grail of a long overdue title.
John Terry expressed the opinion that Cech would be worth upwards of ten points to Arsenal in a season. It is hard to argue that Cech will not prove value for money, especially given that deep down he probably feels he has something to prove to former boss Jose Mourinho.
Roberto Firmino - Hoffenheim to Liverpool
Brendan Rodgers decided to make the 23-year-old Brazilian the second most expensive capture in Liverpool's history when he paid the Bundesliga club £29m.
Firmino has a terrific strike-rate in Germany, scoring 47 times in 151 appearances for Hoffenheim and is full of potential as he arrives on Merseyside.
He has adapted well since earning his call-up to the Brazil squad last year and the Anfield club will be hoping he can emulate the last South American striker they recruited from mainland Europe - albeit with less drama than Luis Suarez.
Firmino is exactly the type of quality player Rodgers wanted to add to his pool this summer, especially with Raheem Sterling likely to move on.
Christian Fuchs - Schalke to Leicester City
Nigel Pearson's transfer dealings both last summer and in January played a huge role in keeping Leicester up via their late surge in form.
In Esteban Cambiasso, Pearson attracted a proven international performer capable of making his mark on the Premier League.
The now former Foxes boss, who lost his position at the club on Tuesday night, was quick on the draw in securing Austrian international full-back Fuchs when the season ended.
With 66 caps for his Austria and Champions League experience playing for Schalke, he is another shrewd move as Leicester get set to try and consolidate their top flight status by outlasting new boys Bournemouth, Watford and Norwich.

Memphis Depay - PSV Eindhoven to Manchester United
The 21-year-old joins compatriot Louis van Gaal in Manchester having helped PSV to their first domestic title in seven years and finished as the Eredivisie's top scorer with 22 goals last season.
In Depay, Man United have recruited a player of enormous potential, someone that van Gaal declared has the ability to become "a great footballer for this club."
The pair have worked together before with the Dutch national team and van Gaal will undoubtedly feel like he is the right man to nurture the prodigious talent in England. United had to beat off stiff competition from Europe's best for a player that was highly coveted.
Kieran Trippier - Burnley to Tottenham
No surprise to find that Mauricio Pochettino was keen to follow-up on his promise to address Tottenham's defensive deficiencies this summer.
Trippier was very impressive in his debut season in the top flight at Burnley and so it comes as no surprise that he was offered a stay of execution after the Clarets dropped out.
The 24-year-old was ever-present at right-back for Sean Dyche last season and Pochettino will hope he can get the same consistency in the months ahead as Spurs look to address their porous rearguard.
Tom Cleverley - Manchester United to Everton
Although joining officially from Manchester United, it is Tim Sherwood and Aston Villa that will acutely feel the loss of Cleverley.
The England man spent last season on loan at Villa Park and Sherwood would love to have snapped him up on a permanent deal.
Roberto Martinez was holding the aces however having just missed out on Cleverley a year ago. The player will be keen to avoid another relegation battle and should be confident that Martinez and the Toffees can build on a strong second half of last season.
Danny Ings - Burnley to Liverpool
The clearout at Burnley is sure to leave Dyche struggling in the second tier and he was never likely to persuade the England U21 international to commit to another season in the Championship.
Instead, Ings has plumped for the bright lights of Anfield and a chance to work under Rodgers.
The Liverpool boss is likely to take things slowly with Ings but there was enough in his performances at Burnley last season to suggest he has the tools to become a very decent Premier League goalscorer.
Given his work rate and link-up play, he could be the man to partner Daniel Sturridge for the Reds.
Juanmi - Malaga to Southampton
Ronald Koeman captured the young forward that has scored 20 times in 93 appearances for the La Liga outfit.
The 23-year-old also made his debut for the Spanish national side last season and at £5m, he looks set to a good signing for Koeman.
The Saints boss will be hoping he can hit the ground running when the season gets underway, possibly emulating the fast start made by Graziano Pelle last season.
With Dusan Tadic and Sadio Mane already on the books, Southampton have the attacking potential to build on Koeman's first season in charge.
James Milner - Manchester City to Liverpool
Like Cech's move across London, Milner's north-west switch brings experience to Anfield from Manchester City.
Milner is a proven top level performer and already has Premier League-winning experience on his CV.
With Steven Gerrard now gone, Rodgers would have known there was a gap to be filled. Often deployed out wide at Man City, the 29-year-old should have plenty to offer through the middle if that is where the Reds choose to deploy him.
Milner can bring a winning mentality to Anfield as Rodgers seeks to regain the lost momentum from last season.