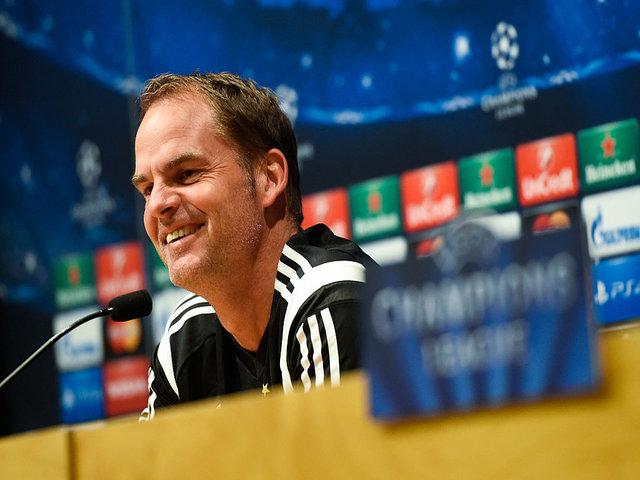 Frank de Boer has been linked with a number of Premier League jobs
Following the departure of Claude Puel from St Mary's this week, Alex Keble takes a look at the three biggest contenders for the Southampton job, assessing the suitability and likelihood of each...
"It is rare for two managers who align perfectly with all the requirements of a Premier League post to be available simultaneously, and either choice will satisfy Saints fans."
It is perhaps symptomatic of the blurring lines between the financially-motivated boardrooms and the expectations of fans that Claude Puel's sacking, after just one season in charge, has been welcomed by many of Southampton's supporters.

In an industry where relegation understandably terrifies owners, short-termism is the dominant theme, and the public no longer has the energy to fight against the corporatisation of the sport.

In the midst of its biggest-ever inflation, standing still in the Premier League is akin to moving backwards. That Puel's side finished 8th, reached the League Cup final, and - in glimpses - played some attractive football despite a litany of injuries should have earned him a second season, but instead a mini-slump of five consecutive goalless home games was enough to seal his fate.

Saints chairman Ralph Krueger has made very astute appointments since taking the role in 2014, making the club one of the most tactically intelligent employers in the country. As such, their shortlist is small, highly selective, and likely to end in a smooth transition for the players.

Here are the three biggest contenders for the Southampton job
De Boer almost landed the Saints job a year ago but was reportedly overlooked because of concerns over appointing consecutive Dutch managers, but after Puel's uninspiring campaign the ex-Inter Milan boss is back in contention - and would be a perfect choice.

The Ajax legend, 47, won a record-breaking four consecutive Eredivisie titles with the Amsterdam club playing a brand of high pressure, direct-passing football. This tactical system fits neatly with the plans of Mauricio Pochettino and Ronald Koeman, who were both appointed specifically because of their high defensive line and quick pressing style.

The Dutchman may have failed in his last job, surviving just 85 days at Inter, but as an exciting manager with a track record of bringing through young players, Southampton couldn't ask for a better candidate to continue the tactical and developmental work of Pochettino and Koeman. De Boer is an absolute no brainer.

Thomas Tuchel may have distanced himself from the Southampton job, but his protege, Julian Nagelsmann, might be persuaded to swap 1899 Hoffenheim for the south coast of England.

Nagelsmann was promoted to Hoffenheim manager in February 2016 with the German club seven points below the relegation line, but despite being in his first senior post the 28-year-old, nicknamed "mini-Mourinho", guided the team to safety with seven wins in 14 league games. The following season saw Hoffenheim finish fourth in the Bundesliga, securing Champions League play-off qualification despite early predictions of another gruelling battle against the drop.

As a former youth coach who oversaw the development of the likes of Roberto Firmino and Niklas Sule, Nagelsmann could be trusted with Southampton's brilliant youth setup. What's more, as a student of Tuchel he likes to play aggressive, high-pressing football and frequently shifts formation to react to the opposition.

Like De Boer, then, he is a fantastic option, although the 28-year-old might not be interested in leaving Hoffenheim when things are going so well. At such a tender age and with only one full season of managerial experience under his belt, it would surely be wiser to continue his personal development at the club he knows inside out, particularly since he would be swapping Champions League football for a team that failed to even qualify for the Europa League in 2016/17.

Another up-and-coming manager, Mauricio Pellegrino, is the least obvious choice of the three although his highly-organised, occasionally exciting Alaves side remind us of Southampton under Koeman.

Pellegrino owes his coaching career to Rafael Benitez, who signed him as a player for Liverpool (after previously coaching him at Valencia) before appointing the Spaniard as an assitant at both Liverpool and Inter. Consequently, Pellegrino's resilient, reactive managerial style is closely associated with the football Benitez brought to England.

Difficult spells in charge of Valencia, Estudiantes, and Independiente made for a poor start to management for Pellegrino, but last season he earned Alaves a surprise ninth-place finish in La Liga and a Copa del Rey final appearance.

Given that Saints appoint managers who reflect a certain tactical ethos, have a track record of developing young players, and are available for free, Pellegrino seems an unlikely option - even though he is in line for an interview, according to a report in The Telegraph.

Conclusion

Southampton are very astute in their selections and have a clear tactical itinerary, which immediately rules out the usual unimaginative names highlighted in the media (Ryan Giggs, Chris Coleman, Jurgen Klinsman, etc.).

Puel's failure to play exciting football or (more harshly) show signs of any long-term planning make Pellegrino a risky and unlikely option, but the other two primary choices fit the bill exactly. It is rare for two managers who align perfectly with all the requirements of a Premier League post to be available simultaneously, and either choice will satisfy Saints fans.

However, De Boer surely edges it. Not only is he more established, more respected, and available for free, but the Dutchman was also very nearly offered the job a year ago. The planets have aligned for De Boer this time: back him to be the next Southampton manager at 2.22.