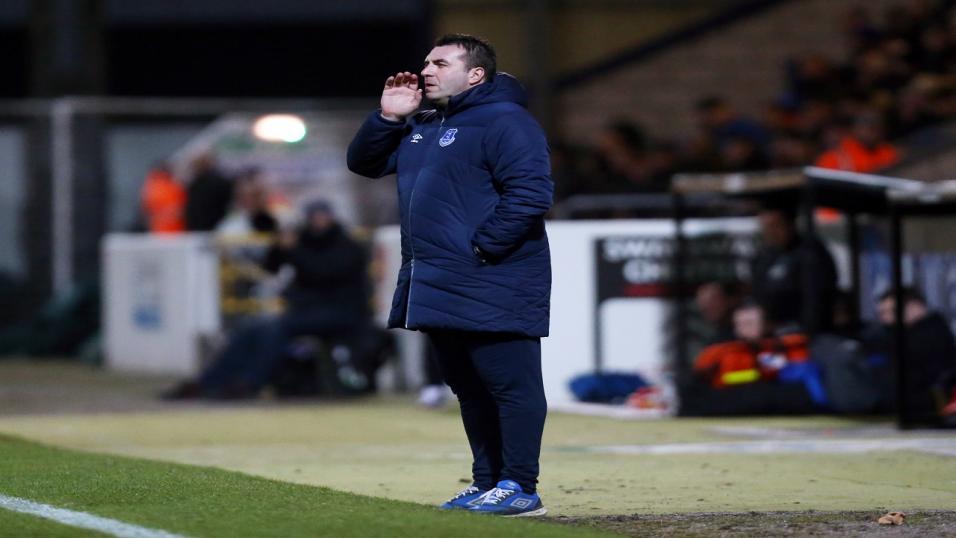 David Unsworth has built a good reputation with the u21s
Alex Keble takes a look at five of the key contenders to replace Ronald Koeman as Everton manager and suggests the best answer might be closest to home...
"Koeman's replacement must rebuild the club in a new image; one that dispenses with Koeman's direct tactics and focuses on a more expansive attack while prioritising the development of academy graduates. "
Following a dismal performance at home to Arsenal on Sunday afternoon Ronald Koeman has been sacked after one year in the post - and just a couple of months since he was being hailed as the future of Everton Football Club.
As Ben McAleer has written elsewhere on the site, he spent £158 million on new players but built a squad that is tactically lopsided, having failed to replace Romelu Lukaku or add speed on the flanks. Consequently, Everton are stocked with slow midfield players and lack a coherent direction.
Koeman's replacement must rebuild the club in a new image; one that dispenses with the Dutchman's direct tactics and focuses on a more expansive attack while prioritising the development of academy graduates.
There is no available candidate who is both experienced and can implement a more aesthetically pleasing brand of football, and so the board must choose between the two. Here are five of their better options.

Burnley's superb season has seen Dyche's reputation grow dramatically, which would make this the ideal time for him to jump ship and move to Goodison Park. Despite sitting in eighth Burnley have been lucky; they have conceded more shots on goal (18.9 per match) than any other team, and based on expected goals (xG) should sit 19th in the table.
Dyche's tactical system is largely defensive, with two banks of four sitting in a deep and compressed shell for the large majority of matches (43.8% possession average). This does not suit the glamorous image Everton are trying to cultivate, even though Dyche would bring precisely the sort of discipline this team are craving.
It would be a strange appointment to make, and yet all the noises coming out of Everton suggest he is admired by the club hierarchy. As such, a bet on Dyche at 11/8 might make sense before his odds fall. Rio Ferdinand thinks it could be a good call...
Koeman Gone... #EFC fans, who would you appoint?! I'm predicting... Sean Dyche to Everton & Chris Wilder to Burnley? Discuss.....

? Rio Ferdinand (@rioferdy5) October 23, 2017

David Unsworth (pictured) would be an intriguing choice for a club harbouring ambitions of Champions League football, but despite his inexperience he could be exactly what they need.
The 44-year-old caught the eye last season when his youth team lifted the Premier League 2 title, and Unsworth has been widely credited with their success. His charismatic management style has worked wonders in the academy, seeing numerous players - including Tom Davies, Dominic Calvert-Lewin, and Mason Holgate - graduate to the first team. Five of Unsworth's teenagers helped England win the under-20 World Cup in the summer.
Thought of as a "top coach" by senior Everton players, according to the Liverpool Echo, Unsworth could be the man to release more young players into the starting 11, injecting much-needed energy and determination in the final third. Ademola Lookman, for example, should have played more matches this season under Koeman.
However, Unsworth will only get the job should he perform well as the caretaker manager. Manager-less Leicester City host Everton next weekend before a crucial tie at Lyon in the Europa League and a home match against Watford. All three are winnable games. However, if the board want a prestigious name, Unsworth won't get the job, despite being simultaneously the most pragmatic and most exciting choice.
Given most bookmakers are offering much shorter odds than Betfair, it is worth backing Unsworth to get the job at 3/1.

Despite being a huge name in world football, Ancelotti is quite possibly the worst candidate of all those available to Everton. His laissez-faire tactical system is similar to the hands-off approach of outgoing manager Koeman, which would mean Everton continue their downward trend of directionless football. Everton need a strong leader with a track record of organising defences - or at least the hunger to reshape the club from top to bottom. Ancelotti cannot do any of these things well.
But three Champions League winner's medals and league titles in five countries makes for an impressive CV. If Everton are not interested in the pragmatic route of Sean Dyche, they will surely be attracted to the romantic notion of hiring a world-renowned manager. Don't back him yet, but if rumours emerge that Dyche is not being considered then Ancelotti may be worth a small bet.

Watford's manager would be a costly and controversial appointment given he has been in the job for just five months, but Everton is clearly a step up and Silva might jump at the chance to play with a bigger budget. As one of the best tacticians in the Premier League, who mixes an aggressive attacking strategy with solid defensive organisation, Silva is the ideal candidate for the job.
However, Watford would most likely do all they can to block a move for their manager, plus Silva might be put off by the mess he would inherit. Biding his time at Watford - where his reputation can only grow between now and the end of the season - would be the more sensible option for the Portuguese.

Bournemouth's poor start to the season has dented Howe's chances of succeeding Koeman, but he remains an interesting young coach whose pursuit of attractive football aligns with the club's philosophies. Howe's commitment to expansive football has been commendable over the years, although he doesn't seem to be good at solving familiar flaws - namely the sizeable gap between his defence and midfield.
Howe deserves a chance to coach better players, and given Everton's strength in midfield Bournemouth's tactical issues might not be repeated at Goodison Park. Unfortunately for the Bournemouth manager, this job has come up at just the wrong time; he surely won't get the nod while his side reside in the bottom three.