Luke Moore: Wycombe's youngsters put on a show, but what will become of them?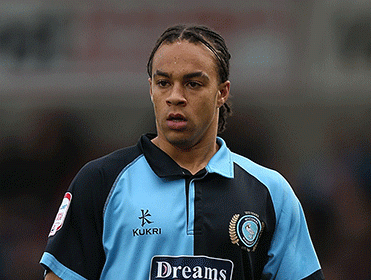 Charles Dunne, just 19, is already getting first team chances at Wycombe
Wycombe Wanderers' visit to AFC Wimbledon was an entertaining encounter, says Luke Moore, but it was hardly a game of great quality. And what will become of their young players in this harsh financial climate?
"Modern football dictates that if any of these youngsters are indeed worth their salt they'll be snapped up by a bigger club quicker than you can say 'man on!'"
On Saturday, I braved the cold (and it was really cold) and made my way down to south London to watch Wycombe Wanderers' visit to AFC Wimbledon.
It marked the first time in about 15 years I had stood on the terraces at a football game, not counting the non-league games I've watched which generally have low attendances. For me, standing on the terrace at a football ground has to involve feeling like some sort of massive, singular organism, swaying back and forward, hearing a whole host of different opinions and viewpoints about players, teams and performances and of course singing all around. For those that have not experienced it, I highly recommend it; it's a vastly different experience to sitting watching a game, and for me, it's much more interesting and authentic. There are plenty of grounds in England and Europe where you can still stand on the terraces and watch a football match.
One of my earliest memories of watching football goes back to the terraced Fratton End at Fratton Park, Dads dropping their sons off down the front and going to their usual spot to stand and chat with their mates, the terrace slowly filling up, the atmosphere. All part of the football-supporting experience in the early 90s in the second tier.
Speaking of atmosphere, Wycombe took a great crowd down to Kingsmeadow, and even had a continental-style master of ceremonies organising the chants. On the continent, these MCs usually consist of a huge, topless, tattooed men with a megaphone almost intimidating his fellow fans into singing songs. I can remember FC Basel bringing a healthy crowd to Craven Cottage a few seasons back in the Europa League and having an enormous, topless Swiss chap literally walking up and down on the upper tier with a megaphone for the entirety of the game. Nothing fazed him, not the Fulham goal, the halftime whistle, the full time whistle. All that mattered was the songs and his fans. Magnificent.
Sadly, Wycombe's master of ceremonies had more than a passing resemblance to the elder son in Outnumbered, in fact, a lot of Wycombe Wanderers fans of a certain age did. Most strange. Anyway, what he lacked in physical presence he made up for in enthusiasm and the result was an excellent atmosphere, at least in the away end.
Unfortunately, the standard of football could at best be described as agricultural and the difference between football at the top level and the lower reaches of the football league is becoming more and more stark. The money is not trickling down, the best young players are being hoovered up all over the place and, with the greatest of respect to the players and with the exception of a few talents, the standard isn't great. On Saturday, the ball spent a lot of its time in the middle of crunching challenges and admiring the view across London from a great height, and while the game was an entertaining 2-2 draw, it wasn't the flowing, passing football that was the origin of the entertainment.
All that said, a few Wanderers players stood out as having a decent future ahead of them. The Bucks side scrapped their academy last summer as a result of the increased demands of EPPP and while ostensibly that's a depressing story, it's at least given a few young players their chance in the first team. Three of Wycombe's back four against Wimbledon were under 21, with full back Charles Dunne just 19 and centre half Kortney Hause only 17. Neither looked out of their depth in the cut-and-thrust, physical world of League Two football, and neither did midfielder Josh Scowen who is also still a teenager. 
The Chairboys' equaliser appeared in the shape of Matt McClure who emerged from the bench to great positivity from the away crowd and it was difficult to figure out why he didn't start the game. Lithe, energetic and with a great nose for a chance, he played his role of pressing and pressurising the Wimbledon defence with aplomb and deserved his goal. And at just 21, he's another one to watch out for.
Sadly, modern football dictates that if any of these youngsters are indeed worth their salt they'll be snapped up by a bigger club quicker than you can say 'man on!' anyway. Lower league clubs will be relied upon to produce yet more for the production line, but when they're closing their academies due to financial pressures and EPPP what will become of local clubs and the kids with big dreams then?

This week's bet
I've been on an absolutely horror show of a run recently, and although Fulham were a good price to get a home win against Wigan, we soon saw why when they failed to close out the result after another decent strike from Karagounis. This week, to get us back on track I have decided to look to the fascinating world of the African Cup of Nations which starts on Saturday. Ghana are currently 7.613/2 to win the whole tournament, and while Ivory Coast are big favourites, the Black Stars should make it out of their group after which their price will come in and we can have a good old lay. Get on it.
Read past articles