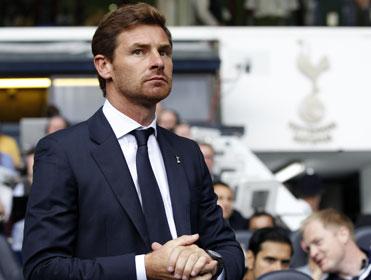 Andre Villas-Boas needs time to implement a long-term vision
It is disgraceful and idiotic to boo and write off your team three games into the season, argues Luke Moore...
"August has only just sighed its last sigh and yet we're already entering the reactionary, idiotic territory of calling for managers to be sacked due to one or two wayward results."
Last week, I wrote at great length about taking the time to give credit to football fans that travel the length and breadth of the country to support their team at great personal expense, even when there's a relatively tiny chance of them getting any sort of result.
Sometimes, these fans travel with huge burdens hanging over their heads: not knowing the financial future of their team for instance, or whether they're going to fall into the hands of an unscrupulous owner or have their best player sold so the chairman can make a quick buck.
In my mind, this is the very best side of football fandom; that unflinching, positive passion for wanting your team to do well and offering them support at all times despite them being beaten soundly after you've made a 700 mile round trip, or, I don't know, been turned over at home by Oldham Athletic.
This week though, a rather more unsavoury side of the game has begun to rear its disgraceful, unwanted head. August has only just sighed its last sigh and yet we're already entering the reactionary, idiotic territory of calling for managers to be sacked due to one or two wayward results. And I do literally mean one or two.
The ink has barely dried on his contract at Tottenham, yet the Europa League-winning, gone-a-whole-season-unbeaten-in-the-league, 34-year-old Andre Villas-Boas (yes I know that's a lot of hyphens in one sentence) is already facing pressure from the terraces after a fairly flat 1-1 draw at home to Norwich.
Spurs have signed almost £45m of new talent that so obviously needs time to bed in and have clearly eschewed the short-termism of Harry Redknapp in favour of a more stable, long-term vision with a young manager that can build a team in his own image, yet the boos rang out on Saturday evening when the full-time whistle was blown and Twitter was later awash with mouth-foamers and pitchfork-wielding simpletons calling for the handsome, articulate, confident foreigner to be burned at the stake. It's almost like they were compensating for something.
Rather than just getting behind their team, these particular fans prefer to moan and find a pariah to attack, loading all their burdens and insecurities onto a convenient scapegoat instead of being patient, thinking for themselves and giving an obviously talented manager and group of players a chance to do their job. The most frustrating thing for everyone else connected to the club is that this attitude is so blatantly counter-productive; the more they boo, the worse the predicament can and does become.
This isn't something unique to Spurs - a minority of Liverpool fans have been less than enthused with Brendan Rodgers' start at Anfield, selectively forgetting that before his tenure the club was run by a group of people who would genuinely struggle to start a bread fight in the world's largest bakery while simultaneously throwing all their bank notes into the oven as fast as possible in exchange for a man named Andy who turned out to be made of gingerbread.
And it's not just fans with this mentality. Andy Thorn was given the boot at Coventry after three games despite being unbeaten in the league and, while there may have been mitigating circumstances, the fact is that the Sky Blues have had 11 managers in the last 12 years. The decision-makers at the club clearly have the attention span of Shaun Ryder circa 1991.
The overarching point to all this is that football isn't and shouldn't be something that exists on a season-to-season basis. Because we're fed the natural bookends of the curtain-raiser and then final weekend of the league season in such an aggressively marketed, bombastic way by television networks, it almost seems natural that each season is actually considered an era all of its own.
It isn't. The fact is, and this is a painfully obvious point but sadly needs to be made anyway, no-one can achieve anything at all if they aren't given the chance to do so. We all have a responsibility to see the bigger picture. Football isn't going anywhere, it's here to stay.
So don't panic if your team loses a couple of games. You'll never have the next Sir Alex Ferguson at the helm of your club if you don't even given him a chance to learn the tea lady's name before you stick him in a giant wicker man and burn him to death simply for not being his predecessor.
This week, there's an intriguing clash at the top of League Two as Oxford take on Exeter at the Kassam Stadium. While Oxford were turned over by York at the weekend, they were actually quite unlucky and dominated in spells. The nature of their conceded goals was quite unfortunate and they've had an excellent start in the league overall. I fancy them to have too much at home against Exeter.
Recommended Bet: Back Oxford @ around [2.12] v Exeter