Luke Moore: Arsenal need a world-class striker and that's not Theo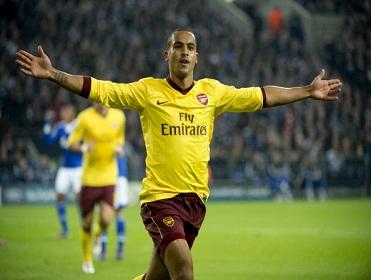 Theo Walcott wants to have his cake and eat it, says Luke
Despite being given the central role he craves in recent games, Theo Walcott appears no nearer to signing a new deal at Arsenal. Luke Moore believes the north Londoners would be be better served looking for new striking options than bowing to the player's demands
"Wenger and Gazidis should table Walcott an offer befitting his status as an important squad player and no more, and if he refuses to sign it he should be offloaded post-haste."
'Just pay him what he wants', pleaded Jamie Redknapp in a Daily Mail column last week like a Marks and Spencer-suit-wearing pundit-Caligula, lamenting that Theo Walcott hasn't yet been furnished with the reported £100,000 a week wages he and his representatives are demanding, alongside a guaranteed starting berth through the middle for Arsenal.
It would be amazing if the world was that simple and people were just paid whatever they wanted whatever their performance level or role. 'What's that? You've driven over a dog on your way in? Here's two million quid!' or 'What do you mean you've accidentally thrown all the servers out of a 15th storey window? Never mind, have £500k!' Everyone would be delighted all the time.
Consequences
Unfortunately, we live in a real life world of actual consequences and actions where important things like handing over north of five million pounds every year for the next five years to one individual with questionable decision making powers both on and off the pitch (seriously, look at that facial hair and earring combo) has to be thought about. Thought about with our brains.
Yes, Theo Walcott is Arsenal's top scorer this season, and yes he's showing flashes of finally becoming the player that Arsene Wenger thought he could mature into when he was persuaded to part with a potential £12 million for his services back in January 2006. But that's exactly the point: Theo Walcott (now approaching his 24th birthday) has never, ever shown anything more than flashes of being a decent football player. This is because, when judging him as a footballer, everything one is prompted to chalk up in the 'Positives' column is immediately followed by something to instantly scratch in the 'Negatives' column in return.
For instance, Walcott is fast, but he's also brittle. Walcott can finish well, but he doesn't always make the right decision when in front of goal. Walcott's defensive contribution is almost non-existent. Walcott's passing ability isn't at the top level. Walcott is Arsenal's top scorer this season, but a lot of those goals have been unimportant strikes, the football equivalent of smoothing the last dollop of icing on the Christmas cake your Mum spent all day baking and then running around the kitchen celebrating with your shirt over your head like a maniac, pointing at your confused mother, thanking her for the assist (Editor: Poor Mrs Moore).
All-round game
What's more, Theo isn't especially suited to the central role he craves in the formation Arsenal player either. He simply doesn't possess the all-round game to perform as the lone, central striker, despite all the talent around him. If we look at the other top strikers around the world that play that position for teams that Arsenal are supposedly competing with both here and abroad, he is clearly several rungs on the ladder below them. It is laughable to even compare him to the likes of Lewandowski, Cavani, Falcao et al.
Wenger and Gazidis should table Walcott an offer befitting his status as an important squad player and no more, and if he refuses to sign it he should be offloaded post-haste. If they are held to ransom by a player of his limitations it must be considered a depressing measure of how far they have fallen as a club in recent years.
Their efforts (and indeed their financial resources) should be occupied by trying to find a world-class forward who can supplement Olivier Giroud and help them push ahead with their season and keep their enviable Top Four record intact for another year.
There are no shortage of international class frontmen available. Arsenal may not be able to compete with Manchester City or Chelsea, but those two clubs aren't going to sign every single player that's available and Arsenal, provided they are prepared to part with some cash, are still an attractive prospect to a player. After all, if you're willing to spend the best part of £25m over five years on a player of Theo Walcott's drawbacks then why not push the boat out?
This week's tip
It's one of my favourite weekends of the year, the third round of the FA Cup.
In one of the ties of the round, Arsenal travel to Swansea, a team that had the measure of them last month at the Emirates, beating them 2-0. Despite this - and the Swans making it through the Christmas period undefeated - they're still a massive 3.211/5 to win at home. Well worth a flutter.
If you don't fancy that, Crystal Palace have the ability to upset Stoke. They've only lost two of their last 23 and in Glenn Murray have a striker in red-hot form. The Eagles are currently trading at 3.052/1.
Discover the latest articles
Read past articles