Liverpool must forget the Villa defeat and enjoy the positives of the Rodgers era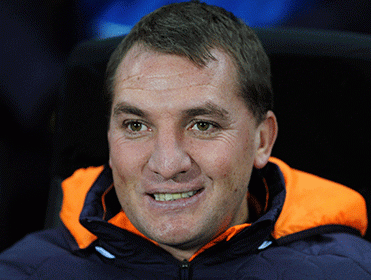 Keep smiling!
Liverpool suffered an unexpected defeat at home to Aston Villa on Saturday, but the sheer unexpectedness is in itself a sign that things are getting better under Brendan Rodgers. Luke Moore insists that Reds' fans should be holding on to the positives
"Despite the loss against a youthful Villa side, what I've seen from Liverpool over these last few weeks is a team finally starting to emerge from several, damaging off-field distractions."
Of all teams, it was Aston Villa who were able to show Liverpool a blueprint of what they're looking to become. Pretty much everything Brendan Rodgers would like from his Liverpool team was on display from the visitors yesterday: a young team, passing around nicely in triangles, lots of pace, being ruthless with whatever chances they had.
Liverpool had a good start and on another day would have built on that by taking at least one or two of the opportunities that came their way. The main problem for the Reds at the moment (as has been widely reported) is their lack of goals. With the jury still out on the currently injured Fabio Borini, if Luis Suarez isn't on form, then there is no-one to do that most elusive of duties and stick the ball in the back of the net. Steven Gerrard is fading, Jonjo Shelvey isn't consistent enough in this area, Raheem Sterling isn't at the maturity level where he can be relied upon to chip in regularly.
That should be remedied in January though. Rodgers won't stand for missing so many targets in yet another transfer window and it's certain that at least one more striker will be airdropped in to provide support to their controversial Uruguayan. A chief advantage of being a club as big as the Merseysiders is that they'll never struggle to attract players, and it's impossible to see them having another window as disappointing as the last.
As an aside, based on yesterday's performance, how the Anfield faithful would love to see Belgian Christian Benteke don the famous red. At first glance he appears a little too cumbersome to be a Rodgers signing, but he is deft of touch and brutal of finish. His link-up play is also superb. An oak tree wrapped in gold leaf.
Liverpool fans shouldn't despair, however. It's becoming clear that 2013 should be a pretty good year to be a supporter of the illustrious north-west club. Because, despite the loss against a youthful Villa side, what I've seen from Liverpool over these last few weeks is a team finally starting to emerge from several, damaging off-field distractions, chiefly the ludicrous Being Liverpool project which piled unnecessary pressure and scrutiny on the new manager and his players at a vital time, and starting to dust themselves down, rub their eyes and get moving again.
Yesterday's unexpected defeat to Villa was just that, unexpected. It's a measure of how far they've come. They're now expected to win games again. It was also only their second defeat in 12 outings in the league, and the Christmas period actually looks pretty kind to them: one tricky hop to the Britannia surrounded by three other winnable games.
There is yet more good news for the red half of Merseyside, too. Rodgers is enjoying what are near enough the lowest expectations of any Liverpool manager for the last 50 years, at least this season. Not since the pre-Shankly days has there been a period in the club's rich history where a transition season has been so readily approved by all at the club and throughout the support.
I didn't think it would come to pass. Despite the rhetoric when he was appointed, I thought the old, impatient habits would rise to the surface again. But they haven't, and that's something both the fans and the club deserve credit for. They've given their man time to breathe. I've a feeling they'll reap the rewards of doing so.
Tip
You can do worse than looking at the Leeds-Chelsea tie in the quarter-final of the Capital One Cup on Wednesday night. I fancy Leeds to have a great chance of going through, chiefly because Chelsea don't get back from their Club World Cup travails in Japan until Tuesday afternoon. It's a nine hour flight, and a bewildering time difference to manage. Elland Road is always a tough place to go. Throw the fact that Leeds are a big club for the big occasion into the mix and you've got yourself a cup tie and a half. Back Leeds to win at 5.04/1.
Discover the latest articles
Read past articles