Lee Dixon: A good weekend for north London and my bets for Everton v Newcastle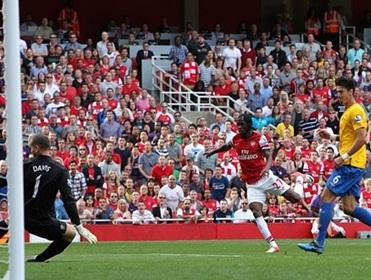 Santi Cazorla caught the eye for Arsenal, but Lee was impressed by Gervihno's performance through the middle
In his regular review of the weekend's action, Lee Dixon reflects on encouraging performances from Arsenal and Spurs, has a word of warning for Liverpool and picks out the best bets for Everton v Newcastle
"At this stage, it looks like it will be a major achievement for Liverpool to make the top six - they can be layed at 2.6813/8 - and it might be one of those seasons to accept mid-table and rebuild."
Arsenal on fire
Southampton at home was a game where, when you looked at the fixtures, you would have expected Arsenal to start scoring but they really put the Saints to the sword.
The movement was very good and all the attackers looked sharp. They will have been disappointed to concede for the first time this season to what wasn't a great goal from a defensive point of view, but all in all it's been an exceptional start to the season for my old club.
There was a lot of negativity about in the wake of Robin van Persie's departure, but Arsenal showed that they've got goals all over the pitch.
Cazorla is a player who catches the eye because he gets on the ball a lot, but I was particularly impressed by Gervihno playing down the middle. I like watching him - on his day he looks a good player. That said, it's a well and good playing well in the sunshine against Southampton at home, the challenge will come doing it away at Sunderland in February! (editor: not a wet Tuesday in Stoke?!).
As for Southampton, it's a bit early in the season to call for a change in approach. They've had a tough start and no-one realistically would have expected much from Arsenal, City and United. They can draw a bit of confidence from the two performances against the Manchester clubs and crack on from here.
AVB a happy man
It was also a good weekend for the other half of north London with a comfortable win over Reading. Mousa Dembele looked really good on the day and when Jermain Defoe is in form, you've always got a chance.
Andre Villas-Boas will be pleased with the victory over difficult opposition as it takes a bit of the pressure off. That pressure was unfounded of course, but it's something that was always going to be there after taking over from Harry. I expect Spurs to build from here.
Should Liverpool accept mid-table?
Brendan Rodgers is still a manager under pressure after Liverpool could only draw with Sunderland. It was another game where they dominated possession, but the spluttering forward line couldn't fire more than once.
It doesn't really matter where you are in the league as Liverpool manager - unless it's top - you'll always be under pressure as they're a big traditional club that is used to winning things. Rodgers seems to be in control - he talks well - but he needs to work something out with the forward line as you can't expect the defence to win games for you every week.
At this stage, it looks like it will be a major achievement for Liverpool to make the top six - they can be layed at 2.6813/8 - and it might be one of those seasons to accept mid-table and rebuild. I don't like the term 'transition' but you sometimes need to take a season to implement the necessary changes. It's whether Rodgers will be allowed the time to do that...
Everton v Newcastle preview
A lot of people in football have wanted Everton to make a good start to the season; it's the one thing that's been missing from David Moyes' time in charge. Six points from three games is definitely a good start and Everton have looked decent so for. I, for one, am pleased with their start - I've got a soft spot for Everton. I'm not sure why - probably because I've always liked playing at Goodison; it's a proper football ground.
Looking at tonight and my instinct from a pure football perspective is that Everton will win, but they are too skinny at 1.674/6 and from a betting perspective that would be worth a lay. I wouldn't discourage a bet on Newcastle at 6.411/2 either - that's decent value for what is a good Premier League side.
I sense it will be a low scoring game, so 1-1 at 8.415/2 would be my Correct Score bet and I wouldn't be surprised to see Marouane Fellaini scoring from a corner again, so small stakes on him at 9.617/2 is my First Goalscorer bet.
Read past articles