Kelly Smith: England have what it takes to win the World Cup
Ellen White scored again as England made the World Cup semi-final
England put on their best performance at the 2019 World Cup to advance into the semi-finals and Lionesses legend Kelly Smith believes they can go all the way...
"If we can beat the USA or France you just have to think England will go all the way performing as they are. They know they can beat beat Germany, Sweden, the Netherlands or Italy."
After a glorious defeat of Norway just two games separate England from a World Cup win and I really do believe we are peaking at the right time to go all the way and lift the trophy.
Coming into last night's quarter-final I wouldn't have believed we'd be able to get past USA or France in a semi-final but having seen the way they turned up and performed last night I would put my money on England to reach that final and potentially win it.
The guts, belief and energy they showed has convinced me that they have what it takes.
They don't fear anyone and nor should they. It's five wins in a row now for the Lionesses, they've gained momentum each time and continued to improve their performance. I don't think they'll care who they face in the semi-final, they will watch tonight and enjoy it and prepare for the game.
And whichever team wins that semi-final will be the favourite to win the tournament because they will have come through the harder side of the bracket. If we can beat the USA or France you just have to think England will go all the way performing as they are. They know they can beat beat Germany, Sweden, the Netherlands or Italy.
Phenomenal team performance
That was the best 90 minute performance we have seen from England at the World Cup. In some games they have taken their foot off the gas and got a bit sloppy but that was far more consistent, although there were still a few errors of course.
It was a phenomenal team performance with a couple of partnerships in particular impressing me.
The play between Nikita Parris and Lucy Bronze is so in-sync, they know where each are at all times and work together so well. At the back, Steph Houghton and Millie Bright were brilliant they didn't give Norway's forwards Graham Hansen or Herlovsen any time or space on the ball.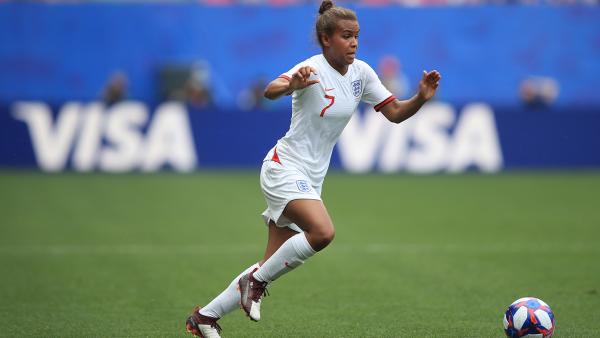 After their defeat of Australia in the last 16 I really thought Norway were going to provide a tough test. Strong in possession, creative and courageous, they'd showed a level of performance against Australia that you could say England hadn't reached. I genuinely thought we might not get through.
But we turned up when it mattered and put in the most complete performance of the tournament. The final score was 3-0 but it probably should have been 4-0 and could easily have been a much bigger scoreline.
England enjoying themselves
It all seems to be clicking for England at the moment. They have only conceded once and have kept four consecutive clean sheets and won every game. They are also scoring early which is great. That sets the tone for the team, offers a little security and gives them momentum.
There are just so many positives. Ellen White scored again to overtake me and Fara Williams as the leading World Cup goalscorer for England so full credit to her, she is having a fantastic tournament and everything she touches turns to gold which is what you want from your lead striker. When you have a goalscorer in form like that it really does breed confidence throughout the team.
Jill Scott, England's new World Cup appearance record holder, opened the scoring and I was delighted for her. She was immense last night and is one of the unsung heroes for me. She is not one who gets talked about too much but she does all the dirty work, the box-to-box running, the challenges and the simple passes that keep the team moving. She is a leader within her own position.
It was just a delight to watch England last night. You could see the energy and the hunger throughout the game. It was plain to see how much it meant to them as a group. As an outsider looking in you could see the togetherness and it's clear they're having fun and enjoying it. They're embracing this pressure and seizing the moment. England teams in the past have gone into their shell and failed to perform, but this bunch know the whole nation is watching them and they're enjoying it.
Women's game getting bigger game-by-game
The next few days will be about recovering, resting and enjoying some down time. The heat is intense out here but thankfully the games are at night when it's cooler and England look to have adapted well. Phil Neville has rotated the side so there is a freshness to the squad.

Phil loves the game and his passion shines through. He has been honest and open all tournament and you can't help but love him.
I have been impressed by the amount of media attending, and the attention that is being drawn to the team and the tournament. David Beckham and daughter Harper attended last night, Kensington Palace have been tweeting, the game was shown at Glastonbury - the exposure these Lionesses is getting has been massive. This tournament and their performances have really changed peoples' perceptions, and hopefully we will see more of a shift.
Amazing crowd at @WestHoltsGlasto for the @Lionesses' big World Cup match! CS pic.twitter.com/r5oOevdvli

? Glastonbury Live (@GlastoLive) June 27, 2019
This is the start of a big few years for women's football - I believe the top three European teams from this tournament should qualify for next year's Olympics, so England have a great chance of achieving that for Team GB, and then it's the European Championships in England in 2021.
It's a huge three years for the sport and the Lionesses are a massive part of that. Just think what a World Cup win would do to elevate the women's game and take it to another level.