Serie A: Seedorf no solution to deeper AC Milan issues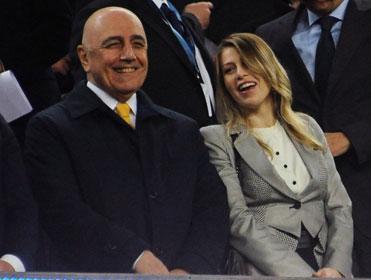 Adriano Galliani and Barbara Berlusconi no longer exchange smiles
The Rossoneri will replace axed coach Max Allegri with Clarence Seedorf, but both are mere extras in AC Milan's farce...
"AC Milan's best shot of dining at Europe's top table next season is Seedorf channelling Roberto Di Matteo and inspiring an implausible Champions League triumph. However, they are 70.069/1 to lift the trophy."
Juventus captain Gigi Buffon shouldn't be imparting the inside line on AC Milan's strife, but he neatly summarised matters in recognising sacked coach Max Allegri as a scapegoat.
The ever-engaging Italy number one remarked that "if Allegri has a fault, it is that he did not have the courage to walk away when for over a year he had suffered attacks from inside that were unjustified and too much for what he could do with the squad he had".
Allegri was a slightly surprising appointment in 2010, yet instantly vindicated his selection by guiding the Rossoneri to a Zlatan Ibrahimovic-assisted first scudetto in seven years.
His second season ended four points shy of invincible Juventus, while third place last term was a magnificent achievement having been stripped of Thiago Silva, Ibra and veterans like Alessandro Nesta, Clarence Seedorf and Filippo Inzaghi in pre-season.
President Silvio Berlusconi saw things differently, regularly snipping, and it was felt a certainty that Allegri would be exiting last May, with Roma ready to offer him an instant return to work. Shockingly, both parties opted to try again, resulting in Monday's messy divorce.
Allegri confirmed over Christmas that this was his last campaign. They have hit the halfway stage in 11th, six points off the drop compared to 20 shy of the Champions League pace. They are 10 points behind even Verona in sixth, which is why they have traded as high as 3.7511/4 for a top-six finish.
Sunday's 4-3 loss to lowly Sassuolo hastened the parting and Seedorf's arrival as rookie tactician, yet it was at boardroom level that these developments resonate loudest.
The latest obstacle hurled in Allegri's path for 2013/14 was an incessant bicker-fest between Berlusconi's Milan vice-president since 1986, Adriano Galliani, and his daughter, Barbara Berlusconi.
It all started after a home defeat to Fiorentina in early November, when Berlusconi Jr - or Lady B as she is more often referenced - publicly criticised the direction of the club in what was perceived as a not-so-veiled attack on Galliani.
The situation escalated to the point that Galliani was poised to depart in December, only for big boss Berlusconi to find a solution in which the Uncle Fester-lookalike runs the football operation, and Lady B leads the business side. This compromise calmed things initially, but massive cracks have now surfaced.
Barbara Berlusconi appeared to transcend her territory to instigate Allegri's axing, stating after the Sassuolo game that "it is necessary and urgent to make a change". That came the next morning, with Galliani's reaction hinting heavily at his dissatisfaction: "I feel very sorry for Allegri, especially for how the situation has evolved on a human level."
There are also rumours that Galliani favoured youth coach Inzaghi over Seedorf as Allegri's successor, only to seemingly be overruled in his own sphere again.
Further proof of the flawed decision-making undermining AC Milan's on-pitch effort is the imminent loan move of unneeded yet capable striker Alessandro Matri to Fiorentina, a rival for Euro qualification. Surely, there were overseas or bottom-half alternatives?
Right now, the Rossoneri's best shot of dining at Europe's top table next season is Seedorf channelling Roberto Di Matteo and inspiring an implausible Champions League triumph. However, they are 70.069/1 to lift the trophy for an eighth time and 3.3512/5 merely to progress past Atletico Madrid.
The 2014/15 edition of the Champions League threatens to be the first without either Milanese giant since 2001/02, as Inter drifted 10 points away from third-placed Napoli following a 1-1 San Siro draw with Chievo. The Nerazzurri are 4.67/2 to claim a Serie A podium spot.
There was huge optimism surrounding Inter after snaring Walter Mazzarri from Napoli, starting brilliantly and being taken over by Indonesian businessman Erick Thohir, who was supposed to provide the investment to re-establish the club.
Instead, there has been more talk of sales than buys this month, 2014 has commenced with two defeats - one wrecking their sole chance of silverware in the Coppa Italia - and a draw and Mazzarri is under pressure.
One win in eight against top-tier opposition has put a magnifying glass on his apparently negative tactics, though he argues that his 3-5-1-1 formation is necessitated by a lack of forward options.
Inter must hope that fit-again Diego Milito fixes their failings, while AC Milan rely on untested Seedorf producing results positive enough to divert attention away from their off-field chaos.
Discover the latest articles
Read past articles