Serie A Betting: Exit Allegri, enter Guardiola?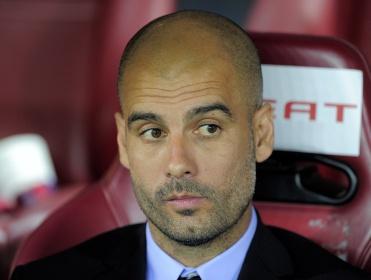 Is the ex-Barca boss on his way to San Siro?
A scheduling mistake has taken the edge out of Saturday's top of the table encounter between Juventus and Napoli, says Dave Farrar. Our man is looking to games involving the Milan clubs for his best bets of the weekend... It's the big Serie A match with champions Juventus taking on challengers Napoli. Find out what our panel think will happen and which betting strategies they recommend when Alan Thompson and Zonal Marking's Michael Cox join Dave Farrar for this exclusive video. Plus, for added enjoyment, there's insight from football journalist Ben Lyttleton and super stats from Opta's Duncan Alexander. Watch the vid then place your own bets on the Juventus v Napoli match
Napoli's record away from home against the bigger teams in Serie A may suggest that Juve are value for the win at 1.84/5, but that's a little too short for me, and I prefer to look elsewhere for a bet this weekend.
Juventus v Napoli
The Serie A powers that be have made a serious scheduling mistake this weekend, with the game of the season so far between Juventus and Napoli kicking off early on Saturday, with Lazio versus Milan taking the prime Saturday evening slot. It's idiotic, but to anyone who has followed Serie A for any number of years, it's no great surprise. I can remember sitting in an Italian TV production meeting some years ago and being told about a "new innovation" that was being introduced the following season, only to discover that said televisual leap forward was an early Sunday kick off. In a word, it's hashtagclueless.
Anyway, the kick off time takes the edge off Juve-Napoli for me, as those early Saturday games have a habit of throwing up odd results, and so I'll steer clear. I suspect that the match may finish in a draw, although Napoli's record away from home against the bigger teams in Serie A may suggest that Juve are value for the win at 1.84/5, but that's a little too short for me, and I prefer to look elsewhere for a bet this weekend. If you must have a bet on the game of the weekend, then I think that both teams will score, and so the clever play might be to back the 1-1 draw at 8.07/1, and take out some insurance on over 2.5 goals. Not a game on which to place big stakes, though.

Recommended Bet: Back 1-1 in Juve v Napoli @ 8.07/1

Lazio v Milan
Milan have a terrific record at the Olimpico against Lazio, having won on five of their last nine visits, and lost only once. This, though, is a different Milan from the one which racked up records like that in recent seasons, and for all the noises that they're improving and that they've turned a corner, I'm yet to be convinced. Lazio are 2.447/5 for the victory on Saturday, with Milan 3.39/4, and I think that's a price which undervalues Lazio a little. Vladimir Petkovic's team have won five of their seven Serie A games so far, and I was both surprised and impressed by the way they bounced back from successive defeats against Genoa and Napoli. I fully expected Lazio to fall flat on their faces against Pescara last time, but (as readers of this column will know) I got that wrong, and am keen to have them on side here, especially with their key player Hernanes fresh from a two week rest. He has set up three goals this season and scored four, and I think he will terrify Milan. He scored here against them last season, and I think he's worth backing to do so again on Saturday, at around the 3.185/40 mark. Milan are reportedly close to bringing Pep Guardiola out of retirement to try and get their club back on track. By the time that Lazio are done with them on Saturday night, Max Allegri may be a step closer to the door. An injury hit, dispirited Milan are there for the taking.
Recommended Bets: Back Lazio to beat Milan @ 2.447/5; Back Hernanes "Anytime Goalscorer" @ 3.185/40

Inter v Catania
Inter weren't able to beat Catania last season, managing only a 2-2 draw at San Siro and then a desperately disappointing 2-1 defeat in Sicily. In fact, Catania led in Milan until the 70th minute before the Diegos, Forlan and Milito, dragged the Nerazzurri back into it. In fact, Catania have scored on each of their last four visits here, and in two of those matches, have scored first. They led at half time in Rome in the first game of the season, and something similar may be on the cards here. Catania do have a habit of starting games well, and while they don't always score, they managed a second minute goal against Parma last time, and there's a chance that they could catch Inter cold. Remember that Inter are the masters of travelling: they've won seven consecutive away matches, and yet have only one home win this season (they were the "away" team in the derby) and it's worth risking that those travails could continue, at least for a half. Catania are available at 6.05/1 to be leading at half time. There are risks associated with this bet, in that Catania have only scored two first half goals all season, but Inter have looked fragile here and I want to take a chance that they'll struggle again. I wouldn't be against laying Inter to win the match at 1.618/13 or laying them to be ahead at half-time at 2.0421/20, but I'll stick with Catania looking solid and stealing an early goal on the counter. In an unpromising betting weekend, it's another in which to keep stakes low, but Catania to have a shock interval lead is the bet.
Recommended Bets: Back Catania in Half Time Odds market at 6.05/1

Exclusive Video
It's the big Serie A match with champions Juventus taking on challengers Napoli. Find out what our panel think will happen and which betting strategies they recommend when Alan Thompson and Zonal Marking's Michael Cox join Dave Farrar for this exclusive video. Plus, for added enjoyment, there's insight from football journalist Ben Lyttleton and super stats from Opta's Duncan Alexander. Watch the vid then place your own bets on the Juventus v Napoli match
Discover the latest articles
Read past articles