Serie A: Juve strength in depth makes difference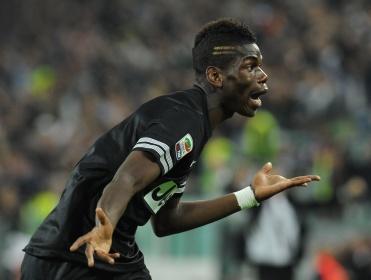 Pogba is Juve's 13th scorer this season
Juventus's 2-0 win over title rivals Napoli extended their unbeaten league run to 47 games. Ben Lyttleton explains why they will be so hard to catch this season.
Juventus are 1.4840/85 to win Serie A now, with Napoli out from 4.94/1 to 7.06/1 and Lazio, 3-2 winners over Milan, 20.019/1.
It's a long time since Juventus and Napoli have faced off for the Serie A title. This season, though, with both teams unbeaten after seven games and clear of the pack, it was clear that Saturday night's encounter could turn out to be one of the biggest games of the season.
Was this the moment that Juventus would lose their 46-game unbeaten run in the league? After all, Napoli were the only side to beat them last season, 2-0 in the Coppa Italia final. And Juventus needed extra-time to beat them in the SuperCup match back in August, a bad-tempered affair after which Napoli's players refused to collect their medals in protest at what they saw as bad refereeing (their team's owner, Aurelio De Laurentiis, rewarded that stand by giving them all a bonus).
The press had ratcheted up the rivalry in the build-up to the game, with suggestions that the Italian federation had favoured Juventus by resting Gigi Buffon from Italy's World Cup qualifier against Denmark - in which Napoli's Morgan De Sanctis played - to keep him fresh for the Napoli match. As it was, Buffon was still out for Saturday night, as was Mirko Vucinic. Despite missing two of their most important players, Juventus still looked comfortable for most of the match, and it is a sign of their squad depth that their two scorers in the 2-0 win were substitutes: Martin Caceres and Paul Pogba.
The post-match focused on the heroics of Juventus stalwarts from last season: Andrea Pirlo, whose corner was headed home by Caceres late on for the opener, and Leo Bonucci, who was stretchered off after 17 minutes only to reappear and play a stormer with a bandage on his knee. La Reppublica called him "a real sporting hero" and claimed the sight of a player battling through the pain barrier "belonged to the old days of football".
But the difference between the sides was the goalscorers: Juventus were able to bring on two players who made the difference, while Napoli, for all sub Lorenzo Insigne's efforts when he came on, simply do not have that quality beyond the first 11. Caceres has a habit of scoring important goals - two in the Coppa Italia semi-final win over Milan, and another in last season's league win over Inter - while Pogba, like Pirlo a free transfer, could prove to be a key player in Turin (if agent Mino Raiola keep him there long enough, that is).
The biggest concern about Juventus pre-season was their lack of a top-class, 20-goals-a-season centre-forward; so far their leading scorers are Sebastian Giovinco and Pirlo, with three apiece. But Pogba has become the team's 13th different player to find the score-sheet this season: with that spread of goals, the lack of a prolific forward does not seem such a problem after all.
Juventus are 1.4840/85 to win Serie A now, with Napoli out from 4.94/1 to 7.06/1 and Lazio, 3-2 winners over Milan, 20.019/1. Will this defeat have a psychological impact too? Napoli seemed to have no answer after Caceres's opener, and there is a concern about whether the players believe they can overhaul such a strong contender as the reigning champions.
So Juventus's unbeaten league run is now 47 games, of which they have won 30. Next up for them is back-to-back games against Danish champions FC Nordsjaelland in the Champions League: if they win both, they should move top of Group E and be in pole position to qualify for the knock-out phase, for which they are 1.374/11. These are exciting times for the Italian champions.

Discover the latest articles
Read past articles