Italian Football: Max Allegri, a man under-pressure?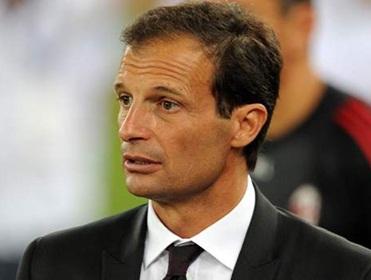 Milan boss Max Allegri is under some early pressure
Ben Lyttleton discusses what AC Milan's second consecutive defeat on home soil might mean for the man who guided them to the the Scudetto the season before last...
"But a lot can change in two years and while last season, Juventus's unbeaten campaign relegated Milan to second in the table, this season was always going to be harder."

Two years ago, the list of big names that AC Milan signed made eye-watering reading: Robinho, Mark van Bommel, Zlatan Ibrahimovic (on loan from Barcelona), Antonio Cassano and Kevin-Prince Boateng. The fact that a new coach, Max Allegri, was in charge, added to the intrigue: how would the young man, in his first job at a big club, cope with all those dressing-room egos?
The answer, as it turned out, was rather well: Allegri was praised for his psychological master-class in controlling the dressing-room and Milan romped to the title, finishing six points clear of Inter.
But a lot can change in two years and while last season, Juventus's unbeaten campaign relegated Milan to second in the table, this season was always going to be harder. A summer in which the board made no secret of its plan to downsize the playing staff, which included not only releasing Clarence Seedorf, Pippo Inzaghi and Gennar Gattuso, but selling Ibrahimovic, Thiago Silva and Cassano (in a swap deal with Giampaolo Pazzini), it's no surprise that this has been a tough start to the campaign.
But no-one quite expected this: after losing 1-0 to Atalanta on Saturday night, Milan has now lost their first two home games of the season, the first time for 82 years they have started with back-to-back league defeats at the San Siro; this is the first time for 44 years that they have lost two of their three games of the season. And the pressure is building on Allegri.
"Allegri in the balance", was Gazzetta's headline on Sunday, with Corriere dello Sport weighing in with, "Milan humiliated". The noises coming out of the club suggest that owner Silvio Berlusconi has had enough of Allegri and wants to see him go. A story run by Sky Italia claimed that the coach had to win his next seven games to stand a chance of surviving ­but vice-president Adriano Galliani is fighting Allegri's corner. "We're staying as we are," said Galliani in a typically worrying vote of confidence. "We are not talking about Allegri; the owner has asked me to keep some stability here."
And yet Monday's Gazzetta was full of plans for a new Milan, one with Inzaghi at the helm ­yes, after just one match in charge of the youth academy team ­assisted by Mauro Tassotti, a permanent figure on the Milan bench, yet always overlooked when the top job becomes available.
It's hard not to feel sympathy with Allegri, because while the club's wage-bill and quality of playing staff has considerably decreased, the expectations have not. Milan's squad is a top four squad, at best, and yet anything less than the Scudetto will be a failure. "We needed a generational change," said Allegri, toeing the club line in an interview with La Stampa last week. "It takes courage to make the painful decisions that Milan made, but to keep speaking about these champions (that have left) is disrespectful to those players who have remained."
Milan did look poor against Atalanta and Allegri has been criticised for not changing his strikers' formation from the 4-3-1-2 with Boateng behind Pazzini and El-Shaarawy; there have been calls for a 4-3-3 with Robinho and Bojan on either side of Pazzini or a 4-2-3-1 with Robinho, Boateng and Bojan just behind Pazzini. The three-man midfield is too conservative, say the critics.
It's rare for a coach to ride out a storm as intense as this one, even if Milan do go a sequence of wins. Tomorrow night they take on Anderlecht in their Champions League Group C opener; they are 1.558/15 to win the game, but in with dangerous newcomers Malaga and Zenit St Petersburg, the group is anything but straightforward. Milan are 2.35/4 to lay to qualify, while the Straight Forecast for Zenit to finish top and Malaga second is 4.57/2.
Next up in Serie A is Udinese away, another game fraught with danger. If Allegri is still on the Milan bench in 10 days, he will have done well. But it seems unfair that he pays the price for a summer of sales. It will be a tough season for whoever replaces him, which is why laying Milan to finish outside the top two at 3.55/2 has to make sense.
Discover the latest articles
Read past articles