England v Holland: Four recommended bets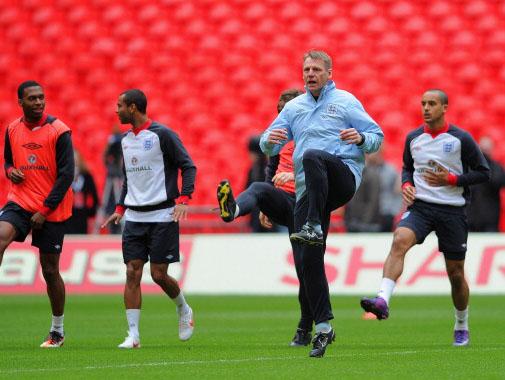 This match has plenty of interesting angles, including whether this is the first of many matches for Stuart Pearce as manager and who will be given the captain's armband on the night. Here's how to profit from a not so meaningless friendly...
"France thoroughly deserved that win and were the better team but in the nine matches played at Wembley since the start of last season (August 2010) that's the only match England lost, across friendlies and qualifiers."
As far as friendlies go, this is one of the more intriguing ones.

The job interview
Irrespective of the result itself, if Stuart Pearce looks the part as England manager, the players respond to him and the Three Lions play a good brand of football, we may have found the man to lead England at Euro 2012, if not for the World Cup qualifying campaign after that. There are good reasons why Harry Redknapp may turn down the chance to manage England this summer or even for the foreseeable future and though the 5-2 defeat on Sunday has definitively ruled out Tottenham as a title contender, it won't affect his decision. If anything, it will reinforce the view that he's got unfinished business at White Hart Lane. Make no mistake: if Richard Aikman and I are right about Redknapp not being the man in charge this summer, this match is pretty much Stuart Pearce's job interview.

Skip the odds-on about the Liverpool skipper
We may also be a little bit closer to finding out who the next England captain is. That said, be wary of assuming that whoever wears the armband on Wednesday night is a shoe-in to do so against France in their opening match of Euro 2012. Stuart Pearce may decide that he doesn't want to start Steven Gerrard or Scott Parker for example, and give the responsibility to say Ashley Cole on the night, but have one of the aforementioned pair pencilled in for the job on a full-time basis. Should Pearce get the full-time job himself that is. Or of course 'Psycho' may miss out on the job and the man who does get it may decide to appoint someone completely different. Still following? But if you fancy a bet right here right now, you should lay Gerrard at about [1.9]. If this is all about new beginnings, then where's the logic behind re-appointing the man who was captain during England's ill-fated World Cup? Of course the debacle wasn't Gerrard's fault per se but if he was such a respected and inspirational captain, then why was John Terry calling his own press conferences, like some sort of Fletcher Christian, and nattering on about how he was a born leader of men? Besides, how confident would you be that the Liverpool man will even be fit come the France game? Back Joe Hart or Scott Parker if you wish but the better bet is to just lay the favourite.
Van Persie to show mercy
Robin van Persie's stats for the Netherland's qualifying campaign may look pretty impressive at first glance but scratch beneath the surface and there are good reasons to oppose him to score in this match. In qualifying he featured in six matches and scored six goals (so far so good) but four of those were against San Marino in the third match and the other two goals were scored in the first and second games. He drew blanks against Finland, Moldova and Sweden despite starting the lot so maybe his international goalscoring form isn't quite up there with his club one. With his place in the Netherland's XI all but guaranteed and a big match coming up against Liverpool on Saturday lunchtime, he's unlikely to play more than a half and motivation may not be at its highest.
Laying the Orange should be fruitful
It's the fashionable thing to do: back a glamorous opponent when they come to Wembley to beat the Three Lions. Hands up those who backed France at bigger than [3.0] to defeat England way back in November 2010. Well done. Hands up those who backed Spain at odds-on to beat England. Yeah. France thoroughly deserved that win and were the better team but in the nine matches played at Wembley since the start of last season (August 2010) that's the only match England lost, across friendlies and qualifiers . OK, Ghana, Switzerland and Sweden are all solid rather than spectacular but the Spain match proved that in front of their home fans, the England players can up their game. True, a draw would have been the fairer result but Netherlands look too short at [2.7] away from home, in a friendly they don't need to win, against a group of players desperate to impress the new manager, whoever that may be.
(Ji)

(Aguero)

(Gerrard)

(Drogba)

(Riise)

(Collymore)

(Kanu)

(Macheda)

(Rooney)

(Beckham)

(Giggs)

Back Stuart Pearce to be next England manager at [6.4]
Lay Steven Gerrard to be next England captain @ [1.9]
Lay Robin van Persie to score @ [2.8]
Lay Netherlands to win the match @ [2.7]